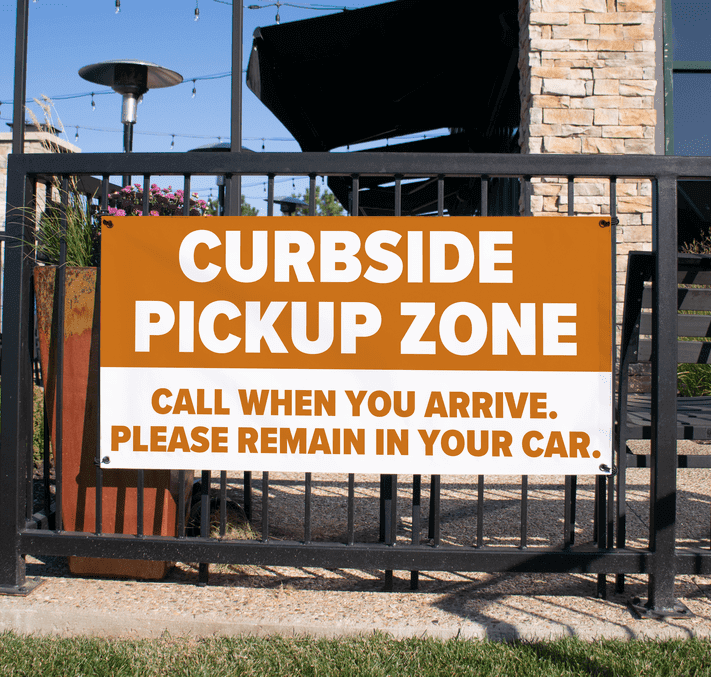 Download our Curbside Pickup Template (2' x 4' banner)
Although many businesses face uncertainty after the outbreak of COVID-19, communication is just as important as ever. We've seen companies all over the country double-down on physical signage as of late — and not just as an easy way to remind people to wash their hands and practice social distancing. In a time when people passing by might assume you are closed unless told otherwise, business owners everywhere are rediscovering the importance of physical signage.
We've helped our customers produce lots of memorable messages over the last few months. We've compiled a quick list of some of the most popular designs that we've seen, along with downloadable designs and templates to help you get the word out to customers, employees and whoever else needs to see your message.
Flags
These products are a great option for one simple reason: the wind! Feather flags ripple with the breeze, which makes them one the best ways to really catch people's attention. Feather flags are easy to install, water resistant and can withstand gusts up to 30 miles per hour.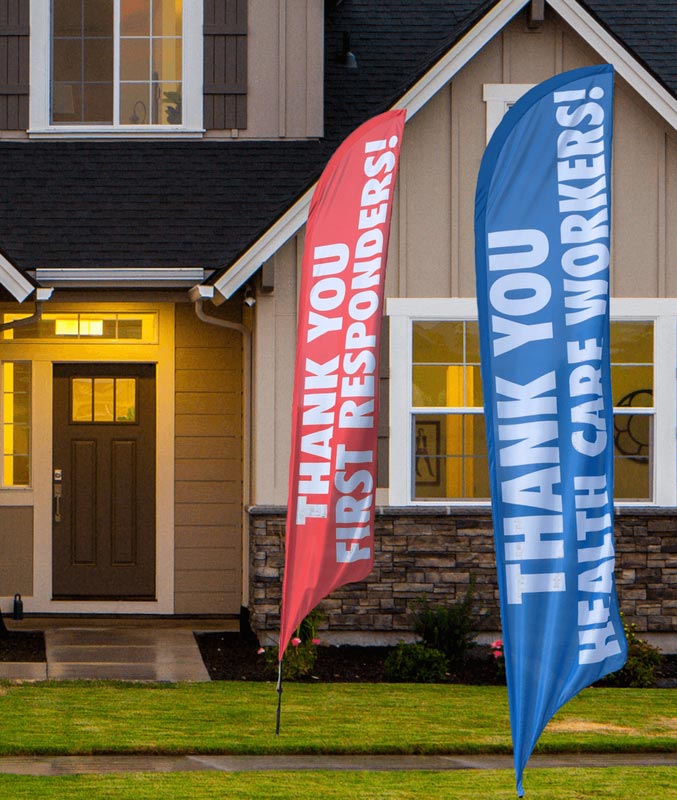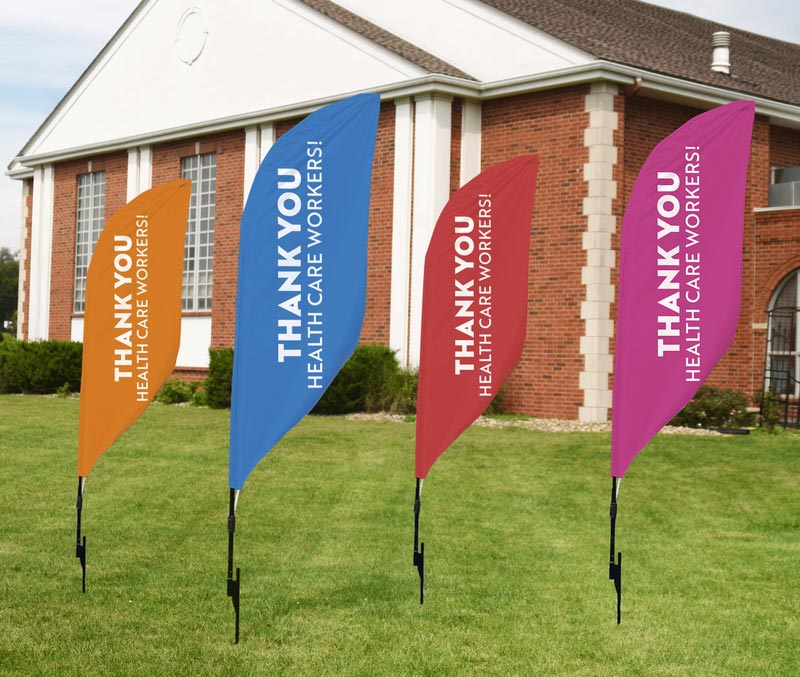 Download our Thank You Healthcare Workers Template (9' SS Deluxe Flag)
Banners
Banners are a great way to go big with your message, especially if you use one of our large format banners. Matte vinyl banners are durable, waterproof and fade resistant — perfect for sale announcements, order pickup instructions or simply letting people know that you are open for business. Consider using Heavy Duty 18 oz Outdoor Banners or Mesh Banners for long-term outdoor use. These specialty banners can ride out downpours and huge gusts of wind with ease.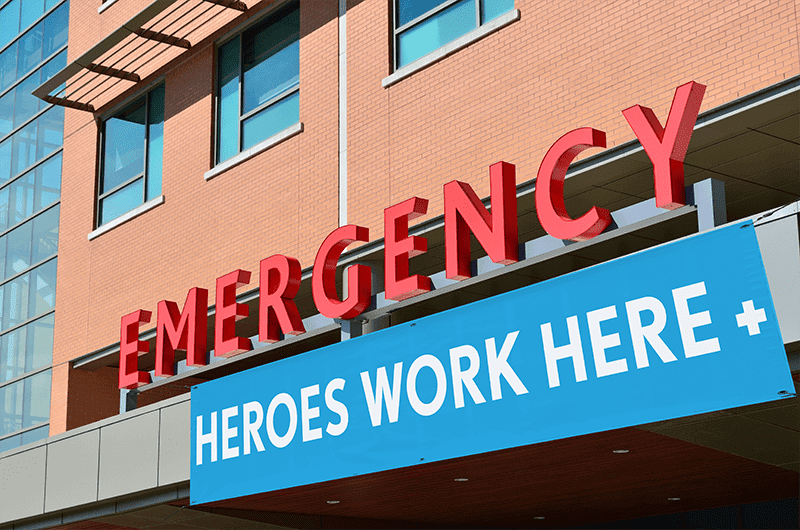 Download our Heroes Work Here Template (2' x 12' banner)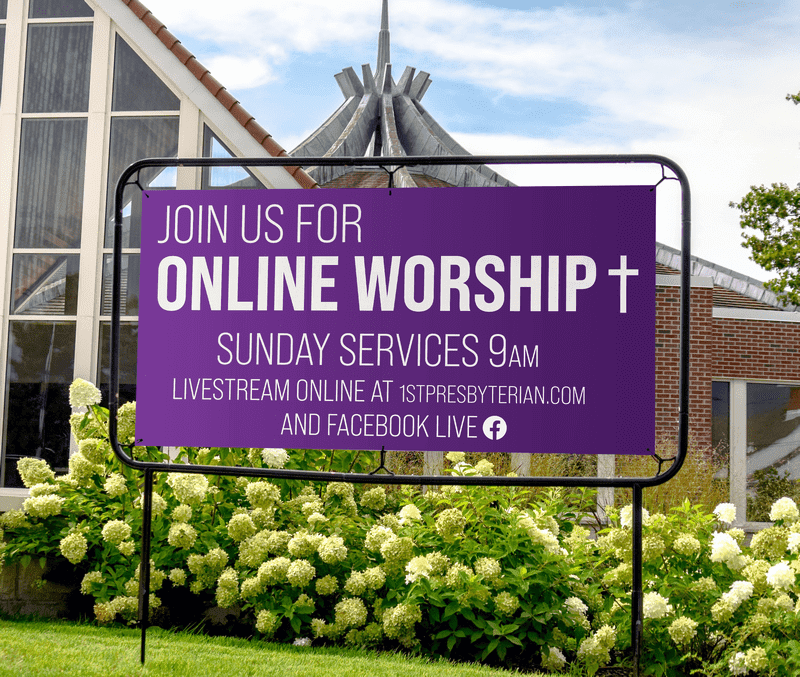 Download our Online Worship Banner Template (4' x 8' banner)
Adhesives
If you need a quick signage solution, it's hard to top adhesive vinyl. We recommend our 10 oz opaque vinyl for installation on walls, windows or any other smooth surface. This product is easy to reposition — just peel it off and stick elsewhere without any residue or mess! If your message is most effective on the floor, try our 8 mil slip-resistant vinyl. It's OSHA and R12 certified and is printed with UV-resistant ink.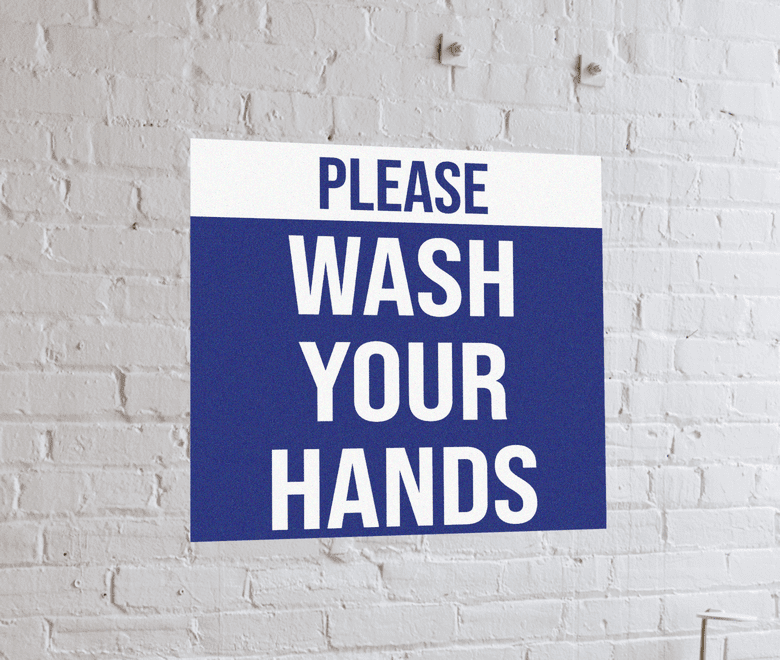 Download our Wash Your Hands Sign Template (36" x 36" adhesive vinyl sign)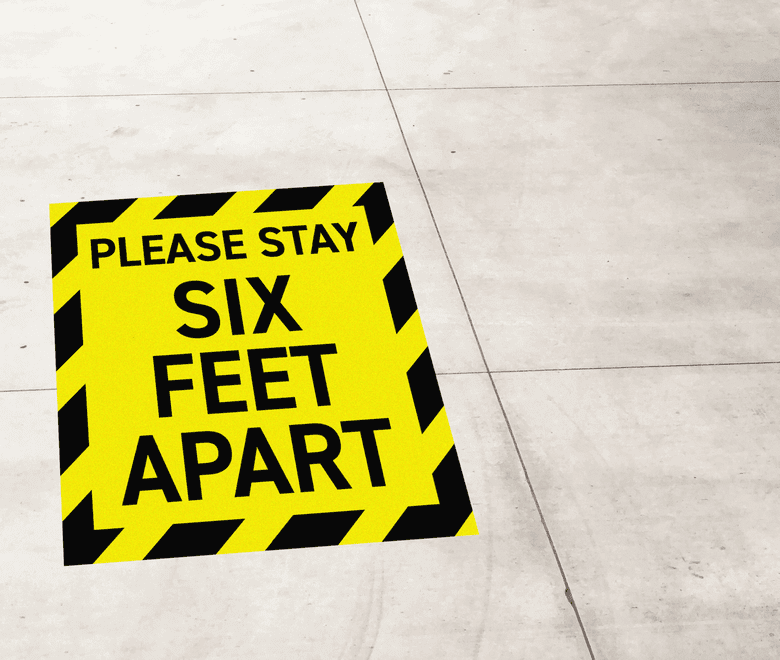 Download our Social Distancing Sign Template (18" x 18" sign)