The start of warmer weather means being outdoors in the fresh air! Festivals, carnivals, concerts and outdoor events are the perfect time to showcase your custom display. Need to navigate your guests around the event? At Half Price Banners we offer a wide variety of outdoor displays. From custom flags to sturdy outdoor banner frames! Customize any of our outdoor displays and wow your quests instantly.
Here are some tips to make your outdoor event successful:
Customize sturdy displays: Although most of our products last long term, you want to make sure your banner or display can handle any harsh weather conditions. When it comes to planning an outdoor event, you want to be prepared for any type of weather. Mesh or 18 oz Vinyl will always display your message, logo or advertisement without any rips or tears. Our Mesh Vinyl Banners are the perfect option for any windy areas. A superior alternative to banners with wind slits. Place a customized 18 oz Vinyl along a fence or above your outdoor booth. 18 oz Vinyl is our strongest and thickest vinyl for outdoor use. The vibrant graphics and sturdy material will not disappoint!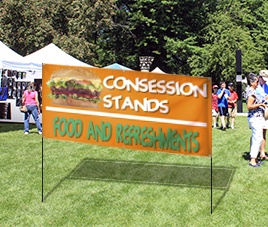 Direct your guests: With a big outdoor event consider placing maps and guides so your guests won't get lost in the crowd! A-Frame Signs and Coroplast Yard Signs are ideal when you want to direct your guests to a specific destination Our wayfinding signage ensures that everyone knows how to find everything they are looking for. Show guests where to park with Deluxe Feather Flags! These sturdy flags are designed to last long term and provide you with a double-sided feature so you guests will not miss your event!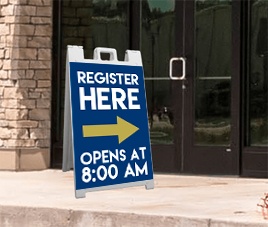 Increase attendance: Every successful event begins with colorful, high impact marketing banners. Promote your outdoor event with eye catching, perfectly executed large format banners that clearly communicate your event's dates and times. Got special performances, unique vendors and exciting sponsors? Use our large format vinyl banners to market your event, your vendors and your sponsors to the broadest audience possible. Display your banner in our tubular steel, outdoor banner stands that are unique and durable. Our outside banners can withstand any weather and look great in any weather condition.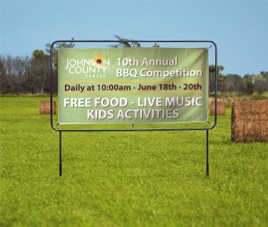 At Half Price Banners we offer everything an event organizer needs to help drive attendance and ensure your attendees can easily navigate your event. We support all types of events all around the United States. We promise you will find the perfect outdoor display solution! Need further assistance on your outdoor project? Give us a call at (866) 527-1363 or emails us at support@halfpricebanners.com.