Nowadays, digital advertising is at the forefront of everyone's marketing strategy. Statistics show that online advertising continues to increase year after year but make no mistake: traditional techniques—such as using custom signage and other promotional products—are still an important and effective element of advertising one's business. Feather flags are one of the most popular promotional products for drawing the attention of visitors to an event or storefront. Named for their feather-like structure, feather flags are designed to display short messages and logos to foot and street traffic (they do not work well for communicating longer messages). They are most effective when used to advertise specific products or services, inform customers of store openings, specials and promotions and to simply welcome new visitors.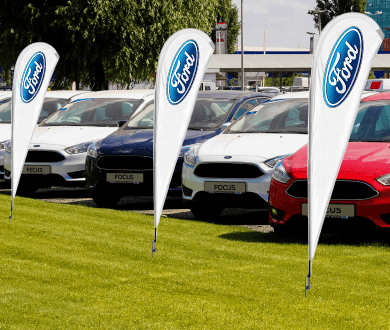 Feather banners offer plenty of advantages. Here are seven reasons to use them in your next marketing campaign:
1.Increased Visibility—When situated in front of businesses, storefronts and other high-traffic areas, feather flags have the ability to grab the attention of passersby and draw in potential customers. Give visitors to your business the extra "nudge" to come into your store by placing flags outside of your location. If you really want to make an impact, consider ordering more than one. A single banner flag might work, but multiple flags will be much more effective—ask us about our quantity discounts!
2. Easy to Set Up and Take Down—Feather flags are one of the most effortless and simplest products to assemble and take apart. Just put the pole set and ground stake together, add your custom printed flag and you're ready to start promoting your business or event. When you need to move your flags to another spot, they can be quickly disassembled and set back up in your new location in no time.
3. Simple to Transport—One of the best things about feather banners is that they are incredibly easy to transport. Everything from the hardware to the actual flag is lightweight and easy to carry from one location to the next. Our deluxe feather flags come with a canvas carrying case to make transporting your displays even easier.
4. Variety of Options Available—From double-sided feather flags and teardrop banners to an array of sizes and colors, we offer a ton of different options. All of our flags are constructed from 3.2 oz. polyester fabric and come with a sturdy pole and in-ground stake. We also offer cross bases and water bags—to use on flat surfaces without any grass—at an additional cost.
5. High-Quality Printing—We use state-of-the-art dye-sublimation printing with UV-resistant ink, so you can create vibrant, eye-catching flags that are resistant to water damage and fading from the sun. Additionally, the artwork is fully extended onto the sleeve so that the front image and mirrored back image stretch seamlessly from one edge to the other. We also offer color matching for an additional $40 for each item. Avoid washing your flags in order to keep colors bright, vivid and looking new.
6. Affordable—When you compare marketing costs, custom feather banners are much more cost-effective than other forms of advertising. Our value feather flags start at just $136, while our rectangular flags start at just $90. Whether you're on a budget or just looking for the best value, flag banners are a handy, low-cost option.
7. Can Stand Up to Weather—Our feather flags are durable and designed for outdoor use. They can withstand moderate weather and high winds, remaining tight and taut in wind speeds of up 30 miles per hour. To get the most use out of our flags, we recommend bringing them indoors if winds exceed this speed.
Feather flags are extremely versatile. They can be used by restaurants, car dealerships, boutiques, apartment complexes and a variety of other businesses to welcome customers and display services, sales and promotions. They can even be used to promote various events, such as concerts, reunions, graduation ceremonies and trade shows. These are just a few of the many benefits of using feather flags to market your business. If you have any questions about your order or need help designing your flags, contact us today. Have you already ordered feather flags from us but need replacement hardware or a new flag? We can help with that, too.