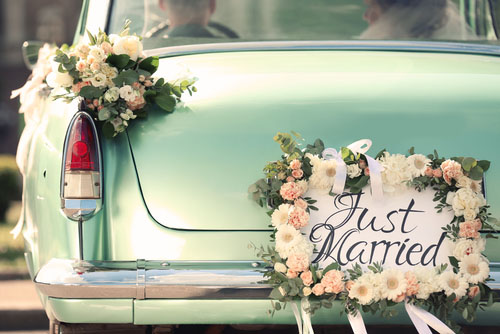 The average American wedding costs upwards of $22,000. That includes the costs of the venue, catering and wedding cake, floral arrangements, wedding decor and so much more. If you're looking for an easy and affordable way to make your ceremony and reception a little more personal and unique, consider having personalized banners created for your wedding. Custom banners and signs have become a common sight at weddings—and it's easy to see why. Wedding signage adds personality, fun and style to your special day. Whether you're planning a formal celebration or a more laid-back affair, you can use them to decorate your wedding venue, making them unique to you and your day. However, personalized wedding banners are more than just beautiful, one-of-a-kind decorations. They also serve a much greater purpose, such as guiding your guests, giving a good laugh or making them smile and encouraging them to share photos of your day. Here are four benefits of creating personalized banners for your wedding.
Multiple Uses—One of the biggest advantages of creating personalized banners for your wedding celebration is that you can use them multiple times and for a variety of purposes. For example, you can use them to welcome your guests to your rehearsal dinner as they walk through the door, to spruce up the decor of your shower or to provide directions to the wedding reception.
Use as a Backdrop—Photo booths are a great way to keep wedding guests entertained and capture candid moments of your special day. Put a creative twist on this classic tradition by creating a custom banner that matches the theme of your wedding. A well-designed wedding banner will make for the perfect Instagram-worthy backdrop for a do-it-yourself photo booth, wedding cake table or sweetheart table. Encourage your guests to strike a pose and share photos of your wedding day.
Provide Details about the Wedding—We've already mentioned a few ways you can use personalized banners in your wedding, but the list of ways you can utilize signage on your special day doesn't end there. You can also use banners to provide important details about your wedding to your guests. For example, you can use them to direct your guests to and around your venue or to display the timings of your wedding day, such as when the official ceremony will take place, times for mingling and dancing, dinner and when to take photos. You can also use your signage to tell your guests where to sit, what's on the menu for dinner or what signature drinks you'll be serving. There are virtually endless ways to use personalized banners on your wedding day.
Personalized to the Bride and Groom—The best thing about using custom wedding banners is that they can be personalized to the bride and groom and can be saved as keepsakes to remember the special day for many years to come.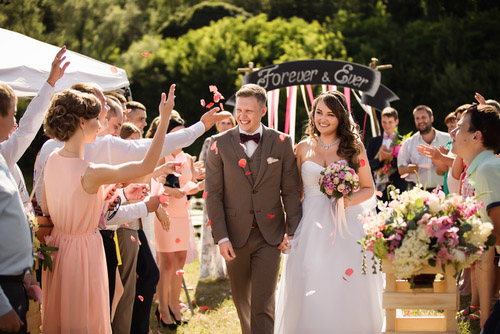 How to Order Personalized Wedding Banners
When it comes to ordering personalized banners for your wedding celebrations, there are a couple of things to consider. Think about your wedding's theme, the color scheme you'll use and the overall style you want when coming up with the design for your banners. Don't forget about the materials, too. Consider where you plan on hanging your signage and choose a material that works best for that location. For example, if you plan on hanging your banners outside, then you'll need to choose vinyl banners that work great in both indoor and outdoor environments. Otherwise, you can use a variety of different materials for signage that you plan to hang inside, such as canvas and fabric banners. Keep your messaging short and sweet but, most importantly, don't forget to have fun. A wedding is an important time in any person's life, so make sure to create personalized wedding banners that make you proud to share the news about your special day!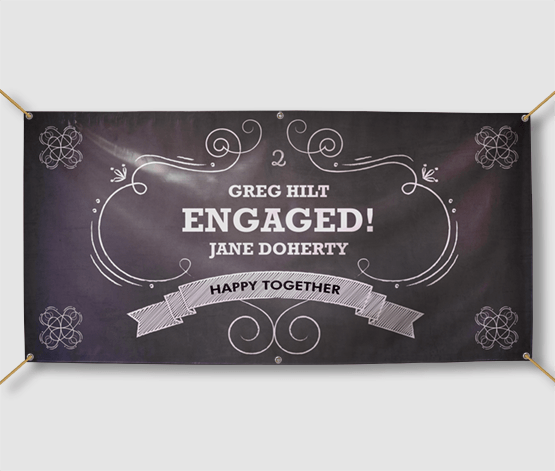 Whether you're shopping for banners to hang at your wedding reception or you need custom signs for an engagement party, you can find what you need at Half Price Banners where we make it easy for you to create the wedding signage of your dreams. Simply choose from one of our pre-designed templates and personalize it with your information, colors or graphics or work closely with one of our expert designers to create a personalized wedding banner that is truly your own. To get started with ordering a custom wedding banner, contact Half Price Banners today.