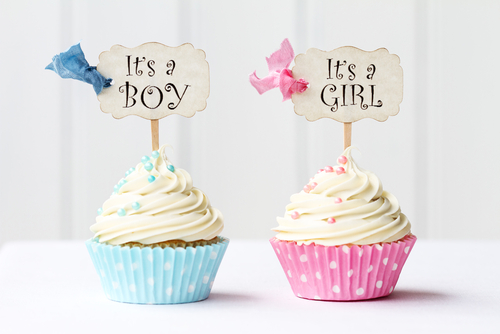 A baby shower serves as a special gathering designed to celebrate mom-to-be and shower the new baby with gifts. Baby showers are tons of fun—and hosting them is even more exciting. There's so much to consider when planning a baby shower, and this is especially true when it comes to decorations. A lot goes into decorating for a baby shower, from selecting a party theme and colors that fit mom's personality to choosing decorations—such as balloons, table decorations and cake toppers—that match. One of the most common decorations you'll see at baby showers are baby shower signs. Whether you're hosting a baby shower at your home or at a venue, baby shower signs make practical (and adorable) decorations. You can hang a baby shower sign along a wall, above a table or in an entryway to make the rest of your baby shower decorations stand out and include it in the background of your most Instagram-worthy photos of the celebration. Best of all, you can order customized baby shower signs to create a truly memorable experience for a new mom and her closest friends and family.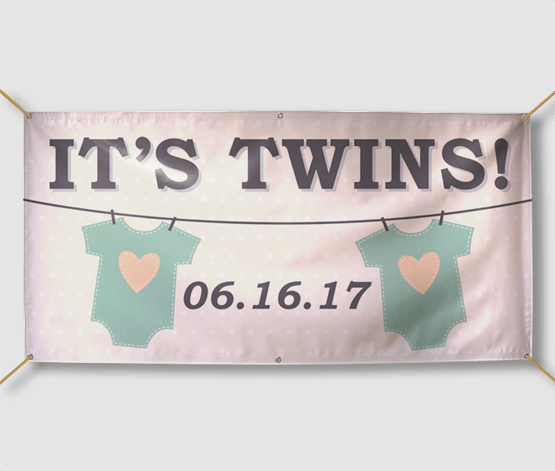 If you're in charge of hosting a baby shower, here are four ideas for designing custom baby shower signs.
Use It to Reveal the Baby's Gender—Gender reveal parties are all the rage these days. A gender reveal party is an event where you reveal the biological sex of the baby to friends and family. This is a different type of event from a baby shower and is usually held earlier in the pregnancy, whereas baby showers are commonly held several weeks before the baby's due date. However, many choose to roll these events into one. If mom-to-be decides she wants to combine the parties, you can easily incorporate this into the design of the baby shower sign. Mix neutral colors with pinks and blues and use sweet and simple messaging to keep your guests guessing!
Incorporate the Party's Theme—One of the best ways to showcase your creativity is by selecting a theme for the baby shower. Whether you choose a certain color scheme, a nod to the new mom's favorite television show or something else that matches her personality and values, the baby shower theme can serve as an anchor for the party's food, activities, decorations—and signage! Find ways to incorporate the theme into the baby shower sign. For example, if you know mom-to-be loves the ocean, consider a nautical-themed shower and incorporate anchors, whales and shades of blue into the design of your baby shower sign.
Include a Cute Message—Including a cute message, heartfelt message or inspirational quote on a baby shower sign is the perfect way to reiterate to mom-to-be just how excited you are about the new baby. If you find yourself unsure of what to include, just remember to keep your message short and sweet. For example:
Wishing you all the best with your new arrival!
Wishing you well. We can't wait to meet the little one!
Congratulations on your upcoming little one!
Keep calm and baby on!
In addition to your message and well-wishes, you may also want to include other important details, such as the names of the parents-to-be, the date of the event and the baby's name (if you know it already). This will make a great gift for mom at the end of the baby shower!
4.Know How You Want to Display It—When it comes to designing custom baby shower signs, you'll need to have an idea of where you want to display it before placing your order. For example, if you want to hang your sign up as a decoration, then a baby shower banner will work best. You may also want to consider baby shower yard signs to help direct guests to the right place.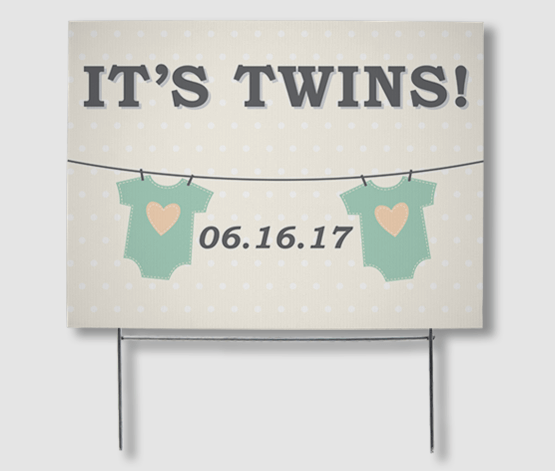 Custom Baby Shower Signs from Half Price Banners
If you know someone who's expecting a new baby and you've been tasked with planning the baby shower, make the special day even more memorable with baby shower signs from Half Price Banners. We offer a selection of vinyl and fabric banners and coroplast yard signs that can be customized with a personalized message for the parents-to-be. We also have tons of baby shower graphics and artwork for boys, girls and twins. Contact us to get started!