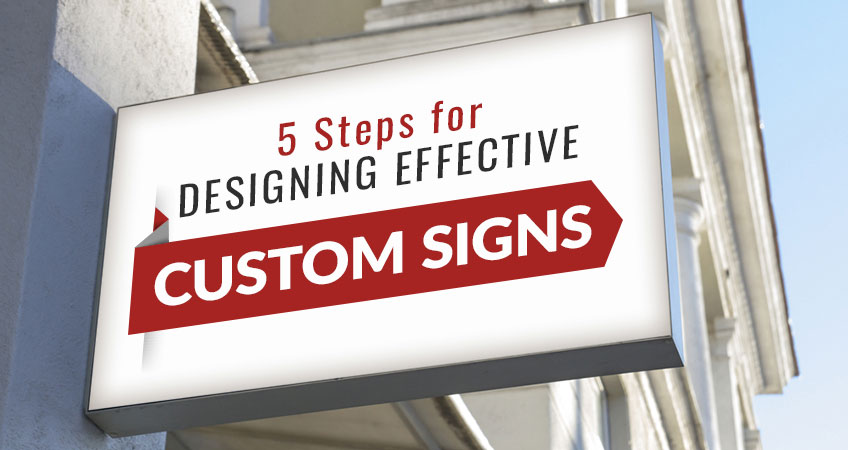 Businesses rely on signage for many unique reasons, from announcing their presence to playing up special deals and promotions. Though they may not always have a natural design eye, savvy entrepreneurs know that effective custom signs should be well thought out so they convey the proper messaging and emotions. With that said, many small- and medium-sized businesses lack an in-house design department, leaving the sign design to the owner or whoever's the least busy. If you're up against this problem—or if you simply want to make sure that your promotional dollars stretch as far as possible—then be sure to reference this guide from Half Price Banners to get you started.
Remember, you can always contact us if you'd like one-on-one assistance designing your custom signs. Our team is more than happy to assist you with the entire process, from choosing the right kind of sign to designing it, mocking it up and printing it.

First Things First: Select a Sign Type
Before you do anything, you need to determine which type of sign is best for your specific application. Ask yourself the following questions to help you zero-in on which type of sign is the best for your needs.
Where will your sign go?
How far away will most viewers be?
What messaging should be included?
Who will you attempt to target with this sign?
How large do you want the sign to be?
How much time do you have to hang it?
Do you want it to be permanent or temporary?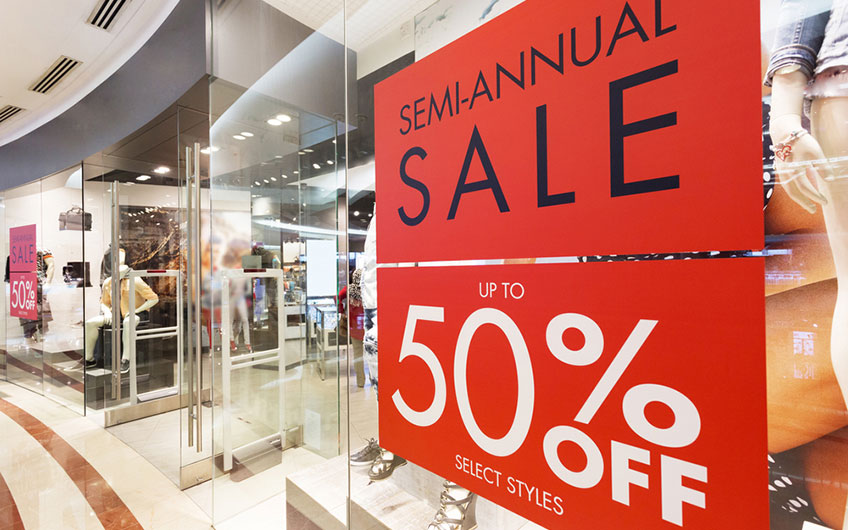 From fabric banners to adhesive floor mats, there are many different types of signage that help you convey your specific messaging. At a glance, here are some of the sign types we offer:
Custom Indoor Signs—Naturally, these are the custom signs you want to focus on if the answer to the first question above is "somewhere indoors." They're made of economical yet long-lasting materials for effective indoor displays.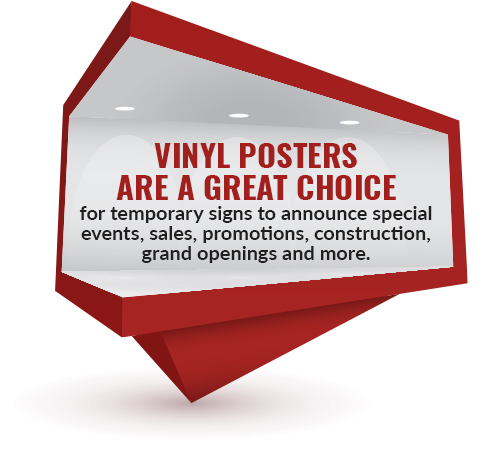 Custom Outdoor Signs—If you're looking to hang signs on the outside of your business, be sure that you select an option that's designed for the outdoors. These signs are made with long-lasting materials that can handle the elements.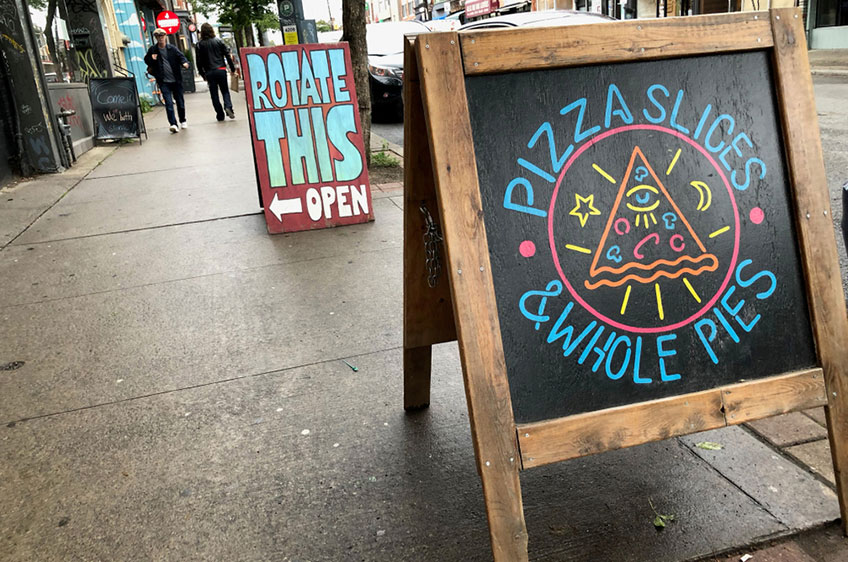 Adhesive and Magnetic Signs—These signs can be temporarily or permanently affixed to a surface, such as a wall, floor or vehicle.

Make a Big Impact: Select a Sign Size
Now that you've selected your sign type, it's time to make some size-related decisions. The goal should be to make your sign perfectly readable to your optimal viewer—that is, it shouldn't be too large or too small to read comfortably from the general area where it's meant to be viewed. But you also have to keep in mind that size affects price. Typically, the larger the sign, the higher the price. Here are some more tips to keep in mind when choosing a size.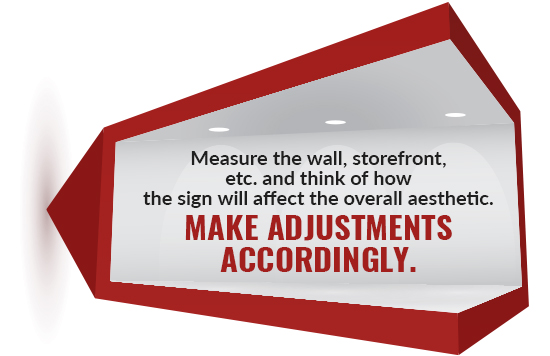 Assess the Sign's Ultimate Location—A good place to start when choosing a sign size is the location where it will ultimately be displayed. Measure the wall, storefront, etc. and think of how the sign will affect the overall aesthetic. Make adjustments accordingly.
Think About Distance—Sign sizing is somewhat of a science, with metrics such as the maximum viewable distance used to help guide you towards the right size. This is the measurement that tells you how far away your sign can be to maintain easy visibility. You'll also want to reference a letter visibility chart to decide on your font size.
Go Big, But Not Too Big—A good rule of thumb when designing signage is to make your sign as big as you can make it without compromising visibility. In other words, you want it to command attention but not be too large that it's unreadable.
Don't Feel Boxed in By Limitations—Note that at Half Price Banners, we offer custom sizing on almost all of our products. If you can't find the perfect size, simply choose a sign that's one size larger and we'll cut it down to the appropriate size.

Make it Memorable: Hone Your Messaging
Next up: the wording. Selecting your sign's messaging is vital to an effective, high-quality sign design. If your messaging is confusing, poorly worded or overwhelming, your signage won't do its job. Here are some more quick and easy tips on how to make sure your sign sends the right message, so to speak.
Keep it Short and Sweet—It's a copywriter's golden rule: don't overwhelm the reader. The fact of the matter is that large blocks of text alienate readers, so your goal with any customer-facing content should always be to make it scannable. Jot down the exact message you want to send and then cut out any and all superfluous words. It's all about conveying key messaging in a way that's to the point.
Make it 'On-Brand'—At the end of the day, a sign has a specific role, and it's usually to inform your customer or client of something that has to do with your business. Though an effective sign is one that does its job—i.e., a promotional sign that draws potential clients into your store to participate in a sale—it should also be one that contributes to your brand narrative. Ensure that all copy goes with the aesthetic and feel of your business.
Run it By a Proofer—We see hundreds, sometimes thousands of signs a day. The truth is that we typically don't remember them all, but we definitely remember the ones that made an impact, for better or for worse. People will take note of signage that has any misspellings, grammatical errors, printing issues, etc., and not in a good way. Always be sure that each and every sign you design is approved by someone who's spelling- and grammar-savvy.
Personalize it for Your Audience—Did you know that simple word choices can help viewers take specific actions? For example, you might want to use more of the words "you" and "yours" to help the potential customer visualize themselves using your product or service. Paying close attention to how each and every word affects the message will help you create a sign that says a lot in very few words.

Send the Right Message: Design Your Sign Layout
All of the above steps and tips are leading up to one big objective—laying out your sign. You've got the perfect sign in the perfect size with perfectly written copy. Now's the time to put it all together with a professional layout, effective fonts and compelling colors. Here's how to do it.
Think About Color Psychology—Color is one of the first things experts mention when talking about effective signage design. It can help you convey certain emotions and even compel shoppers or clients to make certain purchasing decisions. Remember to always include your brand's coloring in all materials to create a cohesive look.
Consider Professional Designers—Why not have a professional design your custom signs? While pro design services can cost a ton, you'd be surprised to see just how affordable they can be when you have your sign printer's in-house designers do the work for you. Half Price Banners has complimentary design services and consultants who are always available to help you create signs that grab attention and contribute to your brand voice.
Only Use Easy-to-Read Fonts–Resist the urge to design your signs in Curlz MT or Comic Sans, as tempting as it may be. The best-designed signs are those that use straightforward fonts, such as Helvetica, Futura or Garamond. Of course, your font choice contributes to the overall feel and design of your sign, too, so make sure you select one that goes with your brand style and sends the right message.
Respect the White Space—Funky fonts, big blocks of text and crowded components —this is the recipe for a sign that fails. Make sure that you leave enough space between words, graphics and other design elements so that it doesn't feel like you just jammed in whatever you could fit. When in doubt, follow this sign designer's rule of thumb: let it breathe.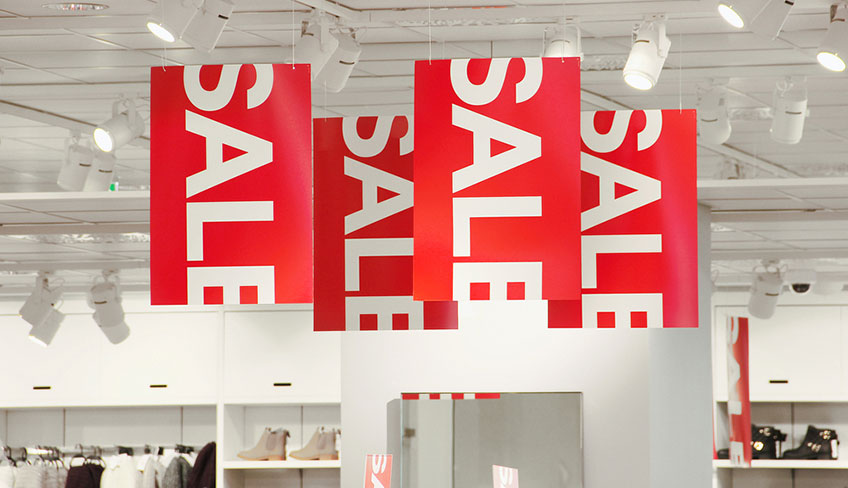 Order Your Custom Signs
The final step of the process is to order your custom signs at Half Price Banners. Luckily, once you've spent some time focusing on the steps above, ordering will be a total breeze. Simply select the type of sign you want and then choose your design method. You can either upload a print-ready design file, use our free design services or create your sign with our custom design tool. We look forward to helping bring your signage to life.