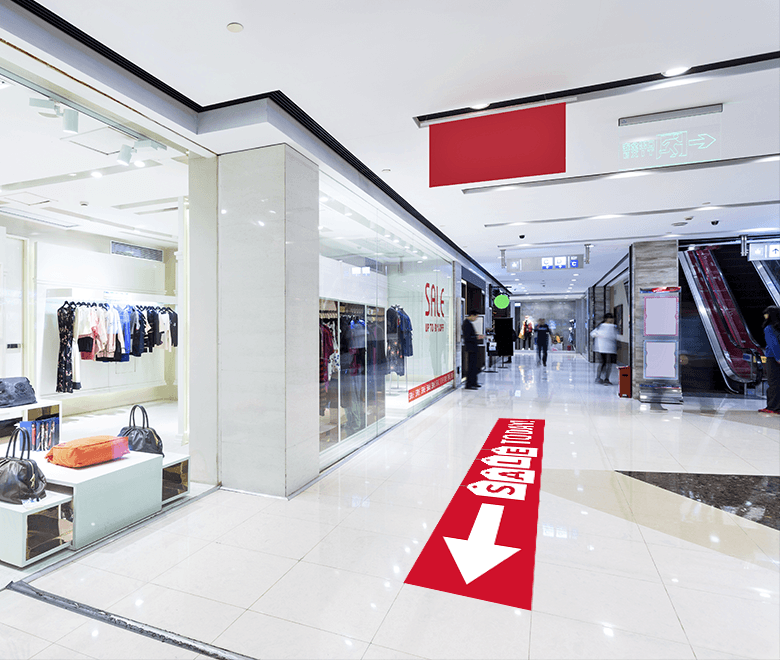 A floor decal is a type of sign that is designed to lay flat against the ground to display a message or artwork. Also called "floor stickers," this type of signage is often used to take advantage of unused floor space. While floor decals may not be the newest, most innovative way for businesses to advertise themselves, these days they're more relevant and useful than ever. If it seems wrong to display your brand's logo on the floor, it may be time for a change of heart. The average American spends more than four hours a day looking down at his or her phone and oftentimes this occurs while doing other activities, such as walking, eating, driving or shopping. Given that more and more people are looking downward, your floor or sidewalk may just be prime advertising space for your next marketing campaign. In addition to advertising your business, floor decals have some practical uses as well. Here are five ways businesses can utilize floor decals.
Promote Sales and Specials—With people constantly looking down at their phones, you'll be able to easily capture your customers' attention on the ground by advertising with floor decals. They're a great way to let your customers know about the sales and promotions you're offering as they walk through your business. It's fairly uncommon to see products and promotions advertised this way, so it will definitely catch your customers' eyes.
Guide Foot Traffic—Floor decals are a great way to increase foot traffic and guide people to your physical location, especially if your business is located in an area with multiple businesses. Purchase vinyl floor decals and place them on your sidewalk to provide directions to your business or use them inside to direct your customers to specific locations inside your store.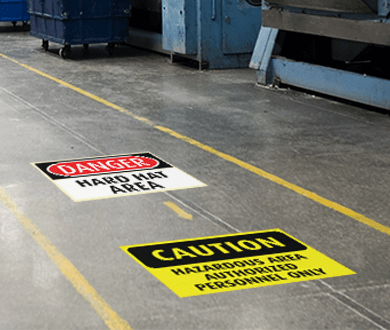 Provide Photo-Ops for Customers—Is there a picturesque backdrop or unique location in your store that you want to promote on social media? If so, floor decals are a great way to encourage your customers to stop and take a selfie or group photo and share it with their followers. Who doesn't love a photo-op? Plus, you'll not only be increasing foot traffic to your physical location, but you'll also be increasing brand awareness (both online and offline). Floor decals are also a great idea for trade shows and conferences due to the huge amount of foot traffic.
Alert to a Hazardous Area—Warehouses, manufacturing facilities and other commercial or industrial buildings include hazardous zones that can be dangerous to employees if they don't take the necessary precautions. Floor decals are important for alerting employees to these hazardous areas. They can be used to make employees aware of forklift traffic, remind them of hard hat areas or offer a simple message of caution.
General Branding—When it comes to promoting your business and its offerings, floors and streets are often passed over in favor of other branding opportunities. However, putting your logo on any surface will give you an edge over your competitors. Take advantage of your floor and sidewalk space by purchasing floor stickers or decals to increase your visibility and improve brand awareness.
Get Custom Floor Decals from Half Price Banners
At Half Price Banners, we offer floor decals that are made from 8 mil textured vinyl that is OSHA-compliant and slip-resistant. They'll stick to almost any surface and can be easily removed with little to no residue. Their lifespan depends on their use. While our floor decals can be used both indoors and out, we recommend indoor usage as you'll be able to enjoy them for longer. Best of all, we make it easy for you to create custom floor decals for your business. Simply upload an image, use our custom design tool or let one of our experienced designers help you create a one-of-a-kind design you'll love. Contact us to get started!