In the world of event marketing, few components are quite as handy as the retractable banner. Designed to help you capture the attention of everyone in the room—whether marketing to the C-suite at a big industry event or to consumers in your community—these handy banners are an affordable way to help you boost sales. Showing up to industry shows and events that put you in front of the right buyers is a great way to get your name out and make valuable connections, but you've got to make sure you do it in a way that's effective and easy enough for your busy schedule.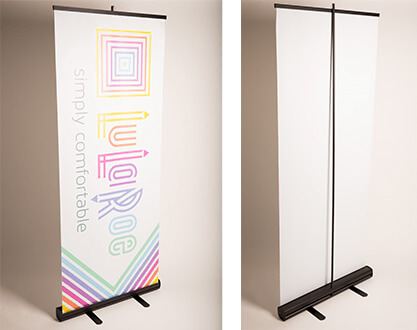 Here are a few more reasons why we love the marketing wonder that is the retractable banner.
They're Simple to Set Up—For most, the biggest benefit of this kind of banner is that it's portable and easy to set up. When you're exhibiting at trade shows, fairs, festivals and other events, the last thing you want is to have to arrive hours early to deal with a bulky, frustrating setup that requires complex tools or extra hands. Ours even come pre-loaded and ready to use, so you can take them out of their included carrying case and pop them up in an instant. The telescoping design ensures a smooth, quick setup anywhere.
They're Easy to Transport—Another thing that exhibitors love about our retractable banners is that they're lightweight and easy to carry or transport in your car. In fact, each one easily rolls up into its base so it becomes compact enough to store in the trunk, a storage bin or a closet. You'll also appreciate the comfortable canvas carrying case that neatly stores everything and makes it easier to transport. This fact makes these banners some of our more popular ones for trade shows and temporary events.
They Are Printed with Quality—Because we offer premium-quality printing services and are able to print each one in vibrant full color, you can use them to create one-of-a-kind custom banners that stand out. No matter your unique design—whether you want it to be simple and straightforward or intriguing and filled with many colors and images—it can be brought to life on a professionally printed, portable banner.
They're Versatile—If versatility is what you're after, consider our adjustable retractable banners. These are our most versatile banners ever, as they allow you to swap out graphics and adjust the height as needed. If you regularly tailor your signage and banners to the event at hand, or if you'd like to have a collection with specific messaging for different events, then be sure to consider this option. We also have double-sided, miniature and tabletop banners featuring this innovative retractable design, so they're perfect for almost any scenario.
They're Affordable—Our economy retractable banners start at just $99, while our mini retractable banners start at just $55. Anyone on a budget who would like to make a big splash at an industry event, trade show or fair should consider grabbing one or two of these incredibly convenient and affordable banners.
They're Long-Lasting—Even the most affordable retractable banners from our store are designed to last you quite some time. Each one is waterproof with anti-mildew properties, tear-resistant and printed with UV-resistant ink, so you can expect to have it in the rotation for years to come. Each one is made from a high-quality vinyl material that will stay in good shape even when you're lugging it from here to there.
Picking the Right Banner
When you set out to shop for banners, you probably didn't realize how many unique options are available. There's hanging banners, fabric backdrops and X-stand banners, among many others. But which one is right for you? You can't go wrong when you choose retractable banners, but our team is here to help pair you with the perfect banners and signage for your budget, needs and preferences if this style isn't ideal for your specific application.