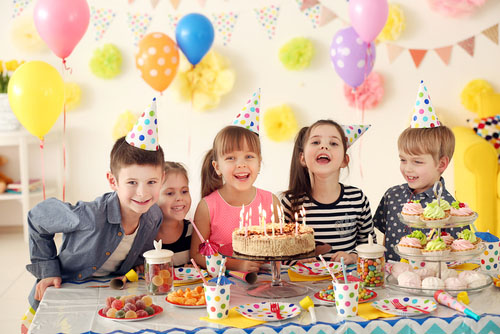 At some point in your life, you've probably walked into a friend's birthday party—or maybe even your own—only to be greeted by a sign commemorating the day. Whether you're throwing someone a birthday party or simply want to honor the day for a friend, family member or someone in your office, nothing shouts "Happy Birthday" quite like a custom birthday banner does, especially when they're designed in their favorite colors with a heartfelt message and posted in a prominent location for everyone to see. Here are six reasons why you should purchase custom birthday banners for the next party you host.
1. Create Custom Messages—Go to any party supply store and you're bound to find an endless selection of birthday banners, signage and decor. However, there's no way to personalize them. Most of these decorations are created as-is with their own color schemes and generic messaging. When you purchase custom banners for a birthday party, you'll be able to create a custom message to celebrate a friend or co-worker that will truly make them feel special.
2. Come up with a One-of-a-Kind Design—It's likely that you'll be hardpressed to find a birthday sign with a design that celebrates your friend the way you think he or she should be celebrated, so why not come up with your own one-of-a-kind design instead? Choose your friend's favorite colors, font and a touching message that will put a smile on his or her face. Why not go the extra mile and include a photo of your friend on your banner? This is guaranteed to make them feel appreciated.
3. Set the Tone—While it's not necessary to have a happy birthday sign hanging at a party for people to know there's a party going on, it definitely helps to set the tone and create a fun and entertaining vibe.
4. Provide Photo Ops—If there aren't any photos, did the party really happen? A uniquely designed birthday banner provides an opportunity for everyone in attendance to snap photos with the banner and share pictures of the special day.
5. Give Directions to the Party—With well-designed birthday banners, you can host a party anywhere. Whether you're throwing a party at your home, at the beach or in a local park, all you need to do is place your banners where people can see them and the party will follow. Place your banners along the sidewalk and at the entrance of your location so your guests know where to find you.
6. Show Appreciation—One of the most important reasons to use custom birthday banners to celebrate someone's birthday is to show your appreciation. A birthday is a day when a person should feel special. The simple fact that you went out of your way to create something personalized to celebrate their big day shows the birthday person that they are appreciated and will make them feel cared for. When the party is over, you can gift the banner to the birthday person as a keepsake so they'll always have it to remember their day.
Designing Custom Birthday Banners: Things to Keep in Mind
When it comes to designing custom birthday banners for a party, there are a few important things you need to consider. First things first: You'll need to decide where you plan to hang your banners as this could impact the type of material you choose. If you plan on hanging your banners indoors, there are a variety of options for you to choose from, including vinyl, polyester fabric and canvas. However, if you're going to be hanging your banners outside, then you should opt for vinyl banners or mesh vinyl.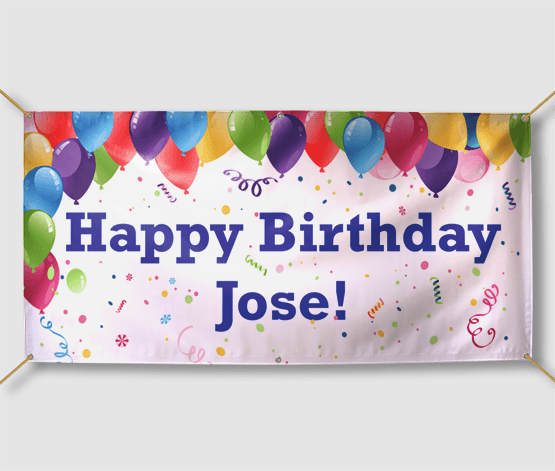 Design is everything when it comes to creating custom banners and color is perhaps one of the most important considerations. In fact, the importance of color is often mentioned by experts when discussing how to create effective signage. Choosing bright, eye-catching color is essential, but you'll also want to incorporate some of your friend's favorite colors into the design as well. If you're going to use graphics, choose high-resolution images in the correct specifications. And finally, when it comes to your banner's messaging, the best practice is to keep it short and sweet. If you plan on reusing your birthday signage for another party in the future, then it's best to keep your messaging generic.
At Half Price Banners, we make ordering custom birthday banners quick and easy. If you have any questions or need help coming up with a design, contact us today or call (866) 527-1363.