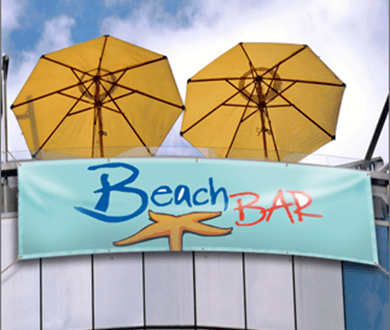 Vinyl banners are some of the most recognizable types of signage used by a wide range of businesses. Business owners and organizations often use banners to communicate important and relevant messaging—such as a sale, promotion or even an event—to current and potential customers in an effective way. Here are seven reasons why you should choose vinyl banners for your business or organization:
They are durable—Vinyl banners are sturdy and weather-proof. They are resistant to water and sun damage, making them perfect to use for outdoor advertising. You can count on them to last through rain, snow and sunlight without sacrificing quality. Their durability means they can last for years and can be reused whenever you need them again, whether that's in two months, the end of the year or next year. Investing in this type of banner can help decrease marketing costs for your business.
They are colorful—Our vinyl banners are digitally printed in beautiful, eye-catching colors. The best way to attract customers to your business is to use signage that is rich in color with a design that is unique to your company. For crisp clear graphics and high-quality glossy finish, try our high-resolution banners. You don't have to be an expert in design to create a visually appealing banner, either. You choose the design and our team can help you put it all together by helping you select the right size, colors and style of banner you want.
They can be created quickly—Are you in need of a custom banner as soon as possible thanks to a short deadline? No problem! One of the best things about ordering vinyl banners from us is that they can be created within a fast turnaround time. Approve the proof of the banner design by 5 p.m. and your banners will be ready to ship by the next day.
They can be customized—One size doesn't fit all. Our vinyl banners can be customized to fit the exact needs of your business. You control the design, size, style and colors of your banner. You can also choose which type of vinyl you'd like to use. We offer a variety of different options, including 13 and 18 ounce vinyl, perforated outdoor vinyl mesh and smooth high-resolution vinyl printed with a gloss finish.
They are affordable—This type of banner is popular among many small businesses because it is so economical. Managing your budget for marketing and promotion is an important part of any business. Because of the quality and lastingness of our vinyl banners, they can be reused repeatedly and for many different needs. This works best if you make sure you plan ahead. If your company plans to exhibit at a few trade shows and conferences this year or you plan on hosting events for the community, order your banners in bulk to get as much value as possible. Again, these can be used year after year without compromising quality.
They allow you to be concise—It's important for businesses to communicate their value to new and potential clients while also clearly defining their identity to their customers, but it's important to remember to be concise in your messaging. If your messaging is too wordy, you risk losing the attention and interest of your target audience. Only eight percent of people say that the advertisements they see online are relevant to them, according to research from Adobe. This means that business owners have the opportunity to reach people offline more effectively by using custom banners, as long as the messaging is concise and includes a clear call-to-action.
They increase foot traffic—Vinyl banners can also help small businesses achieve important business goals. For example, if one of the goals of your business is to increase foot traffic to your location, then banners are a great solution. Place your banners in a good spot visible by pedestrians, passersby and drivers to guide them to your business.
The benefits of vinyl banners can help unlock infinite opportunities for your business. The advantages we have highlighted here show that banners are powerful tools in marketing and promotion. Whether you run a business, storefront or an organization, our banners can help you achieve your goals.