An industry trade show can be like a crazy, multi-ringed circus. Whether tech companies are showing off their latest gadgets or suppliers at a food and beverage trade show are introducing new refrigerator designs, companies are all competing for attention, hoping the right people will walk into their booth to learn more about their products or services. One of the best ways you can advertise your organization and get people to stop and take notice is with a professional, high-quality custom trade show banner. But what are the best banners for trade shows? And how do you make sure that your trade show banner stands out and has the greatest impact?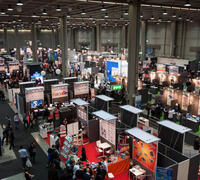 Tips for Successful Trade Show Banners
Focus on Brand Positioning and Key Marketing Messages – Keep it simple and concise with bold, easily recognizable graphics. Banners should reflect your exhibition goals.
Speak to Your Key Target Audience – Concentrate on their needs, desires and motivations for a purchase. Try to filter out those least likely to make a purchase, so company representatives can spend their time with potential customers.
Don't Overcrowd; Less Is More – Focus on crisp, easy-to-read graphics and text. Use a bold, short headline and brief marketing points. Choose text carefully for maximum impact. Have plenty of white space and keep banner uncluttered for greater impact and readability.
Keep Banner at Eye-Level – If possible, position your banner at eye-level so it can be easily read by people walking down the aisle.
Stay Away from All Caps – A combination of upper- and lower-case text is easier to read. Use all caps sparingly and only for key words or phrases.
Ditch the Italics – Sans-serif fonts with no italics provide clearer text for easier reading and comprehension.
Use Colorful, Eye-Popping Images That Tell a Story – Graphics should be instantly identifiable and not difficult to interpret. They should help tell your company's story and reinforce your advertising message.
Harness the Power of Color – Blues and greens are calming. Black, white, silver and gray convey a modern, upscale image. Yellow and orange are high-energy and will attract attention. Keep a high contrast between background and text colors so it's easier to read.
Incorporate a Call-To-Action with Company Logo and Tagline – This will help to identify your company brand and encourage people to visit your booth to learn more.
Use a Spotlight to Highlight Your Banner – Spotlights can also be used to draw attention to key elements of your display.
A trade show banner is an important extension of your company's image in the world. It reflects its personality, core messages and business goals. Now you're ready for your company's next public outing!