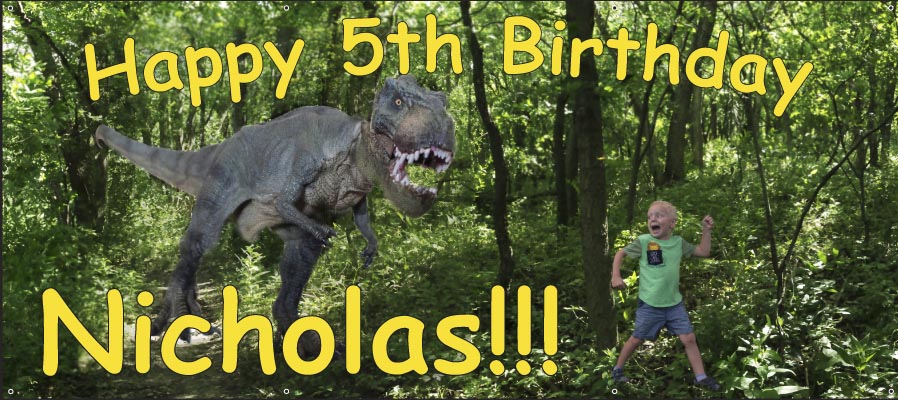 We'd love to see how your creative DIY or professionally made birthday banners turn out at your party. We may even share your pic on our social or add it to this article! @HalfPriceBanner on Twitter or https://www.facebook.com/halfpricebanners
All good party planners can agree –– every excellent shindig, soiree, or social gathering needs a wow factor, or something bold that stands out in an eye-catching way.
When preparing for a birthday party, it's a good idea to think about how you can boost your decor while also doing something special for your friend or loved one. To that end, a custom birthday banner might be just the focal point to get.
When it comes to getting a custom birthday sign though, there are many options to choose from.
Here, we will break down some of the signs most commonly purchased for this occasion, how to design your banner, and some advantages and practical uses for the sign. Never fear, DIYers –– if you have your heart set on a homemade hanging banner, we'll also look at how to make one yourself, as well as offer up some of our favorite ideas for you to try out.
Are you ready to celebrate?
Professionally Made Options
One of the appeals of having a custom birthday banner made is that there are a plethora of types, variations, and dimensions that can suit many different party locations and themes.
Below are some common picks.
Basic Vinyl Birthday Sign
Let's start with the basics. A vinyl birthday sign is a simple, elegant way to add an accent to your party by placing graphics of the guest of honor's interests, using pictures of them at various ages, and/or adding some text that is special to them. Sometimes the simplest option can be the best one.
These signs are great because you can customize them for many different occasions and keep it for years to come as a keepsake memory.
Whether you get it as a poster that can go on the wall or a banner you can hang, creating a basic vinyl sign doesn't have to be hard. Oftentimes you can choose from premade design templates or simply upload a photo or design that you have made.
Yard Sign
If you're having an outdoor gathering or just need to let attendees know where the party is, a yard sign can be the perfect choice.
You can customize the sign with the honoree's name and photo, and use it as a decoration outside. A birthday yard sign can be kept for many years and is both fun and functional at the same time.
The most important elements when making a yard sign are making sure you have sturdy, solid posts to place in the ground and make sure the lettering on the sign itself is large enough for everyone to see.
Custom Table Throw
Tabletops are one area that can be easily decorated but are often forgotten about. With a custom table throw, you can jazz up the food and dessert table with a special cover with colors or photos to match the decor of the event. Add 'Happy Birthday' text to really make the table pop!
Not only are custom table throws functional, but they are also reusable for other parties or events and can be kept for years.
Fabric Backdrops
Do you and your friends love posing for silly photos together? Why not bring all that fun and silliness to the party?
With a fabric backdrop, you can! Either select a photo, scene, or other image to place on the backdrop, upload your design, and you'll be on your way. You might even want to customize it to be specific to a place the birthday boy or girl enjoys going to or add text of their common sayings.
Fabric backdrops are a great way to get guests to take photos together while at the event and help everyone enjoy the memory.
Standees
Make a big surprise splash at the party by getting a cardboard standee of the person of honor. Life-sized standees are unique, unexpected, and can be a fun photo opportunity for guests. Plus you can keep it to use again, or give it to the birthday boy or girl to keep.
DIY Happy Birthday Banner
If you aren't sold on the idea of having a custom banner made, you can always go DIY. The steps for making a happy birthday banner are as follows:
Gather your materials: string, paper, scissors, and tape/glue.
Cut out the desired shapes of each backdrop.
Cut out letters.
Glue the letters onto the shapes.
Glue or tape shapes onto the string.
Hang the banner by tying to a sturdy place, or with tape, tacks, or staples.
And voila! You have your own personalized, homemade birthday banner.
Jazz Up Your Decor With These Ideas
Need some inspiration? We dug through websites like Pinterest to find birthday banner ideas we like.
Scrapbook Banner
Are you an avid scrapbooker with extra pages aplenty? Repurpose them as the backdrops for the letters with the same colors as the party theme for a fun, fresh look.
Birthday Pennants
With some sticker letters and cardstock, you can put together a banner in no time, complete with plenty of sparkle and shine. No need for expensive cutting machines!
Use What You Have
Who says you need to spend a lot of money to make a great sign? Using items you might already have at home, like ribbons, printer paper, and a hole punch, you can string up a unique decoration without having to hit the store.
Balloon Banner
Break out the balloons and confetti! Create a simple and eye-catching birthday balloon banner by filling balloons with confetti, sticking on letters and stringing them up.
Mix and Match
Who says everything needs to look uniform? Create an eclectic and fun look by putting together different patterned scrapbook paper, wrapping paper, or other items you might have that can be combined into a unique sign.
Felt Banner
Get together some squares of felt, patch them together, cut out the message and hang on the wall for a unique birthday wall hanging.
Artsy Banner
Turn your decoration into a work of art! Use cutout letters to draw or paint the message onto your backing for a creative and unusual way to honor the birthday boy or girl.
Find the Right Birthday Banner for Your Party
Add your own personal touch to the next birthday party you throw by getting a customized birthday banner or making one of your own. Make the guest of honor feel extra special by shouting happy birthday from the rooftops with a custom sign!
Shop our wide selection of birthday signs to get started.
We'd love to see how your creative DIY or professionally made birthday banners turn out at your party. We may even share your pic on our social or add it to this article! @HalfPriceBanner on Twitter or https://www.facebook.com/halfpricebanners