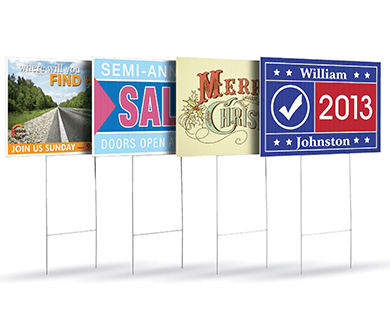 When it comes to ordering custom signage, more and more businesses are turning to Coroplast signs. For small business owners in particular, where every dollar you spend counts, Coroplast signs are one of the most cost-effective ways to market your brand and promote your products and services. You've probably driven through your neighborhood and seen Coroplast signs without even realizing it. So what exactly is Coroplast and why should you use Coroplast signs for your company? Here's everything you need to know about Coroplast signs.
What Are Coroplast Signs?
Many people don't realize this, but Coroplast is actually a trademarked name of corrugated plastic. However, thanks to its increasing popularity, the name has become more generally used to refer to all corrugated plastics as Coroplast. Coroplast signs are made from three layers of thin, polypropylene plastic substrate. This layered structure makes Coroplast signs incredibly lightweight and extremely durable. They're engineered to be tough and waterproof, and work well in either indoor or outdoor applications.
Benefits of Coroplast Signs
Coroplast signs offer a variety of benefits that make them incredibly versatile for many different applications and uses. Some of these benefits include that they are:
Durable—Coroplast signs aren't invincible, nor are they designed to be displayed for a lifetime. However, when it comes to their durability, Coroplast signs can handle it all. They're designed to withstand exposure to the sun and other elements and are resistant to damage from insects and other pests.
Waterproof—Coroplast is a naturally waterproof material. Signs made from Coroplast are designed to stand up to a variety of temperatures and conditions, including stormy and rainy weather.
Lightweight—While they're as tough as most solid plastic signage (such as vinyl banners), Coroplast signs are much lighter. Their lightweight construction makes them easy to transport, distribute and display. They're also very easy to mount and you won't have to worry about walls or structures collapsing under their weight. However, due to their lightness, Coroplast signs can be susceptible to damage from high winds, so make sure to avoid using them in windy areas.
Affordable—Coroplast is one of the most affordable materials used for custom signage, especially when it comes to outdoor applications—but don't let its affordability fool you. Coroplast signs are designed to withstand everyday wear and tear.
Easy to Maintain—When it comes to maintaining Coroplast signs, caring for them couldn't be easier. Coroplast is easy to clean and is resistant to stains and water damage.
Common Uses
Coroplast signs are commonly used in a variety of temporary outdoor applications and are typically displayed in yards, lawns or other grassy areas. You've probably seen Coroplast used for political campaign signage, real estate signs, "for sale" signs and parking signage. Thanks to their versatility, Coroplast signs are also perfect for displaying indoors at trade shows or inside retail stores to promote a sale or special offer.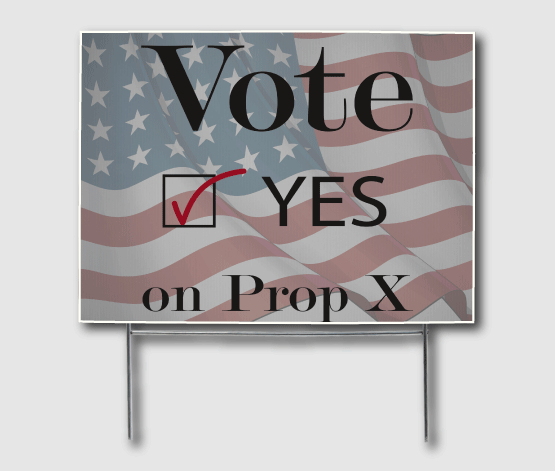 Caring for Coroplast Signs
When it comes to caring for Coroplast signs, it's easy to keep them looking their best. Here are a few tips to keep your sign in top condition and looking bright and new for several years of use.
Wipe it down—If you plan on reusing your Coroplast sign, then it's important that you make sure to wipe it down every once in a while. No special cleaner is required. In fact, we recommend you avoid using any kind of chemical cleaner and instead stick to a gentle soap and water mixture. Using this mixture, lightly scrub your Coroplast sign to remove any dirt and debris and to kill any bacteria that may be clinging to your sign.
Store it Properly—When not using your Coroplast sign, make sure to store it properly and keep it somewhere safe where it won't become damaged. Coroplast is extremely durable, but that doesn't mean it won't bend or crumple after being smashed for an extended period of time. Your best bet is to lay it flat or stand it up against a wall. If you can, storing your sign at room temperature is ideal. However, because Coroplast signs are designed to withstand even extreme temperatures without becoming damaged, you shouldn't have any issues keeping your sign in a storage room or another area where temperatures tend to fluctuate.
Avoid Folding—Coroplast signs are not designed to be folded, so avoid doing this when you store your sign away. Again, lay it flat or try standing it up against a wall.
Thinking about ordering Coroplast yard signs to promote your business but aren't sure where to start? Half Price Banners is here to help. Our Coroplast signs are perfect for a variety of uses and can be customized to fit your specifications. Looking for a quote or need help coming up with a unique design? Contact us today to get started.