For many real estate agents, getting potential buyers to come and visit a property is one of the biggest challenges they face in their work. An essential tool that many agents use to attract buyers to their listings is real estate signs. Drive through any neighborhood and you'll see real estate signage posted throughout the area. Using signage to advertise your property listings is an extremely effective strategy because it works. When you see a sign posted outside of a home, it tends to grab your attention quickly. Without even reading the information on the sign, you already know that the house is for sale.
Keep in mind that even though real estate signs are about your listings, they say just as much about you as an agent as they do about the properties you are advertising. Whether you specialize in residential real estate or commercial properties, your signage is vital to your business. So, it's important that you create signs that not only draw people in but also communicate your message to potential buyers. Here are five tips for creating effective real estate signs for your listings.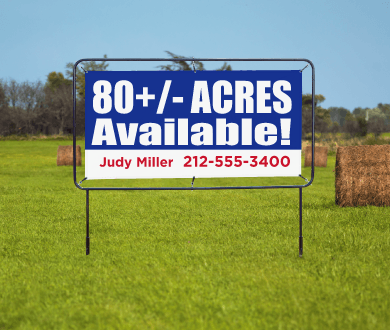 Include relevant information—When you start to see the same real estate sign over and over again, you tend to familiarize yourself with the agent or agency behind it, as well as the types of homes and neighborhoods they specialize in. The more people see your signs, the more likely they are to remember who you are. Make sure your signs include your logo (or your agency's logo), your name, phone number and a photo of yourself so potential buyers know who you are and know how to contact you.
Less is more—An abundance of information isn't always the best strategy. When it comes to creating custom real estate signs, remember that less is more. It's much easier for people to read and retain a minimum amount of important information, so keep the details on your sign simple. Avoid cluttering your signage with details about the home and its features. Instead, include that information in a pamphlet and use your sign to provide potential buyers with only the necessary information (e.g., logo, contact information, etc).
Check spelling and grammar—Nobody's perfect and everyone makes spelling mistakes from time to time, but it's absolutely essential that before you have your signs printed you check for spelling and grammar errors. Some of the most common mistakes buyers often see on real estate signage include missing punctuation, misplaced or incorrect word usage and using too many abbreviations. Bad grammar has the potential to really hurt your branding and business. In fact, many buyers describe feeling less interested in a home if they notice incorrect spelling and poor grammar, according to a study by Redfin. Proper spelling and grammar will make a good impression and make you seem more credible to potential buyers.
Consider the size of your signage—When it comes to effective signage, size really does matter! Making sure that you choose the correct size for your sign could mean the difference between being seen and not. The size you choose could depend on the type of real estate you specialize in. For instance, if you specialize in commercial properties, large banner frames may be the most effective signage for you. Similarly, if your specialty is in selling residential properties, something as simple as a real estate yard sign would work perfectly. Whatever the case may be for you, make sure you pick an appropriately sized sign that will be visible to potential buyers even from a distance. Consider where you plan to place your signage and whether there are any obstacles that may be in the way. Simply put—if buyers can't see your signs, then they can't see your messaging.
Make smart color choices—The colors you choose for your real estate signage can make or break you. Choosing the wrong colors can make a sign difficult to read and buyers will be less inclined to stop by for a closer look. An effective strategy is to pair your brand colors with contrasting colors that will make your signage stand out. When selecting a background color, avoid anything that will make it difficult for buyers to read your message.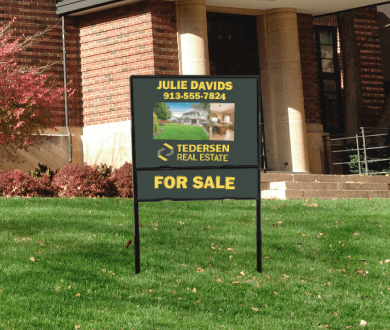 Even in today's world where the focus is all about online advertising and creating a strong online presence, real estate signs are still one of the most valuable tools when it comes to advertising your business and property listings. In order to sell a home, you need to be able to attract as many interested buyers as possible, so it's important to have signage that makes a strong impression. Half Price Banners offers a selection of quality and affordable real estate yard signs that will make a lasting impression on potential buyers. Have a question or need design help? Contact us today!