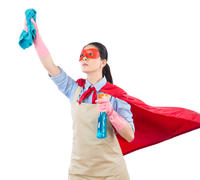 When you're looking to keep your vinyl banner on display for a long time, it's important to understand how to clean it to keep it beautiful. Our popular vinyl banners at Half Price Banners can draw attention to your company and keep customers — and revenue — rolling in. Ultimately, keeping your banner clean puts out the best first impression possible. Vinyl is made of a plastic known as PVC (polyvinyl chloride). It is durable and resistant to both moisture and humidity. While cleaning vinyl is easy, it's important to use the proper products to protect your print effectively.
How do I clean a vinyl banner?
To clean a vinyl banner, we recommended using a mild soap and water mix with a non-abrasive cloth. Be gentle and do not scrub the banner or you may harm the ink. Also, make sure to rinse the banner thoroughly with water and ensure that it is fully dry before it is stored. Avoid folding it as this can damage your print. Store your custom vinyl banner in a container and in a dry and cool place out of the sun.
What NOT to use while cleaning a banner:
Never use detergents or other aggressive solutions as they can easily destroy the color print. Avoid cleaning pads and or any abrasive materials. Refrain from using any solvents when cleaning your custom vinyl banner. Wipe down the full color banner with a damp and soft cloth such as a microfiber cloth, while making sure that no abrasive cloths or paper towels are used during the cleaning process. Don't scrub your banner, or it could also hurt the print.
Storing your banner:
The most common way to store a banner is by keeping the packaging that was used to ship it. If your banner came with protective paper, save it and place it over the printed side of the banner before rolling. If you don't have the original packaging, then attempt to store your banner so that the ink isn't touching other parts of the ink so that the ink won't rub off or stick to itself. This is especially true in warmer weather (80 degrees Fahrenheit or higher).
Other Banner Questions? – Contact Us!
Here at Half Price Banners, we are committed to providing our customers with comprehensive, high-quality banner services whenever possible. Because we love vinyl banners, we want to help make sure everyone can care for their banners as much as we do. Whether you are looking to clean up an old banner or order a new banner, we'd love to hear from you. Contact our team today!