When it comes to promoting your business, there are a variety of marketing tools available for you to choose from. However, few of these tools are quite as convenient and effective as a pop-up banner. Pop-up banners—also known as retractable signs or roll up banners—are a versatile solution for virtually any marketing need. Whether you're advertising your products and services at an exhibit or drawing customers to your storefront, pop up banners can be a cost-effective tool for promoting your brand and generating awareness about your offerings. Here are six reasons to use a pop-up banner at your next marketing event.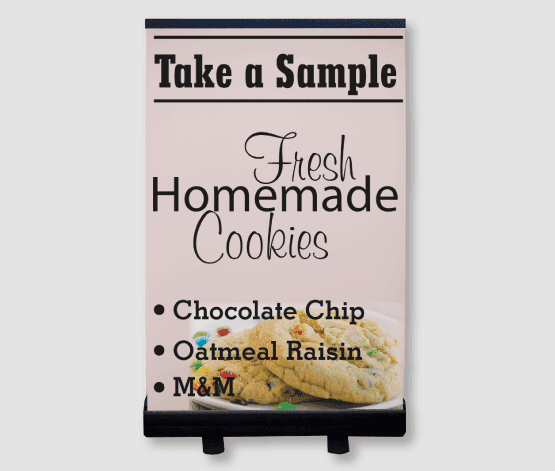 Easy to Assemble—One of the biggest advantages of pop-up banners is that they're extremely easy to put together. Pop-up banners use a retractable system that makes them easy to assemble and take down. As the name suggests, all you need to do is pop up the stand and you're ready to go. Getting your pop-up banner ready for display is as easy as setting the stand where you want it and pulling the sign up from the base. You'll be ready to promote your business in just a few seconds.
Simple to Transport and Store—Pop-up banners are very lightweight, making them easy to transport. Our selection of pop-up banners comes with a convenient carrying case that makes it easy for you to tote your banner from one marketing event to another. Storing pop-up banners is also easily done, as they're compact and can be folded up into the base.
Durable—Another advantage of these types of banners is that they are naturally durable. Our pop-up banners are printed on 15-ounce high-resolution Polyethylene Terephthalate vinyl that is designed to last. Not only that, but the stand and base provide additional support and stability.
Less Space Required—Whether you're setting them up inside your business or bringing them with you to a conference or another promotional event, pop-up banners require very little space. When you're exhibiting at a trade show, space is money. The average cost for floor space at a trade show exhibit is around $21 per square foot. For a floor space that is 10 feet by 10 feet, that amounts to a total of $2,100. Keep in mind that's just the cost of floor space—that doesn't include other costs associated with the event, such as trade show displays, travel and expenses. For this reason, it's important that you try to maximize your floor space. Pop-up banners require very little space but still make a huge impact.
Can Be Customized—The great thing about pop-up banners is that they can be customized to fit your specific needs. Pop-up banners are extremely versatile and come in a variety of options to choose from. We offer several different types of retractable pop-up banners that are available in a variety of sizes and price points. In addition, you'll be able to design your display so that it is completely unique to you, with your company's logo, tagline and any additional information that will assist your needs. Our design experts are also available to help give you suggestions for your pop-up banner design.
Long-Lasting—A final benefit of pop-up banners is that they are resilient and long-lasting. Unlike a newspaper advertisement or TV commercial, pop-up banner stands can be used time and time again. Provided your messaging doesn't have anything on it that could make it out of date—in other words, avoid including a specific date and time—you'll be able to use the same pop-up banner over and over again, giving you great value for the money you invested in it. As long as you care for and maintain your banners properly, you'll be able to get the longest life out of them.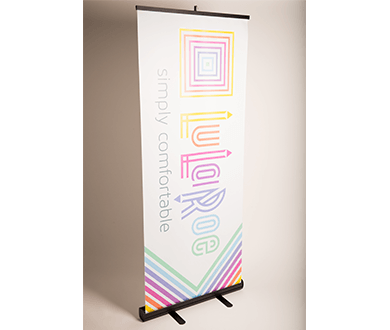 There's no doubt about it—pop-up banners are an affordable and effective tool for promoting your business or services. Whether you're exhibiting at a trade show or another marketing event or simply promoting your products and services at your own location, pop-up banners are a quick and convenient tool for advertising and marketing your company. If you need help with designing a pop-up banner for your next event and aren't sure where to start, you can turn to the experts at Half Price Banners. Our experienced design consultants can assist you with creating a unique design that will make a dramatic impact. Contact us today!