Whether you're showcasing your hard work at a trade show, a pop-up shop, a festival, a fair or a market, you need affordable, convenient options for marketing your business. Perfect for the on-the-go exhibitor, retractable table top banners are designed to help you create anywhere-displays. Set your signage on any surface—tables, countertops, checkout counters, kiosks, side tables—and watch as they instantly transform your space and attract the attention of brand-new customers. These simple signage options are ideal for compact and challenging event spaces and are easy to cart with you from event to event.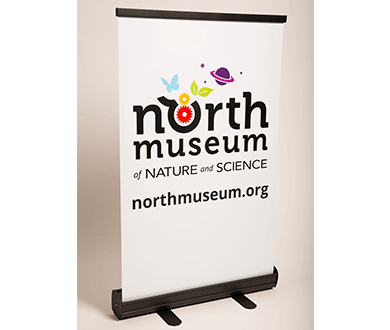 Why We Love Table Top Banners
There are a few benefits to table top banners over other kinds of portable custom banners. For one, they are specifically designed for ease-of-transport and setup. Each one comes pre-loaded in a compact base that takes just seconds to set up and comes with an included carrying case. Because it's small and lightweight, you can toss your banner in your tote bag, backpack, purse or wherever you keep your display items. Despite their relatively small size (35.5 inches high by 24 inches wide), our retractable table top banners are made to make a big impact with premium-quality printing in vibrant colors. They are printed on high-quality, non-curling material with a block-out layer for lasting performance.
Designing Table Top Banners Like a Pro
Here are some of our top tips for how to design your table top banners so they're as effective as possible.
Design Them to be Viewed Closely—Table top banners are considered close-range signs, meaning they should be viewed from a relatively close range (no more than 10 feet away) indoors. Choose a font size based on roughly how far away your typical viewer will be. For example, if the traffic of the event will be about 5 feet away, make sure that you make the font size at least 32-point when printed. If you aren't sure which font size is best for your specific needs, you can always work with our designers or give us a call and ask for help.
Give Your Banner Room to Breathe—One mistake that many first-time designers make, especially when creating smaller signs, is to cram in all the necessary information into a tiny space. Know the value of white space in any design endeavor. Giving your design components a little bit of room to breathe is vital to maintaining readability and keeping the reader's attention. If you feel that you have too much information to convey on a single table top banner, consider adding a vinyl bannerto take some of the burden.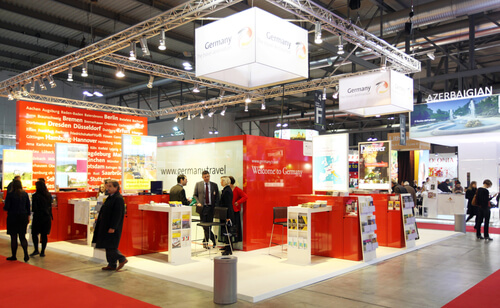 Know the Purpose of Your Sign—Table top banners are great at serving singular purposes, such as providing more specific information beyond the name of your business or your service offering. They can be used to provide more details to visitors or potential clients who have come to sit down and learn more, to advertise certain promotions or to get the word out about a certain product. Be sure that you focus on one primary message when designing your banners. The truth is that most people do a lot of scanning, so make it legible with a quick glance!
Enlist the Help of the Professionals—Half Price Banners is a great option for the small business owner or exhibitor who isn't huge on the design side of things. We offer free design services for anyone looking for professional signage at a great price. Simply let us know what text and colors need to be implemented and we'll happily do the design work for you.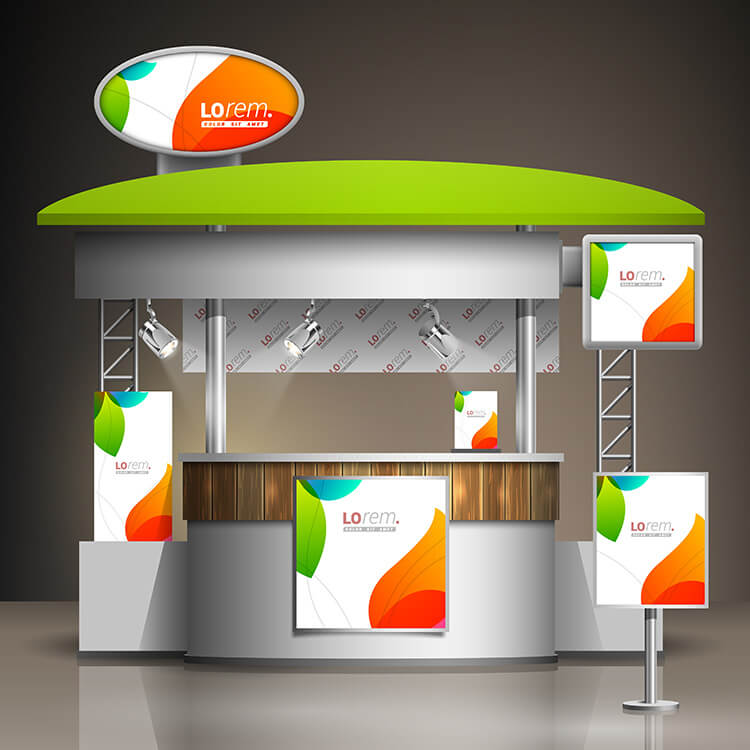 Versatile Signs for All Businesses
Perfect for tables at trade shows, point of sale signs and more, there are few applications where our custom table top banners won't help you send the right message. The great thing about working with Half Price Banners for custom banners is that you have many different options for design. You can either submit to us your print-ready artwork, use our online design tool or let our in-house designers create your banners for you from scratch. Whatever works for you works for us, and we're happy to help!