What is your identity as a business? Do you think of your business as friendly, accessible, quick, or high quality? No matter how you have branded your business, you need signs to describe your identity to potential customers!
Keep in mind that the average consumer only spends four seconds reading a sign. With such a small window of time to get your message across, it's important to have the most appropriate signage for your business! Here are the 5 most important things to consider when choosing business signs: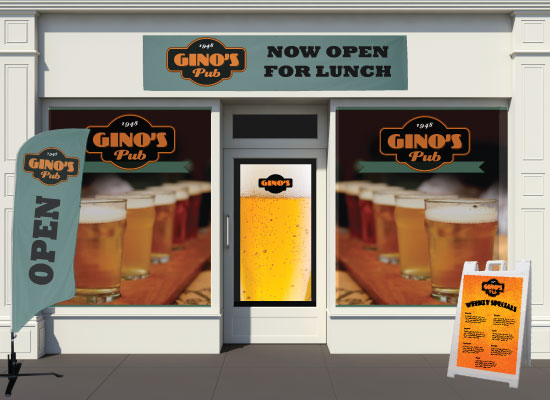 What message should you convey?
As mentioned, a consumer only spends four seconds viewing a message. It's important to keep design simple on an outdoor sign like a Feather Flag. Text should be at a minimum for a quick message. Use either a dark background with light text or dark text with a light background. Also, keep graphics simple with a good use of negative space to allow for legibility of the message.
What are the ordinances or signage restrictions in your area?
Many municipalities don't allow windows to be fully blocked by window signs. That's why Half Price Banners developed the Perforated Window Banner! This type of window sign allows for one-way viewing from the inside out and is approved by most city ordinances. These full-color window signs appear as a solid image to those passing by, but allows for those inside to still look outdoors. With a Perforated Window Banner it's easy to turn window space into advertising space.
How can you take advantage of foot traffic?
Businesses that advertise with sidewalk signs can increase traffic by 30%! The A-Frame Sign is a great advertising choice for businesses with storefront walking areas. Lightweight and portable, this outdoor sign is ideal for advertising specials and announcing business hours. Need new graphics for new promotions? Easily order replacement graphics and switch out the message when needed.
From how far away can your business be seen?
Patrons can potentially see your business from a distance, but only if you advertise up high! Take advantage of wasted building space with vinyl banners. Advertise business hours or a new special with a 13 oz Vinyl Banner. These banners are lightweight and easy to install so you can easily change out messaging when needed. And if you decide to keep your banner up outdoors for a while, rest assured that our vinyl banners are built to withstand outdoor elements!
Are you taking advantage of all advertising space?
Think on your feet! The floor is often a wasted advertising opportunity. Use an OSHA approved Adhesive Floor Mat Sign as directional or promotional signs. These adhesives can stick to virtually any surface- from carpet to asphalt! Place these full-color signs along sidewalks, at store entrances, or in front of point-of-purchase displays.
A small business operator wears many hats. You need to thing about everything related to your business- from hiring to accounts receivable. It's easy to get so wrapped up in these daily tasks that business signage gets overlooked.
Half Price Banners makes it easy for small businesses to design and purchase signage for business needs. As a one-stop shop we have everything from large outdoor banners to small point-of-purchase indoor displays. And with our free design help we are always here to make sure your message and logo looks great. Good thing you found the small business sign experts at Half Price Banners!