Which Way Should Your Arrows Face?
Trying to direct people to your business, event, even an open house? Sometimes adding an arrow to a double-sided display can be tricky! But we are here to break it down for you so you can design your custom display easily. First, you need to think about where your sign is going to be displayed. Is it going in front of your house? On a busy street? Think about where you need your arrow pointing so you direct people to the correct location!
When it comes to double-sided banners with arrows, there are two ways to display your arrows to face direction you need. Pro tip: simply draw your arrows on two sticky notes and test it our yourself!
Double Sided Vinyl Banners, Outdoor Banner Frames, A-Frames, and Double Sided Retractables are all going to have the same set up when it comes to arrows! For an example, let's say you need your arrows to point towards your business. You want your arrows to face in the opposite direction on the front side and the back side. Once they are printed, they will be flipped, and the arrows will end up pointing the same direction. If you are having a hard time envisioning this check out this example!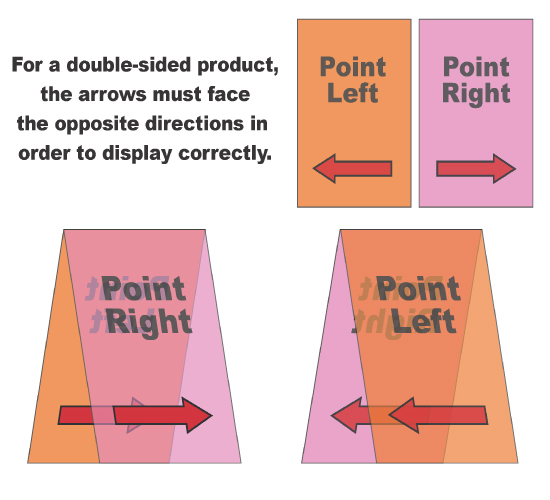 When it comes to Vinyl Banner Yard Signs, the way you place your arrows will be slightly different! Since this display is printed on one side of a banner, you will need your arrows facing the same way when making your artwork. Once the banner is printed, it will lay over a frame and create a double-sided display! Once your banner is flipped over the frame, the arrows will be facing the same direction!