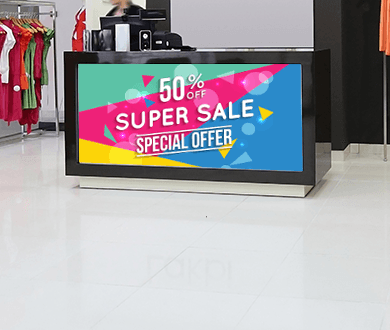 When it comes to advertising your business, there may be circumstances when you want to put a sign on a business vehicle, trailer or another surface, but not permanently—and magnetic signs are the perfect solution. Designed to adhere to a variety of metals, magnetic signs are one of the most cost-effective methods of advertising and allow you to promote your business in many different ways. Let's take a look at some of the most common types of magnetic signage and reasons why you should use them to promote your business.
Types of Magnetic Signs
Magnetic signs come in many different shapes and sizes and can be placed on a variety of metal surfaces. There are plenty of ways you can use magnetic signage. For example, you can purchase magnetic signs to place on doors, freezers, menu boards and other locations. Our custom magnetic signs are printed on 30 mil magnetic substrate and can be easily moved and repositioned as many times as you need without harming the sign or leaving behind any residue.
We also offer magnetic vehicle signs that allow you to advertise your business on the go and can be easily removed if your personal vehicle is also your work vehicle. Our custom car magnets can be placed on any make and model and work great for commercial fleets, official vehicles, service fleets, realtor vehicles and delivery vehicles. You'd be surprised how easily you can promote your business and its offerings by investing in magnetic vehicle signs.
In addition to magnetic signs, you can also use adhesive signs to advertise your business. Our self-adhesive vinyl signs are made with a residue-free adhesive and can be easily repositioned as needed. They can be placed directly onto any clean, nonporous surface, such as walls, windows and floors, without needing to be hung.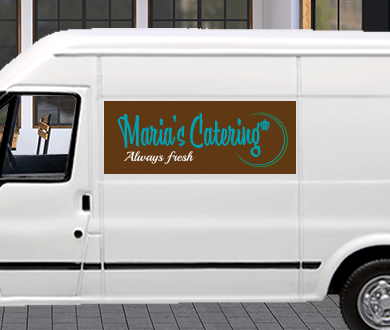 Reasons to Use Magnetic Signage
If you're looking for a creative and effective way to advertise your business, magnetic signs are the perfect investment. Here are a few of the benefits that come with using magnetic signs to advertise your business:
On-the-Go Marketing—Putting a magnetic sign on the vehicle you use to drive around town is a great way to advertise your business "on the go." Many service-based companies rely on magnetic signage to promote their business around town. While stationary signage, such as banners and sidewalk signs, are limited to a specific location, magnetic signs are displayed to the public while companies are commuting around town, making deliveries or simply driving back to the office. Whether you're driving from job to job, to the grocery store or elsewhere, you'll be displaying your brand to tons of prospective customers. Because your magnetic signs will be constantly on the move, you'll be constantly introducing your business to both new and repeat customers, increasing your visibility and brand awareness! All you have to do is drive around to broadcast your message. How easy is that?
Affordable and Easy to Maintain—Magnetic signs are a great option for businesses of all sizes, even those with a limited budget. When compared to other advertising mediums, magnetic signs and car magnets are extremely affordable and can generate a positive return on investment. The key is to be as visible as possible to your target market. What's more, magnetic signage is also durable and easy to maintain. With proper care, you can expect your magnetic signs to last for years.
Simple, Flexible Use—Not only are magnetic signs easy to install (simply place them on your vehicle or another surface and you're done), but they're flexible, too. Magnetic signs can be easily removed, repositioned and transferred from one surface to another without leaving behind any residue or causing damage to the signs themselves.
If you're looking for an effective and economical solution for advertising your business, magnetic signs are a smart choice. At Half Price Banners, we can help you create custom magnetic signs for your business that will quickly grab the attention of prospective customers and have them flagging you down for more information. Whether you're looking for magnetic decals for metal doors, custom car magnets or other types of adhesive signage, we have what you need. Contact us today to learn more!