Whether you need banners for your trade show booth or signs to promote a sale at your store, there are a variety of signage options to consider. There are many factors to keep in mind when choosing signage to promote your business, but one of the most important things is standing out. Your signs need to draw the attention of your audience and set you apart from your competition. One of the best options for doing just that is silicone edge graphics (SEG). Silicone edge graphics are great for store displays, trade shows, restaurants, airports and more. It's easy to see why they're a popular option—they offer impressive, photographic-quality graphics that make your signage really "pop." So, what exactly are silicone edge graphics and why should you choose this type of display over other options?
What Are SEG Graphics?
SEG graphics are printed on a special type of fabric using a dye-sublimation printing method that infuses the ink into the fabric. A thin silicone strip is sewn around the edges of the graphic so the graphic remains taut and can be easily installed into the frame. The result is an attractive and seamless-looking display with a vibrant, high-resolution design that will get you noticed.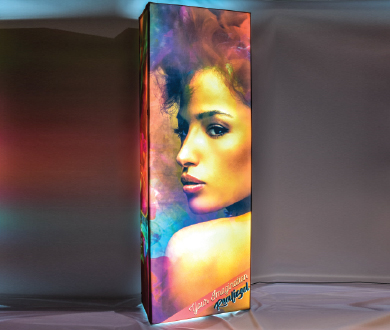 What Are the Benefits?
High-Resolution Graphics—As we have already touched on above, SEG graphics are a great option for impressive image quality. The dye-sublimation printing method we use to print SEG graphics results in deeply rich, vivid colors that permanently saturate into the fabric, rather than printed on the surface.
A Variety of Display Options—There are many different ways to use SEG graphics and a variety of display options to choose from. You can purchase an SEG wall frame, floor displays, pop-up displays and covered counters—the possibilities are endless!
Easy to Set Up and Remove—SEG graphics are easy to set up and uninstall. In fact, they're so easy to use that graphics can be quickly swapped out when the seasons change or during special promotions. We suggest beginning at the corners and using your fingers to gently ease the silicone beads into the frame's channeling. This will help to ensure that there will be no excess fabric when inserting the last edge. Removing the fabric is even easier. Simply (gently) pull the silicone edge out of the frame.
LED Lighting Options—If you want your SEG display to have a greater impact, you can use LED lighting. Lightboxes with bright LED edge lighting can be used with SEG graphics to provide consistent backlighting from one edge of the graphic to the other. You've probably seen an example of this type of display at malls and airports. The good news is that lightboxes are also very simple to install.
Easy to Care for and Store—Another benefit of SEG graphics is that they are incredibly easy to care for. We recommend spot-cleaning the graphics by wiping them down with a non-abrasive damp cloth and storing them in a bag (folded or kept on a roll) to be reused again in the future.
Reasonably Priced—Believe it or not, SEG graphics are one of the most reasonably priced options available for higher-quality signage that needs to be changed out, giving you more bang for your buck!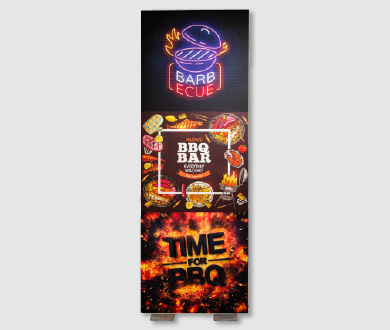 Now that you have learned about silicone edge graphics and their benefits, are you ready to start exploring your options for interchangeable, high-resolution displays? At Half Price Banners, we're a nationally recognized company that specializes in custom banners and signs and we would love to hear how we can assist you with your signage needs. Contact us or give us a call today at (866) 527-1363. We look forward to working with you!