The holiday season is right around the corner and that means more opportunities to attract customers to your store—and what better way to accomplish this than to display your holiday sales and special promotions with custom banners and signs? November and December are the biggest shopping months of the year, so it's time to get your signage ready (if you haven't already). Most businesses will have plenty of their own sales and promotions to promote around the holidays to drive shopping, which is why it's important that your signage stands out from your competitors'. Here are six tips for creating compelling holiday banners and signs:
Use Holiday Colors and Themes—People love the holidays for many different reasons. The holiday season is a time to get nostalgic and gather with friends and family. Seasonal themes can play into these emotions very well, so it's important to use this to your advantage by incorporating this imagery—into your signage. Colors have a profound impact on a person's mood, and nothing can get your customers into the holiday spirit quite like colors that are reminiscent of the holiday season. For example, if you are promoting a special for Thanksgiving, use browns, deep oranges and greens to evoke feelings of love, warmth and being with family. If you're having a Christmas sale, use classic Christmas colors—red, green, blue, silver and gold—to bring out the Christmas spirit and put your customers in a great mood to shop!
Highlight Your Purpose—While you want your banners and signage to be festive, it's important to remember that they have a greater purpose than simply getting your customers into the holiday spirit. Whether the purpose of your signage is to highlight holiday specials and promotions or to display holiday business hours, it's important that you highlight that point. Focus the messaging of your sign around the savings your customers will earn when they purchase your products or services or the convenience of having extended hours for holiday shopping.
Take Advantage of Your Window Space—Most stores have windows, so why not use them to your advantage? Even if there are building restrictions against allowing you to directly apply graphics to your windows, you can still use them to hang eye-catching banners directly behind the glass to capture the attention of passersby and entice them to come into your store.
Lead Your Customers to Your Location—Whether your business is located in a shopping center with other businesses or you're tucked away in a hard-to-see location, it may be difficult for customers to find you. Make it easier for them by purchasing outdoor holiday signs that will direct them to your store.
Provide In-Store Direction—In the same way that you want to make it easier for your customers to find you, you also want to make it easier for them to shop. Most people look forward to shopping for the holidays, but the chaos of a busy store can easily ruin the shopping experience. Simplify this process for your customers by providing them with signs that direct them to what they're looking for.
Don't Forget About Your Brand—When it comes to holiday signage, one thing to keep in mind is making sure that your brand is still prominent and doesn't get lost in the colors and themes of the season. Incorporate your brand into your signage by using consistent, familiar fonts and colors so existing customers will recognize it as soon as they see your holiday banners and new customers will remember your brand after the holidays have ended.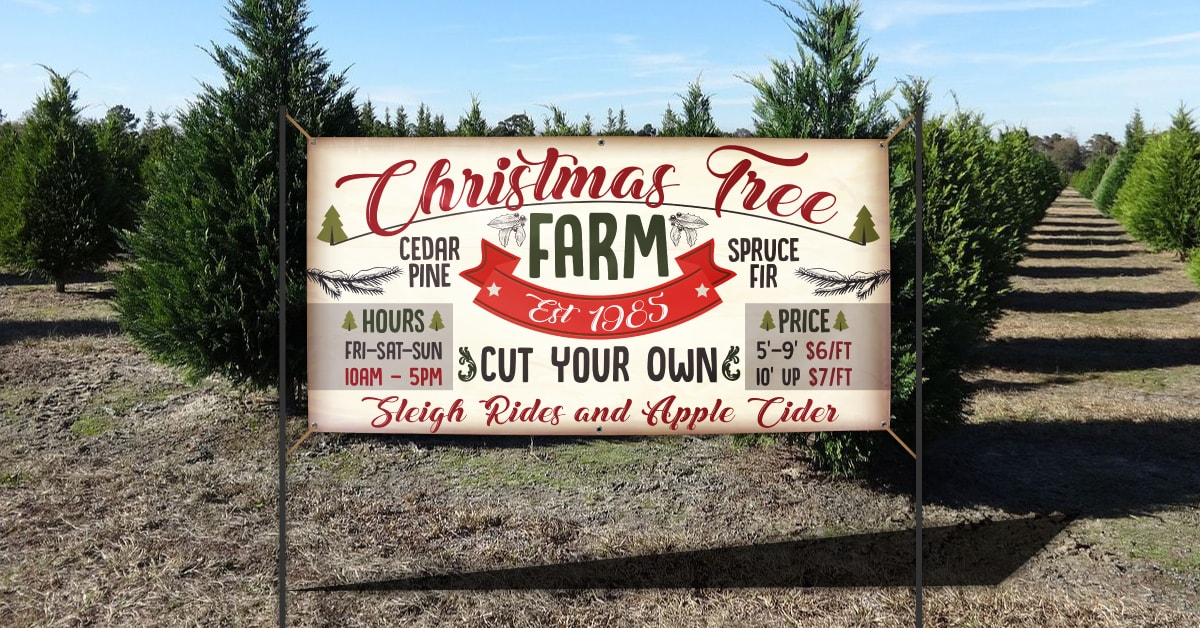 Holiday signage is a great way to display sales, promotions and everything else your store has to offer this season. At Half Price Banners, we can help you promote your business while improving your customers' holiday shopping experience with custom banners and signs that advertise your deals, hours and more. We're experts at what we do and can assist you with every step of the process–from design to print. Contact us today to learn more about how we can help you!