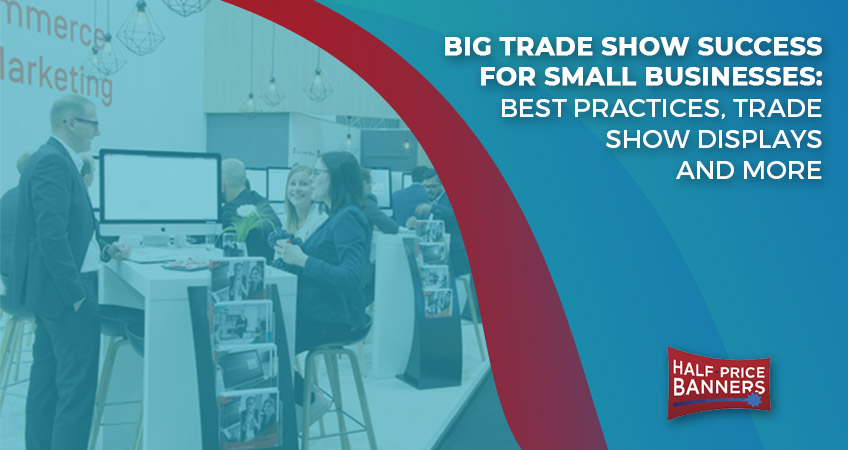 Trade shows offer the perfect opportunity for small businesses to increase brand awareness, forge relationships with prospective and existing customers, keep up with the competition and stay current on industry developments and technologies. Whether you have new products and services to offer, you want to better connect with your target audience or you're interested in learning from other businesses in your industry, there's no better event than a trade show. In fact, trade shows are so beneficial to businesses that 99 percent of marketers say they found more unique value from these events than from other types of marketing mediums.
An effective trade show event requires a significant amount of planning and a well-implemented booth. In this guide, we'll cover the ins and outs of trade show planning, from best practices to booth design and setup. Here's everything you need to know to successfully plan for, attend and exhibit at a trade show.
Before the Show
Many marketers and business owners tend to underestimate the amount of work that planning and executing a successful trade show appearance requires. Choosing to exhibit at a trade show isn't a decision that can be made hastily. In fact, planning at least six to 12 months in advance is recommended, especially for trade shows where travel may be required. There's more to planning for a trade show than simply purchasing booth space and showing up on the day of the event. Here are some things you'll need to know about pre-show planning:

Find the Right Trade Show—Trade shows come in many different shapes and sizes. Three of the most common types of trade shows are industry trade shows (designed for networking and seeing industry trends), product trade shows (for new product launches) and consumer trade shows (open to the public and intended to give customers a chance to interact face to face with businesses and their products). With so many available trade show events throughout the country, it can be difficult to choose one that best fits your business and its goals. Fortunately, there are plenty of online databases that can help look through all the options, such as the Trade Show News Network (TSNN) and Expodatabase. If you're attending a trade show for the first time, narrow your search to find events that are intended for smaller businesses.
How to Register—It's easy to register as an exhibitor at a trade show. Registration can usually be completed through the trade show's website or a mail-in application. In addition to the application, you may need to fill out additional forms. Every trade show is different, so check with organizers to make sure you have everything you need.
Research Your Market—Trade shows provide the perfect environment for businesses to gain an edge over their competitors. Understanding current market trends and the buying habits of your target audience will help you tailor your trade show marketing strategy. Google Trends can provide you with valuable insight into your customers' search analytics, allowing you to see what topics are most important to them. Additionally, the U.S. Small Business Administration (SBA) offers free resources that provide statistics and data for businesses to take advantage of.
Set Your Goals—Setting measurable goals is a common practice among businesses that should also be applied to trade shows. Goals will allow you to determine if your trade show is successful or not. Some of the most common metrics for goals that any exhibitor can set include: number of leads; booth attendance; number of marketing materials handed out; website traffic and social media interactions during and after the show; and increased sales after the show.
Make Travel Arrangements—Traveling tends to go one of two ways: it's either a smooth-sailing experience or a complete nightmare. For trade shows that require you and your team to travel, book flights and hotels well in advance to avoid logistical challenges and ensure you get the best deals.
Do Some Pre-Show Marketing—Unfortunately, you can't expect to just show up to the trade show event with attendees flocking to your booth. It doesn't work that way. However, communicating with prospect leads ahead of time and letting your customers know you'll be exhibiting and where is one great way to increase the chances of having a constantly flow of traffic to your booth. Ways you can outreach to prospective leads and customers prior to a trade show include online content, such as blogging, social media and email marketing.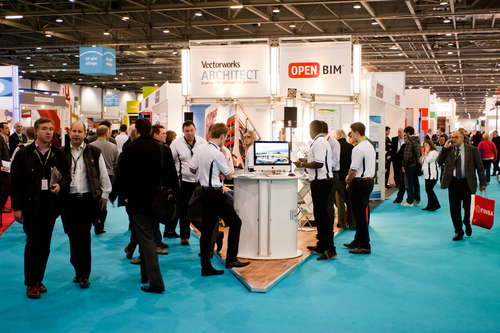 Designing Your Trade Show Booth
First impressions are important, especially when it comes to exhibiting at a trade show. Your trade show display's design matters and it's up to you to ensure it commands the attention of your audience. Just by looking at your booth, attendees should be able to get a sense of who you are, what you do and what sets you apart from your competitors. By choosing the right booth location and designing an eye-catching trade show display, you'll be able to attract prospective leads and interact with customers so they can learn what your business is all about.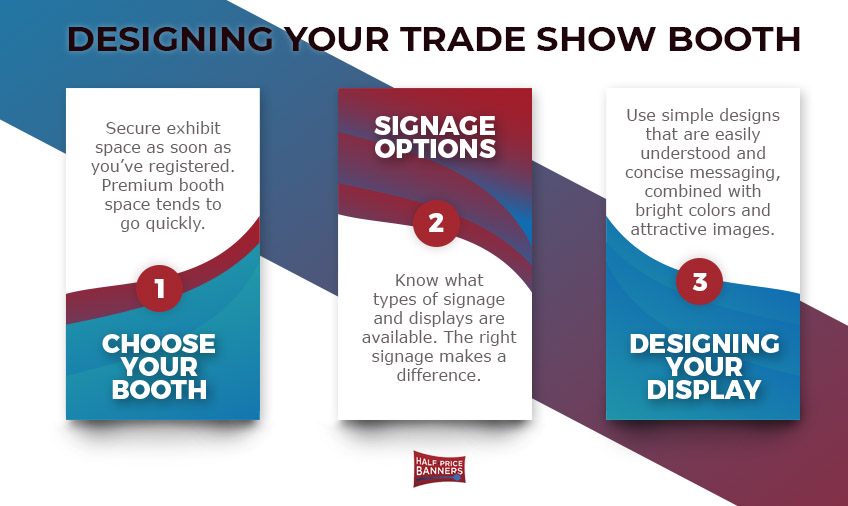 Choose Your Booth—You should secure exhibit space as soon as you've registered for a trade show. Premium booth space tends to go quickly, so the sooner you register for an event, the better. Take a look at the floor plan of the trade show venue to see where premium spaces–such as where heavy foot traffic occurs–are located. However, it's important to understand that premium booth space comes at a much higher cost than other locations. The cost of renting booth space varies and can depend on the trade show you're attending and where your booth is located in the venue. If this is your first trade show, consider locations that are lower in cost and will allow you to test whether your company generates a positive ROI before investing in premium booth space.
Signage Options—Knowing what types of signage and displays are available will help you ensure you choose the right options for your trade show booth needs. Some exhibitors choose to invest in elaborate trade show setups that could cost tens of thousands of dollars. However, the right signage can give you a professional booth at a fraction of the cost. There are a variety of trade show displays and signage options available to create an effective booth. For example, you can use a retractable banner, which is perfect for trade shows because it's portable and easy to set up. Tablecloths are another option. Add your logo to custom tablecloths for your booth rather than displaying bare, boring tables.
Designing Your Display—It's important to put some effort into designing your trade show booth as this will give you an upper hand during the event. Use simple designs that are easily understood and concise messaging that clearly depicts your purpose and goals, while also drawing attention to your booth with bright colors and attractive images.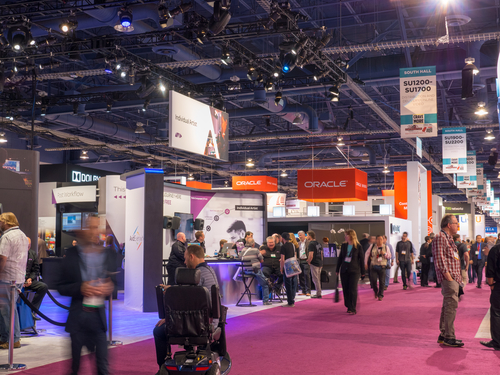 Day of the Show
You've spent months planning and preparing for the trade show and the big day is finally here! Like any event, it's best to arrive at the venue with enough time to make sure your booth is set up, marketing materials have been distributed, the staff is ready and all loose ends have been taken care of. On trade show day, you and your team will be busy interacting with prospective leads and existing customers, as well as other businesses in your industry. To increase your success and ROI, here are some tips to consider:
Be Professional—This probably goes without saying, but it's important that you and your team maintain a professional attitude throughout the trade show. Dress appropriately, actively engage with your guests and remember to be consistent, honest and polite. Pro tip: Respect your neighbors! Get to know your booth neighbors and be mindful of their space.
Hand Out Marketing Materials—You've done your part to promote your business and educate your leads and customers about your offerings before the show, but your trade show marketing strategy shouldn't stop there. It's important to advertise during the event as well, so get out on the trade show floor and hand out marketing materials, such as flyers, business cards and pamphlets, to provide more information to attendees who stop by your booth.
Host a Giveaway—One way to increase traffic to your booth and gain leads in the process is by hosting a giveaway. You can give away a product, service or company swag such as t-shirts, water bottles and pens with your logo on them to encourage attendees to visit your booth and provide you with their contact information so you can reach out to them again after the show.
After the Show
The work doesn't end just because the trade show has ended—in fact, it has only just begun! As soon as the trade show has ended, you should be contacting all your leads and prospective customers. This doesn't have to involve anything complicated. Simply reach out via email or phone to thank them for their time. Once you and your team are home, you'll need to sit down to evaluate the goals you set for the trade show beforehand and calculate your ROI. You can use this information to adjust your goals for future trade shows.

Conclusion
The trade show experience is a valuable one, especially for small businesses. Trade shows offer businesses the unique opportunity to gain insight into industry trends and innovations, learn more about your competitors and connect face to face with your target audience. At Half Price Banners, we can assist you with the trade show planning process by providing you with professionally designed displays and signage that will help you make the right impression and stand out from the crowd. Contact us today!