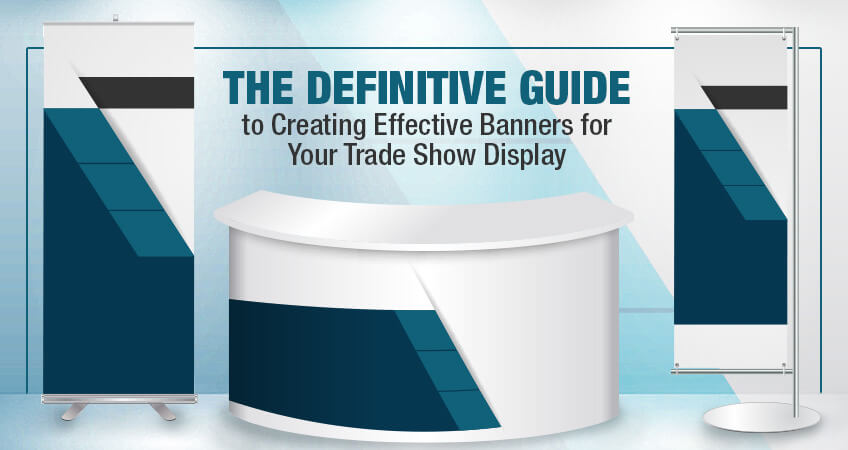 In today's competitive marketing world, it isn't enough to produce something spectacular and expect everyone to flock to patronize your business. Instead, you have to think outside the metaphorical box with your marketing efforts and work to capture the attention (and secure the business) of your potential client. One way that you can do that is by exhibiting at industry events and trade shows, where you can rack up valuable facetime with high-value prospects and quality leads. Half Price Banners is here to help you prepare for your next showcase with top-notch trade show banners and exhibition supplies that make your displays exceptionally effective.
Why Exhibit at Trade Shows?
According to the 2018 industry report from Event Manager Blog, trade shows and conferences are among the top three places buyers turn to when researching a company's product or service. A big reason why these types of events are so successful for marketers and buyers alike is because they allow each other to interact face-to-face in a way that's easier and more affordable for both parties, but especially for the exhibitor. In fact, the cost of a face-to-face meeting with a potential client is over $250, while the cost for the same meeting at a trade show is around $142.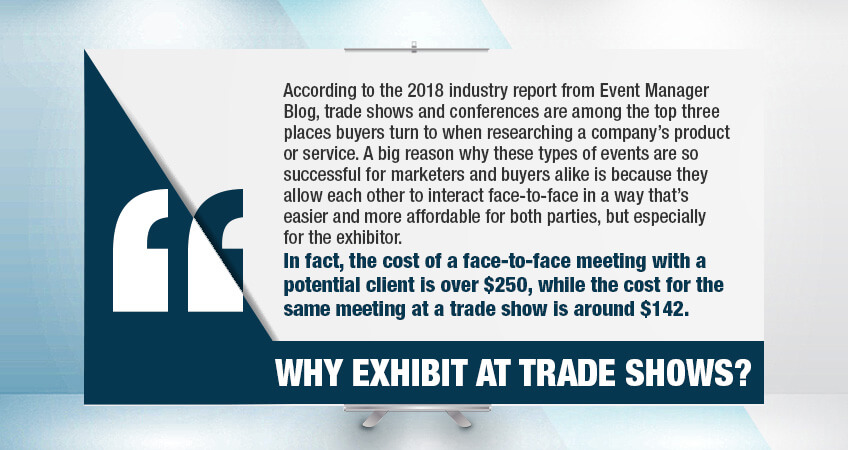 So displaying your best products and services at an upcoming industry event will be well worth your while if you're looking for ways to save money when getting face-to-face time with prospects, but there's more to the story for savvy exhibitors. A good trade show display can help you draw in new customers and develop a highly targeted lead database, boost brand recognition among the industries and niches that you value the most and interact one-on-one with your core customer so you can better your product and address their shared pain points. It's like achieving effective sales, compelling marketing and in-depth market research all in one fell swoop.
But to do all of this the right way, you have to be sure that your trade show display is appealing to the masses. If you've ever attended a trade show, you know that after walking the corridors all day long, displays tend to blur together, save for one or two memorable standouts. The very first step to any successful trade show go is a well-designed, attention-grabbing trade show booth that won't be soon forgotten by show-goers. Your goal is to be the one or two booths attendees remember.
Tips for Making Bold, Attention-Grabbing Banners
No trade show exhibit is quite complete without a well-designed trade show banner that captures the eye and the imagination of the attendee. This is our specialty, so we know a thing or two about how to help our customers knock it out of the park. Here are some of our best tips for designing highly effective trade show banners.
Consider Color Psychology—Most exhibitors will opt to have their banner done in their official business colors, and this is a great idea. But if you want to go in a different direction or need some guidance for accent shades, it helps to know a bit about how colors affect consumers. For example, if you want to convey a feeling of power and passion, choose red. If you're more of a relaxation-focused or problem-solving business, go with a shade of blue.
Consult the Design Pros—You can't risk any of your marketing materials looking unprofessional, especially when they'll be directly compared to other exhibitors on trade show day. Partner with a trade show banner company that offers professional design consultations that help you pull together an eye-catching banner that can't be ignored. Remember, your design will be as much as 100 times bigger in real-life than on the screen, so any imperfections will be highlighted when printed.
Know Your Messaging—Trade show banners can serve many purposes beyond letting attendees know which booth is yours. They can also help you advertise special promotions, demonstrations, raffles, presentations and other marketing pushes. Remember, trade show attendees should be able to glance at your booth and know what it's all about through your banners and signs, so make sure that they are conveying messages that align with your specific show goals. Further, be sure that you have a writer or proofreader look over your copy before printing. The last thing you want is a misspelled banner when you're charming prospects.
Keep it Simple—Though your banner should have key messaging, it should also be relatively simple and straightforward. This is because most people will only scan your banner from a distance, looking for the most important information. Highlight your most important wording and organize the design from most important to least important, emphasizing key points with larger text and bright colors. Try to keep it between three and five lines of text and stick to no more than two different fonts on one design.
Leverage Your White Space—Another excellent way to ensure that your banners are straightforward and not overwhelming for the viewer is to leave a fair amount of white space in between the different design components. White space doesn't necessarily need to be white. It's simply the space in between any words and photos that isn't taken up by an element of your design. Giving the components room to breathe helps your audience take in the key information quickly.
Pick Smart Sizes—You can choose from a wide variety of sizes when designing your banner. Keep this in mind when you're including design elements. Obviously, if you need to include lots of text, artwork or images, you'll need a larger banner so that visibility isn't compromised. On the other hand, banners that are too large can only be read from afar, so finding the just-right size is an important part of ensuring that your banner is truly effective.
Use High-Resolution Printing—If you need to be able to showcase photographs within your booth (a good idea if you really want to grab attention), it's vital that you order only high-resolution banners. When photos are enlarged for banner printing, they tend to lose their luster and impact and may become pixelated or blurry. But with special high-res printing processes, they look just as rich and detailed at 6 feet tall as they do at 6 inches tall on your computer screen.
Choose the Right Materials—Trade show banners and other display items come in various different materials, including vinyl, canvas and fabric. The type of material you choose for your banner will affect the way your text and images are printed in addition to the "feel" of the banner and the cost of your display. Consult the guide below for more information on choosing the best material for your specific banner design.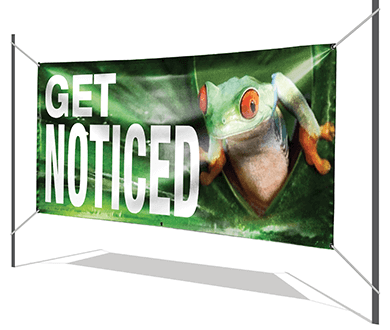 Banner Materials
Now that you know the basics of effective banner design, let's talk a little bit about the nitty-gritties of printing with materials, special features and more.
Vinyl—Thanks to its weather resistance, durability and beautiful printing performance, vinyl is one of the most common banner materials. There are multiple different types of vinyl banners, and each one has its own unique pros and cons. Most of our vinyl banners come in sizes ranging from 2-foot by 2-foot to 5-foot by 30-foot and can ship to you in 24 hours.

Standard 13-Ounce Vinyl Banners—These are the most affordable vinyl banners and are among the most popular and trusted options for indoor use. These banners are excellent for indoor trade shows.
Heavy-Duty 18-Ounce Vinyl Banners—If you need an outdoor banner that's durable enough to withstand harsh weather for years, then our 18-ounce vinyl banners are an excellent choice. They are made with our strongest, thickest vinyl and are waterproof and fade-resistant.
Mesh Vinyl Banners—Also ideal for outdoor use, mesh vinyl banners use a porous, mesh design that allows wind to pass through easily. This makes them ideal for outdoor placement in windy areas, like on fences, poles and railings.

Canvas—Canvas banners are great for indoor applications where a low-gloss, painted-on look is desired. They are made of a high-quality, 18-mil duck cotton material and provide a premium canvas, if you will, for more artistic pieces. Canvas options come in sizes ranging from 2-foot by 2-foot to 4-foot by 12-foot and can ship to you in 24 hours, if needed.
Fabric—Cloth or fabric banners from our store are made of a 7-ounce polyester material and have a matte finish. They are preferred in some applications because they're lightweight, durable and wrinkle-resistant and because they come with sewn hems and grommets for easy hanging. We recommend cloth and fabric banners for indoor use only.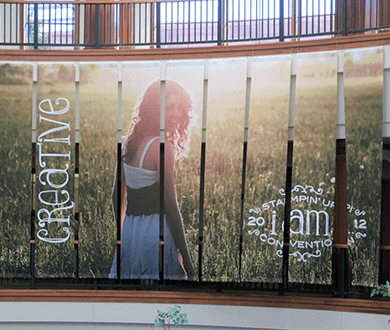 Special Banner Features
In addition to different materials, banners come in several unique options so they can be further tailored to your unique display and environment.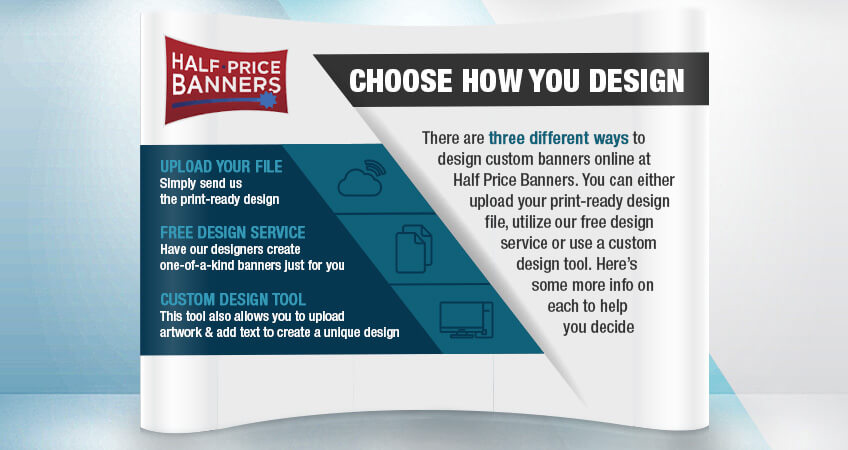 Choose How You Design
There are three different ways to design custom banners online at Half Price Banners. You can either upload your print-ready design file, utilize our free design service or use a custom design tool. Here's some more info on each to help you decide:
Upload Your File—Have an in-house design department or a relationship with a firm who can produce high-resolution design files for you? Great! Simply send us the 100 percent print-ready design and we'll get to work printing for you.
Use a Free Design Service—Not super design savvy? No worries. Have our designers create one-of-a-kind banners just for you using files, materials and ideas you supply to us. Even if you regularly work with a graphic designer, it may be a good idea to have us design your banner for you since we're experts in this specific type of design.
Use a Custom Design Tool—If you don't have time to work with a designer and want to create your own design from scratch, you can use our custom design tool to design your trade show banners quickly and easily. This tool also allows you to upload artwork and add text to create a unique design.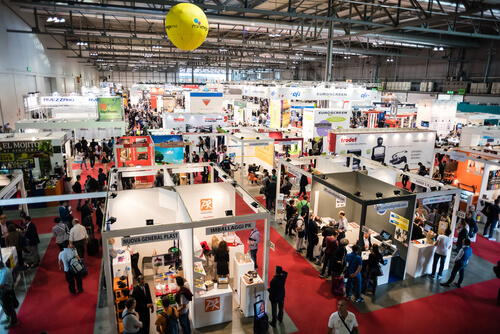 Creating Stunning Marketing Banners
No matter how you create your trade show materials, as long as you follow the principles of effective design, you can be sure your booth will capture the attention of the entire show-going community and help you achieve your marketing goals. At Half Price Banners, we're more than happy to help you design, print and order exceptional quality marketing banners and display accessories for a breathtaking booth design that equals more attention, more leads and more closed deals.