Extending Our Hours Gives You More Time to have your Product Shipped Faster!
We're excited to announce that starting March 5, 2018, Half Price Banners will be extending its hours from 9am-5pm CST to 8am-6pm CST! We will also be lengthening our Proof Approval deadline window from 3:00pm to 5:00pm CST.
Many of our customers, especially those on the west coast, have been requesting that we stay open later to let them approve their proof to better reflect their own business hours. We've heard you loud and clear! We're proud to say that starting today we'll be open two more hours each day with a longer window to have your designer-verified proof approved.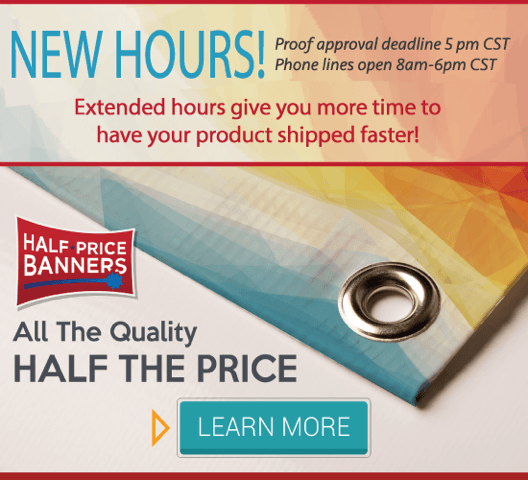 What is the proof approval process? Will this affect me?
These new hours will only affect people in positive ways. Our proof approval process is one of our strongest quality control measures that helps ensure you'll get high quality artwork in the exact way you expect it to look every time.
After you place an order, one of our designers will personally review your art file for quality and fit it to a template that can include finishing options such as where your hems and grommets will be placed in relation to your art. After this review, the designer will send you back an E-mail showing these lines or highlight any concerns about art quality, and we will wait for your response before we begin printing.
Previously, you would have needed to return your proof approval by 3:00pm CST for the item to begin printing that same day. Now, that time is extended out to 5:00pm CST so that more customers across the USA will get to take advantage of our extremely fast turnaround times. This benefits those in on PST and MST time zones the most, as before they would have needed to approve their proof as early as 1:00pm PST. If you're on the east coast, this means that you have even longer to get your proof approved to have it printed that same night.
We didn't change locations – We're just open later!
We're still located here in Lenexa, KS, USA! We've been happy to be at this location for the last several years, and we're expecting to be here for a lot longer. One of the best things about having our offices and warehouse attached to each other is getting to see the variety of banners and displays that are being printed. Our production team and our design team are close, and we see each other every day. This makes us able to know exactly what stage of printing everything is and how fast it will be to get out the door. With longer hours, we can help even more of our customers no matter where in the United States they're located.
Customer Support & Live Chat Hours Extended!
Now we're here longer, you can call or chat with us about any questions or suggestions from 8-6pm. We have our customer support team right here in Lenexa with us, so from the start of your order to shipping it out the door it all happens here! You can use the live chat feature located at the bottom left, or if you'd like to call in our number is (866) 527 1363.
Did you know that you can even call in to place an order and upload your art later? You can! Our customer support team can also help you with any questions that come up either before or during your checkout process. You might even be able to ask them about our current specials going on to save even more. They're always glad to help, and they'd love to hear from you. Some customers are so happy about their banners or displays that they send in the pictures of their banners and we're able to post them on Facebook!