Spring is here and Easter is right around the corner. Easter is a time for celebration—a time in which those who observe the holiday (and even those who may not) come together to participate in events, religious services and other activities. It's also a time when many churches see new visitors among them. Whether you're holding an Easter church service, community event or hosting an egg hunt for your church and community's children, custom banners are a great way to incorporate your message, attract the attention of potential members and announce your service times. When it comes to designing custom signage, there are a few things to consider if you want your banners to be successful. Here are five tips for creating banners for your Easter church service.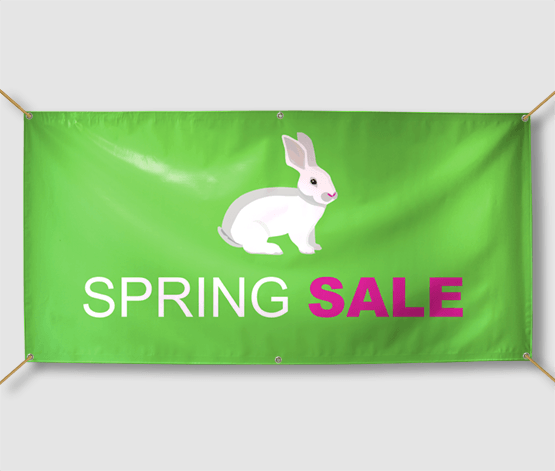 Placement
The first decision you should make before even thinking about the design of your Easter banners is where you plan to put them. It might feel like you're working backward by doing this, but the improper placement of your banner signs can significantly reduce their effectiveness. Trust us—location is everything! Place your banners where they will best catch the attention of your audience. Avoid placing signs in hard-to-see places or over your church's name.
Size and Type
Knowing where you want to place your banners ahead of time can also be helpful in choosing the type of banners you need and what size. For example, if you want to communicate your Easter service or event to existing members of your church, consider high-resolution indoor banners. If your goal is to attract the attention of new visitors and members in your community, yard signs placed in the grass surrounding your church are another great option. Size is another important factor in creating custom banners. Smaller banners are effective for inside your church, while larger sizes will work best for banners that will be seen from the street. Half Price Banners offers banners in a variety of sizes, including large format banners that can be used both indoors and outdoors.
Large Text and Readable Font
The important thing to remember about banners is that, in many cases, the goal is to grab the attention of people from a distance. Because of this, it's important that the information on your banners is displayed in large, readable text so that people driving by your church or those walking by on the sidewalk can easily see what they say, even if they are several feet away.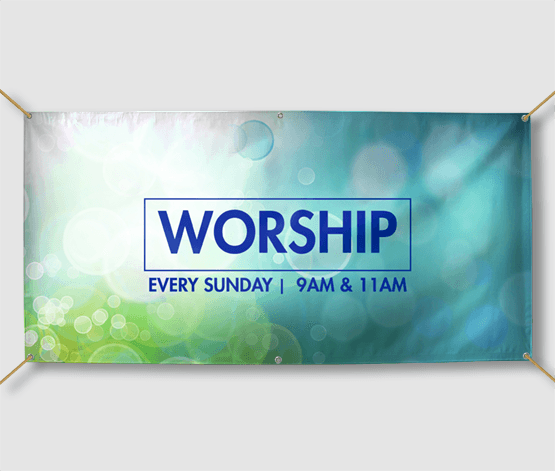 Straightforward Messaging
When designing your banners, it's important to keep the messaging as straightforward and concise as possible. The goal is to communicate your message in as little time as possible. Most people who will see your sign will be driving or walking by, so they won't have the time to read a ton of information at once. At best, they may be able to read most of what is on your sign but won't remember it. Think about what you hope to achieve with your banners—whether it's to communicate the hours of your Easter service or simply to welcome new members to your church—and include only the information that is necessary to convey that message.
Choose the Right Colors and Graphics
The design is everything when it comes to ensuring your banners are successful. This includes selecting the right colors and graphics to attract attention and get your message across to your audience. The colors you choose have an enormous impact on the effectiveness of your banners. Obviously, you will want colors that are eye-catching and will draw in foot traffic and passersby, but you also want to make sure that the colors you choose match your church's color scheme. And because images are often the focal point of any type of signage, make sure to choose a high-quality logo and any other graphics in the correct specifications.
Make the most of your Easter celebrations. Let everyone know what time your church service or other events will be, or simply wish your church members and visitors "Happy Easter" by ordering custom banners. Have a question or need help selecting banners that meet your budget, needs and preferences? Half Price Banners can help you choose the right type of banner, assist with design and answer any questions you have regarding your order. Contact us today!