We're getting close to that special time of year again—Graduation season! One of the best ways to recognize the graduates in our lives is by displaying graduation banners at a ceremony or party. Graduation banners are a great way to tell your graduate just how proud you are. They can be used to greet your graduate after the ceremony or as decorations for the party. Not only that, but they also make the perfect keepsake for your high school or college grad. Here are four ideas for creating personalized graduation banners to commemorate the big day!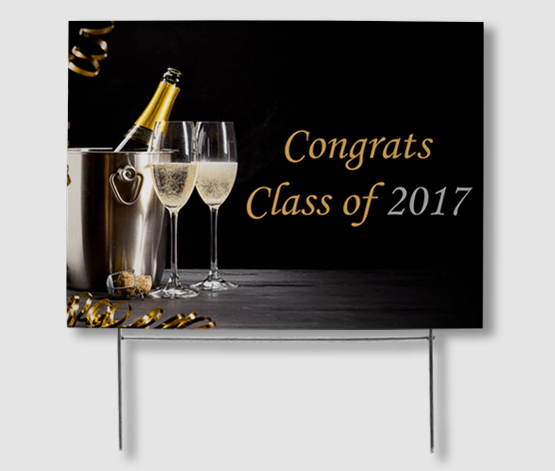 Celebrate your graduate—Graduating is an enormous achievement. Celebrate the high school or college graduate in your life by creating a graduation banner that applauds them for their hard work and commitment and highlights their accomplishments. For example, if your graduate is also the class valedictorian, you may want to feature that on the banner as well. You can also include any sports your graduate played, what subject he or she majored in (if graduating from college) and any sororities, fraternities or other organizations your graduate may have been a part of.
Include the graduating class—When designing a custom graduation banner, it's important to also include the graduating class. Whether you realize it or not, the year you graduated will always be an important memory that you fondly look back on and the same will be true for your graduate. Help your graduate memorialize his or her achievement by including "Class of…" on your banner. Plus, by doing so, you're not only celebrating your own graduate but all the people he or she is graduating with.
Announce the college or university—If you're designing a banner for a college-bound high school graduate, you may want to use some space on the banner to announce the college or university he or she plans to attend in the fall. An easy way to do this is by including the college's logo or a photo of its mascot. You can highlight your college graduate's school by including its logo as well.
Add motivational sayings or funny puns—What better way to celebrate, encourage and inspire your graduate than to include a motivational saying on your banner that will get him or her excited about the future? Using a humorous pun like "the tassel is worth the hassle" is also an effective strategy. Not only will this messaging make your graduate feel good, but he or she will feel accomplished and motivated for what's to come.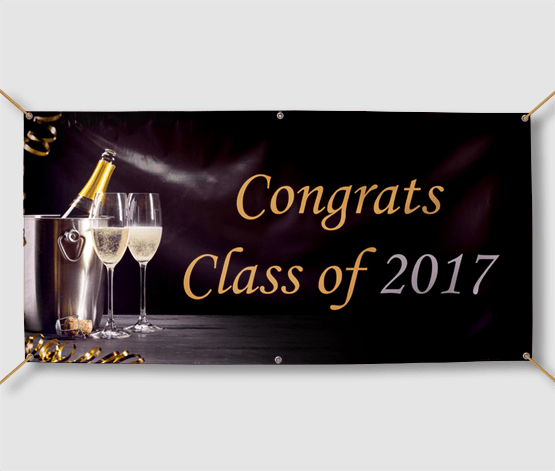 Things to Consider When Ordering Graduation Banners
Whether you need one for your graduate or for the entire graduating class, there are a few important things to keep in mind when ordering personalized graduation banners.
In the majority of cases, graduation banners are kept as mementos for graduates to remember graduation and their personal achievements. However, if you want to reuse your banners, the best thing to do is to keep your messaging general. Avoid using names, graduating class year, accomplishments and any information that is specific to another person. Instead, you can simply say "Congratulations, Grad!" and include an inspirational saying or quote.
Something else to consider is whether you plan to display your banners inside or out, as this will determine which material will work best. For example, if you want to display your banners outdoors, then fabric may not be the best material to choose as harsh weather exposure can significantly reduce its life. At Half Price Banners, our selection of graduation banners is manufactured from high-quality vinyl that is suitable for both indoor and outdoor use. We offer all-purpose 13-ounce vinyl in a glossy finish, heavy-duty 18-ounce vinyl in a semi-gloss finish and durable mesh vinyl that is lightweight and performs well in windy areas.
Finally, if you plan on hanging your banners, make sure they come with grommets. Grommets are the tiny metal rings that go around the holes in your banners so that ropes, bungee cords or something else can be passed through for easy hanging. Another benefit of grommets is that they reinforce the holes and help keep banners from coming apart. Without them, there's nothing that will keep your banner from getting damaged after a short amount of time, especially in windy conditions. The good news is that our custom graduation banners come with free grommets around the perimeter, so you don't have to worry about your banners getting ripped or torn.
Graduation is a time for celebration, and what better way to celebrate than with a personalized graduation banner? At Half Price Banners, we make designing graduation banners as easy as possible. Simply choose from our selection of templates and upload your own design. If you need help, our expert designers are available to help you come up with a design you'll be proud of. Happy Graduation Day!