It's a simple yet effective solution that's worked for decades. Whether you're advertising a sale at a retail store or attempting to attract new restaurant patrons, signs and banners are a great way to lure in new business. Outside of sales and advertising, banners are a great way to celebrate a special occasion, like a birthday, or show support for loved ones during a race, sporting event, or other milestone.
Choosing sign material seems like it should be a straightforward process. But if you sit down to do it, you may find that it's not such an easy decision to make. Here are some of the most common types of banner materials:
Vinyl
Mesh Vinyl
Adhesive Vinyl
Polyester Fabric
Canvas
With so many materials to choose from, how do you make sure you select the best type? It really boils down to your intentions and visions for your banner or sign. Is the banner going to be indoors or outdoors? Do different materials have better ink compatibility for certain colors? Have you made a decision between vinyl vs fabric banners?
Below, we'll highlight some of the most popular types of signage material, the characteristics of each, and their respective benefits and drawbacks.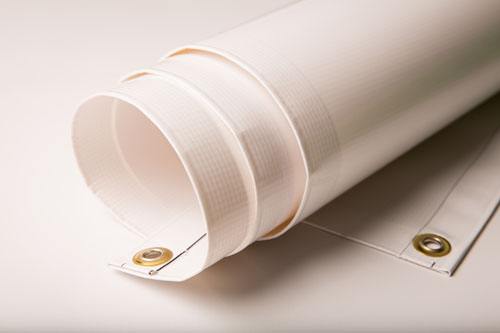 Mesh Vinyl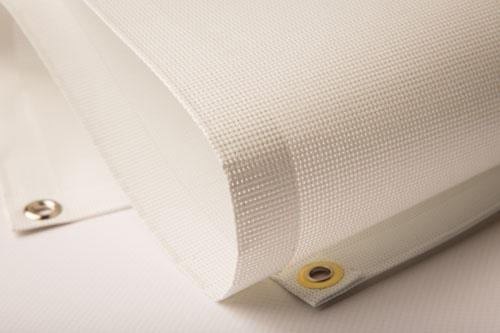 Like vinyl, mesh vinyl has waterproof and fade resistant qualities. The difference is that this material has tiny holes in it, which allows air to pass through and makes the material more breathable. Because of this mesh quality, mesh vinyl has a longer lifespan than traditional vinyl. Another advantage of mesh vinyl is that it's wind resistant. As air passes through the holes, it moves quietly and prevents the banner from flapping in the wind. That makes this material perfect if you're looking to hang a fence banner.
Mesh vinyl banners are a great investment if you're seeking a long-term solution that will last for years to come. This material is more expensive than standard vinyl, but if you need a banner that you can reuse often for many years, it's a solid investment.
Adhesive Vinyl Banners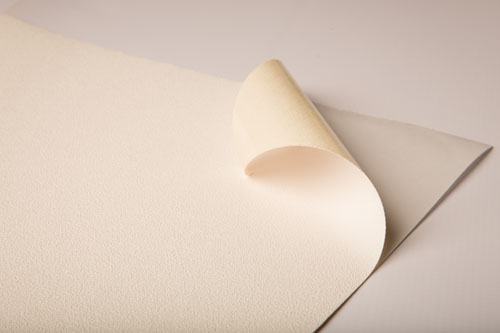 Adhesive vinyl banners are an excellent alternative to free-standing banners. If you have a wall, window, or smooth surface that you can hang the banner from, an adhesive vinyl banner might be the perfect choice for you.
Our adhesive vinyl banners are made of 10 oz. premium opaque vinyl. Like our standard vinyl banners, this material is waterproof, fade resistant, wrinkle resistant, and durable. As a bonus, our adhesive vinyl banner material is washable and reusable!
One of the biggest advantages of adhesive banners is that they stick to a surface, so you don't have to worry about your banner blowing over or flapping loudly in the wind. You can also forgo purchasing bungee cord or poles and simply apply your banner to an existing structure for easy installation.
Polyester Fabric Banners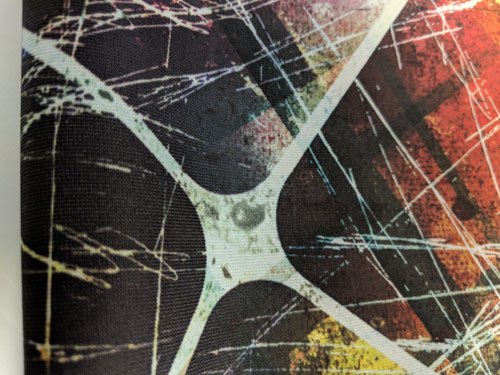 Fabric banners offer sharp, high-quality color and photo quality prints for professional looking advertising. Ideal for indoor use, these polyester fabric banners are printed with a dye-sublimation process that creates vibrant photo-quality color. Thanks to their fabric material, polyester banners are scratch-resistant.
Because polyester is a fabric, this sign material isn't suitable for most outdoor environments. However, if you will only be using your banner outside in mild weather for a few hours, this might be a good option for you.
If you're considering purchasing a polyester banner, bear in mind that this material can be prone to ripping or tearing. Therefore, these banners are best used when handled carefully indoors.
Canvas Banners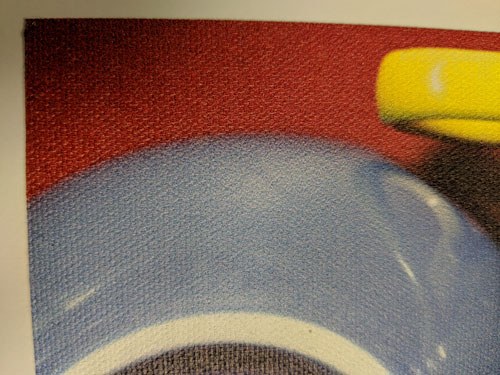 Many canvas banners are made of premium cotton duck canvas — a highly durable material that's been used in heavy-duty applications such as workwear and boat sails for many years. Canvas is one of the highest quality materials thanks to its wind-resistant quality and artistic aesthetic. Just like fine works of art, canvas banners offer a professional look and oftentimes look hand painted thanks to their semi-gloss finish. This adds an element of class to any event or promotion. The woven texture of canvas also adds a nice touch for those who are looking for an aesthetically pleasing option.
Canvas allows text and images to be printed in high resolution, which makes this an excellent choice for those who value appearance above all else. Although this material is heavy-duty, canvas banners are best used indoors in order to preserve the imagery's quality.
Choose the Best Material for your Situation
Aside from signage material options, it's important to keep design in mind when shopping for a banner. With numerous pre-built templates available, our website makes it easy to create and customize your own banner. Upload your own image, customize your text and colors, and choose from a wide range of sizes all from our online design tool. Need a second opinion? We offer free proofing and revisions to make sure you get your banner exactly right.
Whether you're looking for a banner to promote your next event or a banner for a special occasion in your personal life, Half Price Banners offers something for everyone. From high-quality vinyl banners that are perfect for outdoor use to artistic canvas banners, you won't find a better selection of banners anywhere else. Shop our complete banner collection online today and view all of the different banner material options available.