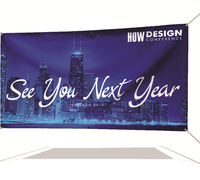 A quality banner can be a boon to any business. That's because banners provide easy and versatile advertising without running up costs. But not all banners are created equal. There are several styles and materials to choose from, each with their own unique advantages and characteristics. When it comes to durability and longevity, there is no better choice than a vinyl banner. Vinyl is both tear-resistant and weather-proof, making it an excellent choice for both outdoor and high-use banner applications. Here at Half Price Banners, we proudly carry a wide range of vinyl banners ideal for virtually every occasion. With our custom banner creation options, you can build the perfect banner for your needs.
Durability and Longevity
Our customers often ask us how long our banners last, and the truth is that the answer varies depending on use and banner material. For instance, a banner that's used outside every day in a particularly stormy area won't last as long as a banner that's used less frequently in a relatively mild climate. That being said, there are some banner materials that will last outdoors long than others. At the top of the list for both durability and longevity are vinyl banners. Made from synthetic plastic-based materials, our vinyl banners here at Half Price Banners are both weather-proof and tear-resistant. This makes them a great choice for even the toughest outdoor uses. Here at Half Price Banners, we offer both standard and heavy-duty vinyl banners as well as mesh vinyl banners for extra wind resistance when needed.
So, how long will a vinyl banner last? Again, the answer largely depends on individual usage and weather conditions. We've found that our heavy-duty vinyl banners will last at least five years in most conditions before showing signs of wear.
Custom Vinyl Banners for Your Needs
Looking to create a custom vinyl banner that could last for years? You've come to the right place. We proudly offer a number of custom banner options to help our customers create their ideal banners at highly-affordable rates. Add your own image and text, or pick from a number of pre-made design templates here on our site. Choose your size, add standard finishing features free of charge and you're ready to order! Questions? Just contact our customer service team or visit our FAQ page to learn more.