Designing your trade show materials so they're effective, eye-catching and supportive to your overall business goals is an important part of your exhibition strategy. When it comes to trade show signage, we often pay a lot of attention to things like wording, fonts, colors and images. These are indeed vital ingredients to successful signage, but even if all elements are flawless, nothing matters if a sign is poorly placed. Today, we'll help you nail down your trade show sign placement plan so that you get the most bang for your buck out of each and every sign, banner or backdrop.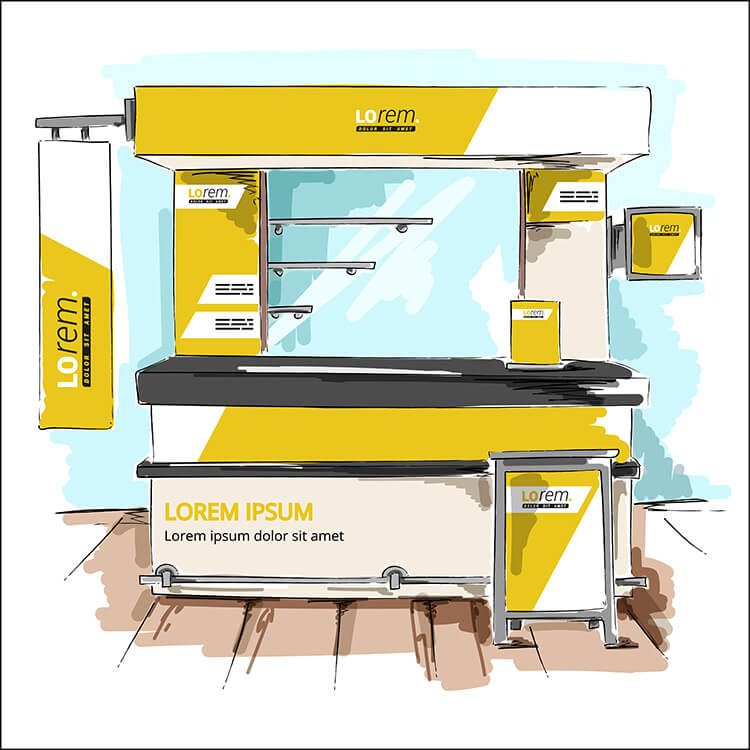 Their Placement Affects Their Visibility—Where you display your trade show sign can drastically affect its visual impact and perception. If your sign is too close or too far from your target viewer, you'll lose out on valuable branding opportunity. In terms of visibility, we need to look at two import placement factors:

The Distance Between the Sign and the Viewer—In sign-making terms, we refer to this as the viewable signage distance. How far away the viewer is should affect the overall size of the sign as well as the size of the text and graphics. If you want to place trade show graphics over 100 feet away, you need to choose what are referred to as long-range trade show graphics. Mid-range (viewable between 10 and 50 feet away) and short-range (viewable less than one to 10 feet away) should be selected for closer applications.
The Angle at Which the Sign Will Be Read—Of course, the angle at which the sign will be viewed can skew visual perception or prevent some attendees from being able to see the whole message. You want to make sure that you only aim for eye-level signs (typically free-standing signs, like X-stand banners or tension fabric displays) if your viewer will be in close range, say less than five feet away. If you intend to hang graphics from a high or low structure, make sure viewers can still read the sign head-on.

They Should Serve a Purpose—The purpose of your sign should help you determine where to place it. For example, if the sign's goal is branding—that is, it includes your business name, logo and tagline and nothing that goes beyond that level of information—then it needs to be one of the first things an attendee sees but should be placed somewhere prominently within your display. If its purpose is to draw users into your booth, it may be on the floor in front of it or even down the hall with arrows pointing in your direction. Anytime you're using your signs for wayfaring (to direct attendees to your booth) special care needs to be placed on placement to ensure that the directional elements are correct in the context of the specific venue.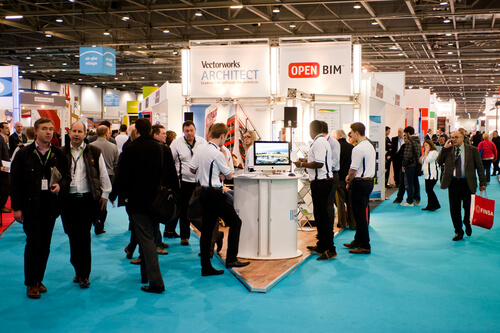 They Shouldn't Obstruct Other Elements—Think about the basic components of your booth. You probably have a table, a backdrop and an area that can be used for displays, demonstrations and interfacing with attendees. Make sure that your core signage doesn't get in the way of any other elements that need to be easily read or displayed. You can use a medley of different sign types, such as table top banners, floor signs and hanging banners, to send several messages at once that don't get in each other's way.
They Shouldn't Blend into the Backdrop—Finally, when you're designing your trade show signage, think about the environment in which it will be placed. You don't want your sign to blend into the background or get lost in its surroundings. Make sure that you focus on choosing contrast colors that set it apart wherever it's placed. For example, if your booth walls are blue or gray, don't design your promotional signs and banners in blue or gray.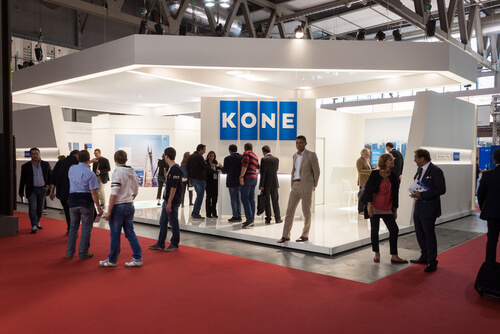 A Worthy Endeavor for Business Growth
When properly coordinated, your trade show strategy can be measurably beneficial to your business. The top trade shows in the nation draw in over 100,000 attendees each, ensuring that you get high-quality facetime with the individuals, companies and partners that you need to take your business to the next level. If you're preparing your trade show breakout or are looking for great new strategies on how to stand out at your next exhibition, make sure to let Half Price Banners help you find and design trade show signs that totally hit the mark.