On May 14, mothers, stepmothers, grandmothers, and even great-grandmothers will be celebrated with family and friends through out our communities. This year, consider creating a personalized Mother's Day gift with a gallery canvas print, or decorate a family gathering with a banner, showing the women in your life how much you appreciate them. Here are a few ideas.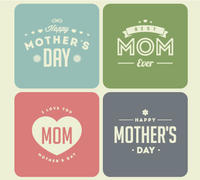 Photo Albums
Photo albums can be a source of great memories and family history. For a unique Mother's Day gift, search for photographs that tell her story. Create a photo collage of important moments and people, including children, stepchildren, grandchildren, nieces and nephews. Place a large portrait picture of Mother in the center surrounded by smaller photos that bring back special memories. This Mother's Day photo story will warm the hearts of all members of the family.
Canvas Prints
For art lovers, creating the photo story on a gallery canvas print makes a cherished gift. Gallery canvas prints have the feel of adding a precious piece of art to the family's collection. These can be prominently displayed in family rooms or Mother's personal office or crafting space. It could even become an heirloom to be passed down through the generations. These gallery canvas prints range in size from 12 inches to 36 inches and use built-in wooden stretcher bars as support, just like a painting.
Quality Look
To help personalize a family event, a high-resolution banner or satin fabric banner showcasing the photo story could be created to fill a wall space or attach to a tri-stand frame. This could be displayed in the home's entryway, or on the patio at a backyard gathering, reminding all of the purpose for the party.
For the Kids
As a throwback to more traditional times, create a Mother's Day gift using a gallery canvas print that includes the silhouettes of children or grandchildren. This can be quite a fun project that involves everyone in the creation. First, find a high-powered flashlight or lamp. Place a plain piece of paper on the wall. Even though it may be a challenge, ask a child to sit still between the light source and the paper illuminating his or her profile. Trace the profile on the paper. Digitize the image and fill completely with black. Arrange the profiles in the design so the images face each other.
Wordle
Not so crafty? Short on time? Then, a Wordle may be just the right fit for a gallery canvas print or vinyl banner as small as 2 feet. By visiting wordle.net/create, and typing in the words that best describe her, a heartwarming Mother's Day gift of kindness and appreciation appears. Type in Mother's name several times to make it the biggest word on the page. Ask all members of the family to contribute their own descriptive words for the collage. This would be a perfect gift for hanging in the kitchen or family space, reminding Mom through out the year of how much she is appreciated.
Large Events
If you are having a large, multi-generational gathering, you may want to set a celebratory tone by greeting guests at the entrance of the house or outdoor location with a feather flag or a teardrop banner flag. This Mother's Day banner could have a simple message, declaring "Happy Mother's Day" in whimsical script, with or without the names of the women to be honored. These flags range in height from 8 feet to 15 feet, so the large size will also help family members and friends find the location.
Since May 14 is a Sunday, churches may wish to mark the occasion with a large Mother's Day banner at the entrance to the building or in the sanctuary. Include a Bible verse celebrating mothers, or simply festive artwork depicting thanks, love or affection. A tall, rectangular vinyl or fabric banner will help fill large spaces and can be reused from year to year.
Give mom a personalized Mother's Day gift this year that tells her story. From gallery canvas prints to event banners, Mom will feel appreciated and loved.