Have you just taken your vinyl banner out of storage after a few months or years only to discover that it's wrinkled or creased? Have no fear! It's easy to flatten a wrinkled vinyl banner by using one of these methods. But before we get to those, it is important to clean your banner thoroughly to remove any dirt and dust. Use a soft, clean cloth with gentle soap and water, rinsing afterwards with clean water. Dry the banner with a soft cloth.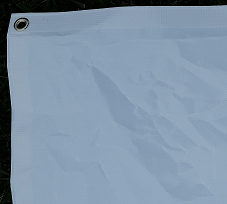 How Do I Get Wrinkles Out of Plastic Banners?
To unwrinkle a vinyl banner, you can:
Lay your banner in the sun – This simple yet effective way is what we usually suggest first. The heat will naturally smooth out wrinkles, and your banner will look great soon.
Hang the banner in the sun - If you can hang the banner in the sun and attach some weight to the end of the banner from the grommets, this could help get some more difficult creases out.
Use a hair dryer – Make sure the hair dryer is on low or medium heat to avoid any damage. Blow the hair dryer on the non-print side to help avoid damage to the banner.
Gently using an iron - Place a hot, wet cloth on top of the banner and then iron out the wrinkles. Be sure to set the steam iron to a low temperature.
Watch out when using a hair dryer or iron! Vinyl can easily burn. One way to be extra careful not to cause any damage to the vinyl is to make sure that the iron or hair dryer never comes into direct contact with the material. You should test the device on a piece of cloth before using on your banner to make sure the setting isn't too high.
How can I keep my banner from wrinkling when I store it?
To reduce the chance of wrinkles in plastic banners that are going to be stored for any amount of time, roll them up instead of folding. Keep them away from sunlight or heat from any furnace or heating vent. An attic or a garage is an ideal storage location. It's often best to store it in the original packaging, but just be sure to store it rolled. If you are still stuck with an extremely wrinkled vinyl banner after trying these methods, it could mean the banner has reached the end of its life cycle, and it's time for a new one