In the world of outdoor advertising, few tactics are quite as effective as using sandwich board signs. Also known as a-frame signs or sidewalk signs, these double-sided signs are designed to grab the attention of everyone walking by your storefront. Whether your business is situated in a shopping plaza with heavy traffic or by a bustling sidewalk, these signs are an easy and affordable way to advertise your offerings and draw customers into your location. Studies show that intentionally placing signs on the outside of your business's premises is an effective strategy for communicating services or products to potential customers.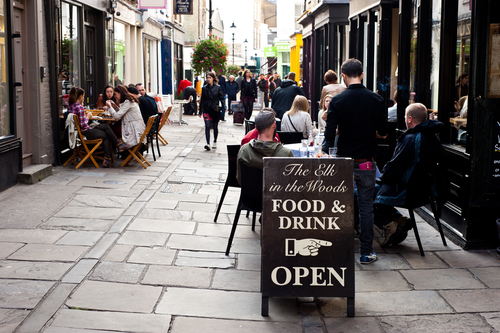 Here are six different ways to use sandwich board signs:
1. Restaurants—This type of signage is typically used by restaurants, bars, cafes and eateries to showcase menu items and display daily specials, happy hour specials, upcoming events or other offerings. When using sandwich boards outside of a restaurant, it's important to focus only on a few notable menu items—think chef's specials or popular favorites—to entice a hungry passerby to come inside. If your specials are only available at a certain time, let your customers know when your offers will be available by including a specific time frame. For example: "20 percent off appetizers between 11 and 2—stop by today!" Bonus tip: Use the back of your sign to show your appreciation and thank customers for visiting.
2. Hair Salons and Tattoo Shops—Hair salons, barber shops and tattoo parlors often rely heavily on walk-in customers. Sure, there's always the convenience of scheduling appointments ahead of time, but many people prefer to do things at their own convenience while they're out and about. Sandwich board signs are a great way to advertise specials, prices and let customers know you accept walk-ins.
3. Parking or Valet Service—Public parking lots and valet services will often use custom signage by the sidewalk or curbside to direct drivers to their lot or let them know where to drop off their vehicles, showcase parking rates or to let customers know that their lot is full.
4. Event Management—Special events can be confusing and stressful for both event managers and attendees. A-frame signage can be used to establish order and ensure your attendees are able to find what they need. Use these signs to communicate important information, such as directions to the event, sign-in and registration procedures, ticket prices and where to purchase them, where to line up for entry and so on.
5. Hard-to-find Locations—Many businesses are located in small buildings or are tucked away in shopping centers that aren't easily visible from the street. Sandwich board signs can be placed on the sidewalk, curb or walkway leading to the business to increase visibility and point potential customers in the right direction.
6. Safety—Who says sandwich boards can only be used to advertise businesses? They can also be used in residential areas and school zones to post speed limits and indicate areas in which children are present. These signs can be used by both parents, schools and crossing guards alike to create a safe environment for children.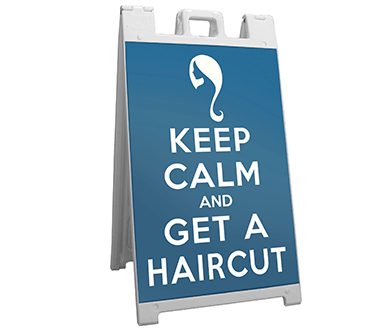 Choosing a Sandwich Board Sign
When it comes to sandwich board signs, first impressions are important. Make a good one by keeping your message straightforward but engaging, and don't be afraid to get creative. Include important information regarding your specials, sales and other offerings, and make sure to add a call-to-action to encourage potential customers to enter your business. This type of signage is a quick, easy and effective way to promote your business or event. At Half Price Banners, our sandwich board signs are made of durable plastic and come with handles that make them easy to move around from place to place. They're perfect for both indoor and outdoor use and can even be filled with sand so that they stay put during windy conditions. What's more, when you need to make a change to your signage, we allow you to conveniently and inexpensively make updates as often as you need to. Need assistance with a design or have questions about your order? Our team is here to help—contact us today!