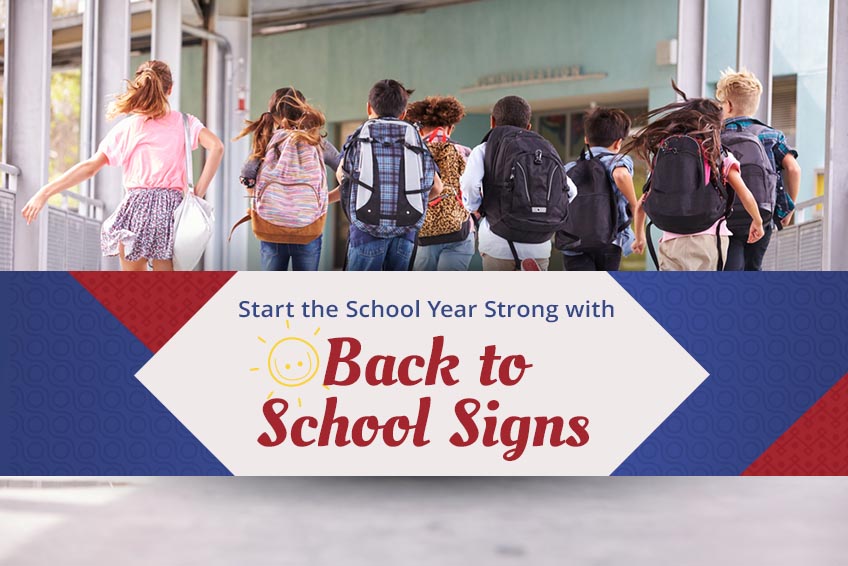 The school season is right around the corner and the countdown has begun as administrators prepare to welcome back their students and teachers for the upcoming school year. This is an exciting time of year, but the first day back can be a hard one for students and teachers alike. Not only are they feeling the effects of the end-of-summer blues, but anxieties are running exceptionally high. After all, there are new classes, schedules and faces to get used to, so it's especially important that school administrators create a warm and inviting atmosphere. There are a variety of ways to do this, from decorating the hallways and classrooms to going out of your way to introduce yourself to unfamiliar faces. One of the best ways to welcome back students and teachers is with back to school signs. Back to school signs can be displayed on school grounds, inside hallways, classrooms and administrative offices or anywhere else on campus to engage students and teachers, both returning and new, and encourage them with a welcoming message.
Reasons to Use Back to School Signs
Summer break offers students and teachers a much-needed vacation and helps relieve some of the pressure experienced during the academic year, such as midterms, term papers and final exams for students, and lesson plans and grading for teachers. It also allows students and teachers to recharge and start the upcoming school year off strong. While there is some excitement as the new school year quickly approaches, the first day back to school can be a particularly stressful time and most students and teachers still experience a little back-to-school anxiety.
Whether you're a school administrator with anxious faculty or a teacher welcoming new students to your class, back to school signs can help get everyone excited and encourage them to have a fun and successful year. Motivate teachers to get excited about the new school year by using welcome back to school signs with a funny or inspirational quote and encourage them to do the same for their students. If you're a teacher, use back to school signs to help your students feel safe, welcome and driven to learn. Use bright colors, fun graphics and messaging that positively reinforces self-confidence and support.
Another reason to use back to school signage is to personalize your school and/or classroom. As a teacher, you can create a one-of-a-kind experience that your students will love with back to school signs that are unique and welcoming. Don't be afraid to get creative when designing back to school signs for your classroom, especially if you're teaching children–the more colorful and interesting, the better.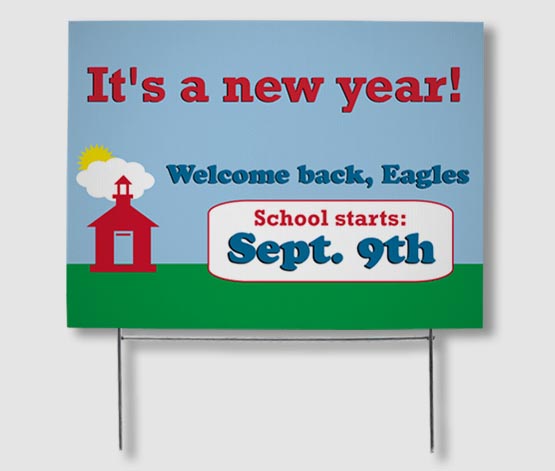 Back to School Sign Ideas
Beyond hugs, high-fives and handshakes, what better way to welcome students and teachers back on the first day of school than with a custom back to school sign? With a little creativity and thoughtful design, back to school signs can help eliminate first-day-of-school anxieties and get everyone excited to get started. If you're considering back to school signs to start off the new year, here are some ideas for you to consider.
First Day of…: Back to school signs are a perfect way to greet your new students and welcome them to their first day of whichever grade they're starting. Whether your students are in pre-K or beginning their first day of senior year, they'll appreciate the gesture. Consider including a message like: "Welcome to your first day of 6th grade!" or "Congratulations on starting your first day of high school! Have a great year."
Create a Theme: As a teacher, one of the most important decisions you have to make each year is picking out a classroom theme. It's important to choose a theme that's fun and recognizable and also resonates with students to get them excited about the school year. You don't want to choose a theme that's too trendy, but you also don't want it to be so obscure your students have no idea what the theme is actually supposed to be. Back to school signs can really set the tone for your classroom's theme. After all, your sign will likely be the first impression your students have, so make sure it's a good one by incorporating your theme into the design.
Use It as a Backdrop: Another great idea is to use your back to school sign as a backdrop for first-day-of-school photos. What better way to motivate your students and get them excited about their first day than with a photoshoot? Create a well-designed sign with bright and engaging graphics and make sure it includes information like what grade your students are in and the academic year. On the first day of class, take photos of your students standing in front of your sign and send them to their parents at the end of the day as a keepsake.
Incorporate Motivational Quotes: No matter how you choose to design your back to school sign, consider incorporating a motivational quote. Teachers know that being a student can be difficult. Sometimes, you just simply have no idea where to start or lack the inspiration and can suffer academically because of it. Help your students stay motivated by including an inspirational message on your sign and hang it somewhere all your students can see. This way, when they're struggling, all they have to do is look up at your sign to keep them going, inspire them to learn and kick-start their studying into high gear.
Other Banners and Signage for the School Year
In addition to back to school signs, schools are often in need of signage for a variety of other purposes. For example, many schools use signs to announce upcoming events, games or gatherings or to advertise the name of the school or team. Here are some other types of banners and signs to consider:
Holiday Signs: Halloween, Thanksgiving, Christmas and Easter are all holidays that occur during the school year, so consider investing in holiday signage to get everyone at your school in the spirit.
Homecoming and Spirit Week Signs: Homecoming and spirit week are two important school events that offer the perfect opportunity to celebrate students, returning alumni and, of course, the big homecoming game! Choose from a variety of design options, themes and messaging or create your own design using your own graphics and unique messaging. You can even personalize one of our templates to make it your own using your school's colors, mascot or logo.
Graduation Signs: One of the best ways to congratulate your graduates and celebrate their achievements is with custom graduation signs. Choose from a variety of options and themes, as well as related graphics, from graduation caps to diplomas, champagne bottles, glasses and more or create your own design. Graduation signs are perfect for displaying at graduation ceremonies, parties and alumni events.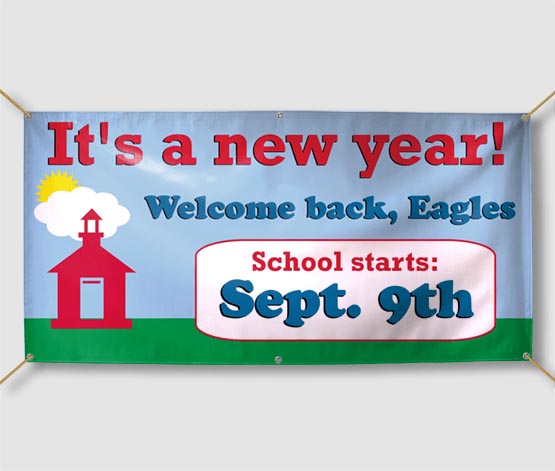 Ordering Back to School Signs
If you're interested in purchasing custom back to school signs or other types of signage for the school year, there are a few important components you need to determine before placing your order.
Application: First things first, you'll need to know where and how you want to display your sign. For example, if you plan on displaying your sign outside for an extended period of time, then you'll want to select a fade-resistant, water-resistant banner or sign that's designed for outdoor use, like our heavy-duty vinyl banners. However, if you plan on displaying your signage indoors only, it's okay to use a standard 13-ounce vinyl banner.
Size: Banners come in a variety of sizes, from as small as 2 feet by 2 feet to as large as 20 feet by 100 feet, so you should have an idea of which size you'll need before placing your order.
Timeframe: The date you need your signage will determine the type of sign or banner you can order, as some can be printed much faster than others. The good news is that most of our custom-made banners are ready to ship within 24 hours. We'll need some additional time for some types of banners, such as double-sided, fabric and large-format banners. If you need your sign in a hurry, check with us before placing your order and we'll see how we can help.
Once you've determined those factors, it's time to move on to design. This is often one of the most challenging aspects of ordering custom signage, but at Half Price Banners, we make this process as simple as possible. We offer three different options for designing custom signs: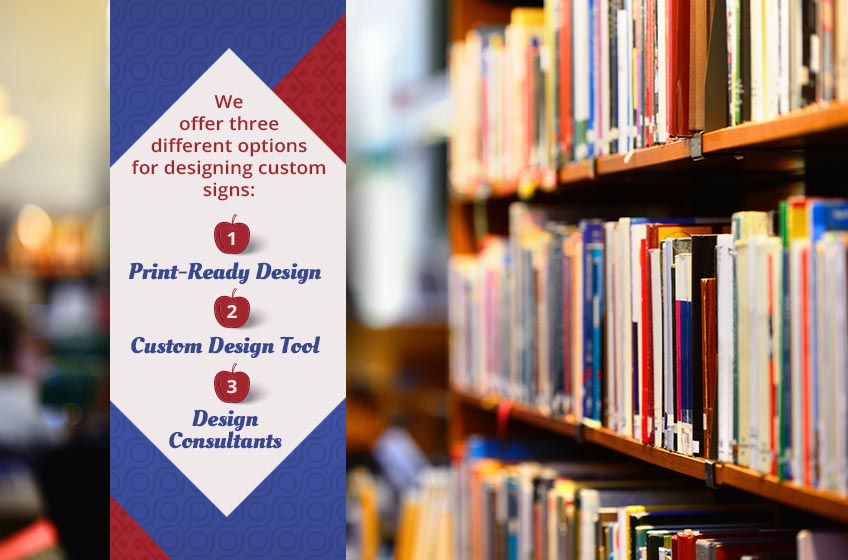 Print-Ready Design: If you already have a design ready, this is the best option for you. Simply upload your design and we'll get it printed for you right away. Take a look at our art specifications for more information and best practices for creating and uploading your own designs. Remember that you should only use this option if your design is 100 percent print-ready.
Custom Design Tool: Whether you have your own graphics or want to start from scratch, our online custom design tool can help you create your own professional design. This is the quickest and simplest option to design your sign.
Design Consultants: If you're not sure where to start and need help coming up with a professional design, our team is happy to help! Our experienced design consultants know the ins and outs of designing custom signs and banners and will work closely with you to create a one-of-a-kind design that looks great and gets your message across.
Conclusion
If you've been searching for the right company to help you with your back to school signs or other signage needs, look no further than the experts at Half Price Banners. All of our banners and signs are made of the most durable materials available on the market and our print quality is second to none. At Half Price Banners, our goal is to provide all of our customers with long-lasting, professionally printed signage at half the cost and twice the quality of our competitors. If you have any questions or need help designing a custom back to school sign, contact us or give us a call at (866) 527-1363.