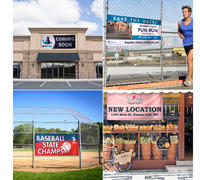 If you are hosting an outdoor event or advertising a sale outside of your building, banners provide an excellent means of conveying your message in almost in any setting. When it comes to outdoor settings, however, not all banners are created equal. Banners designed for outdoor use must be made with the proper materials and essential add-ons to withstand everything the weather might throw at them. In this guide, our professionals here at Half Price Banners will help you choose the perfect outdoor banner for your next sale or event.
What's the best banner material for outdoors?
The best banner material for outdoors depends on what type of weather your new banner will likely be facing. Areas that experience high levels of rough weather and precipitation will best be served with a water-resistant banner with a heavy duty material such as 18oz vinyl. For mild weather, 13oz vinyl also stands up great to the task as it is durable and waterproof. Areas experiencing high winds or placed against chain fencing will be better served with banners made from breathable materials such as mesh vinyl, allowing winds to pass through easily.
Finishing and hardware considerations for showing your banner outdoors:
In addition to the material of the banner itself, you'll also want to be sure to choose the right finishing options to keep your banner sturdy and protected in any weather. Metal grommets will help to protect the banner from tearing in the wind, but grommets alone may not be enough on the edges of the banner. By first reinforcing the edges with heat-welded hems before placing the grommets, this will greatly prolong the life of the banner. Banner frames are also excellent investments for anyone with the space to display their banners outdoors.
Why outdoor banners?
Outdoor vinyl banners are a great way to get attention for your special event, business or party. Half Price Banners offers large, custom outdoor banners that are both affordable and portable. This means that you get the most exposure for the lowest price available. Compared to other advertising types, outdoor banners are hard to beat when it comes to your return on investment. You can display our custom vinyl outdoor banners anywhere, whether above a storefront entrance or on a building.
Outdoor banners are great for promoting a sale, grand opening or informing others about your service or an upcoming event. The options are endless! Anyone can use these vinyl banners to create a festive atmosphere for a special event such as a wedding, backyard BBQ or graduation party, just to name a few occasions. Choose Half Price Banners when you need high-quality, custom banners for outdoors.
These banners can be customized for any event. We at Half Price Banners have an experienced art design team that can help you create the banner you've always dreamed of. Our high quality outdoor banner printing process produces full-color outside banners that catch the eyes of those who see them. To make a significant impact, customize your banner with details about your company, service or event.
Exterior banners such as ours are printed on only the highest-quality vinyl material. This material is affordable, weather-resistant (to both humidity and moisture), and long lasting. Our advanced digital printing process uses ink that won't fade in the sunlight, making this a long-term investment. We can accommodate any custom size or quantity. We will work with you directly to personalize your outdoor banner to your liking. Ultimately, outdoor banners attract attention and offer durability. Order your exterior vinyl banners from Half Price Banners today!