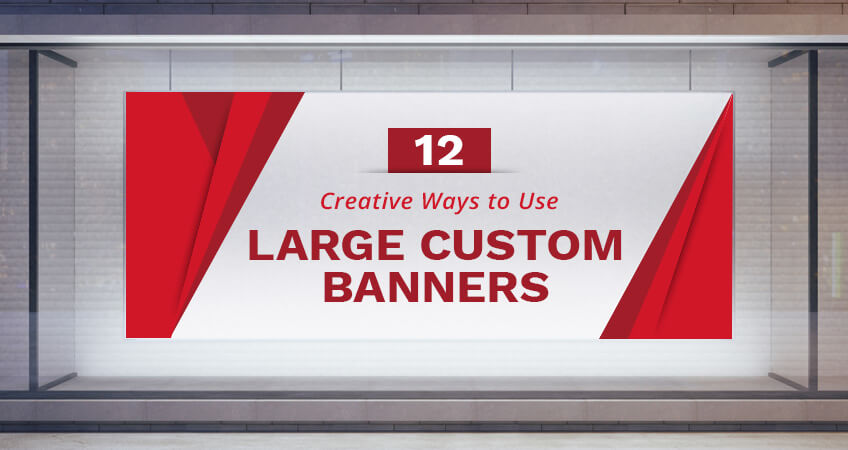 If you're looking for clever new ways to advertise your business, do what the experts do: go big or go home. Cliché? Yes. True? Also yes. When it comes to printed promotional materials, your goal should always be to command attention from near and far at every angle, and there's no better way to do that than by hanging large custom banners printed with your distinct messaging. Otherwise known as large format banners, these expertly printed signs are made to send a message at up to 200 feet long, with no letter or graphic too small to read.
So when should you go for the large format option? There are a few common scenarios when you might want to consider upping the ante on your banner selection. First and foremost, you'll want to choose an extra-large banner when you're advertising in large outdoor spaces where readability is a concern. For example, if you intend to hang your banner up high on the side of a stadium, a roller coaster or a skyscraper, it needs to be big enough to be easily read from ground level. You may also select large printed banners if you want a complex design or if you plan to hang your banner from the ceiling.
Understanding Your Options: Different Types
Before you order your big promotional banner, it's important that you know a few things about which ones are best for the job. At Half Price Banners, we offer four different banner options that we classify as large format, which cover the vast majority of our market's oversized banner needs. We're here to help you determine which banner option is best for your specific application. Note that custom sizing is available, and we'll happily produce one to your individual size requirements, so don't be deterred if you don't see a banner size that perfectly matches the parameters of your project.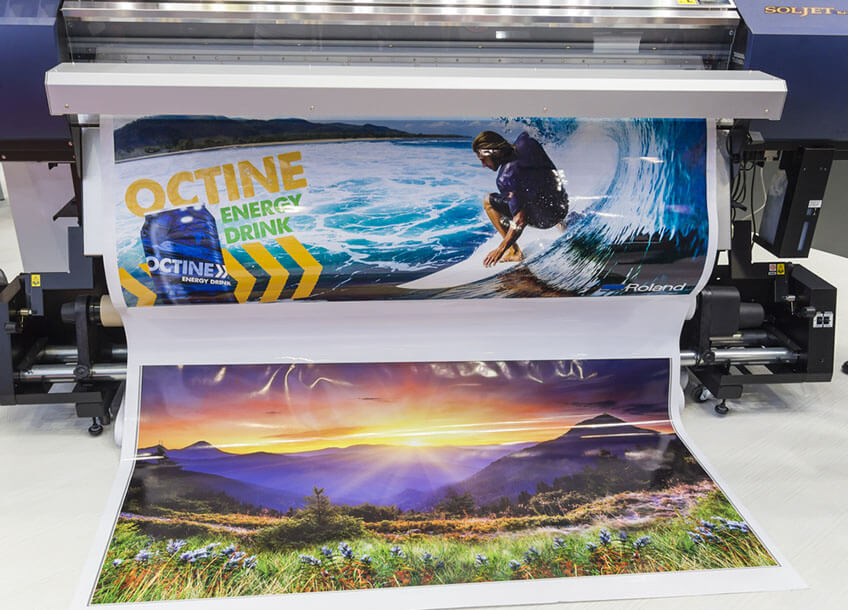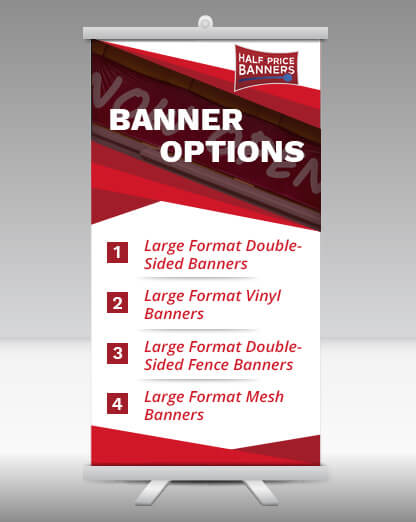 What Can You Do with Large Banners?
So now that you know which banner to choose, it's time for the big question: What should you do with your sparkly new oversized banner? The opportunities are virtually limitless, but here are some of the most popular ways our customers use these products.
Advertising on a Fence—Fences are everywhere, especially in high-traffic areas, making them a great place to advertise your business if you're looking for big visibility. Whether on the side of the highway, at a baseball field or surrounding a construction site, a large fence is the perfect place to string up a banner advertising your business. When you're dealing with a chain-link fence or a fence with posts, it's a good idea to choose double-sided custom banners for the job so that your messaging can be seen from both sides of the fence. Be sure to choose a style labeled as a fence banner, as this type typically has mesh so that wind can pass through without affecting readability.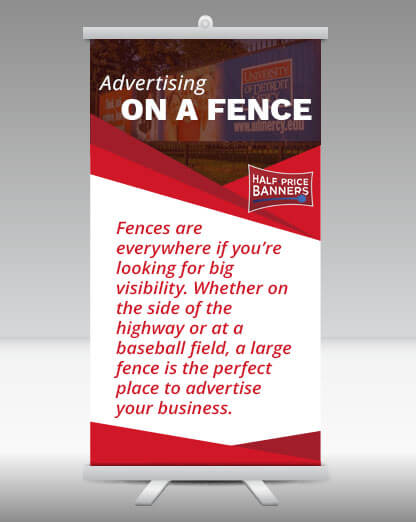 As a Billboard Alternative—Billboard advertising can be effective but costly, with some billboards costing advertisers as much as $10,000-plus per month in large, in-demand markets like New York City and Los Angeles. One of the best ways you can get billboard-like results without the billboard price tag is by hanging up large, all-weather banners in areas that are heavily trafficked by motorists. Some private landowners will gladly rent a fence or wall on their property at a low price, saving you big dough on billboards. The best part is, you can reuse the banner again and again, if desired.
Hanging on the Side of a Building or Wall—Gone are the days of permanently painted advertising murals on concrete walls (except for a few, thanks to historians who work tirelessly to preserve them). Though you can still use tall buildings to advertise, you won't need a bucket and paint or a paintbrush these days. Some of our favorite examples of large-format banners hung on exterior walls include the (now gone) 10-story high LeBron James banner towering over the city of Cleveland and the ever-changing, massive banner that hangs from the columns of the New York Stock Exchange. The sheer scale of these banners is truly impressive!
As Part of Your Large Trade Show Display—What's better than a regular-sized trade show banner? A large trade show banner, of course! Going large format is a great idea when you're demoing, showcasing or promoting your project in a large space, especially in overwhelmingly vast convention center halls, school gyms and other large event spaces. Create a show-stopping design to hang as the backdrop of your display or to hang above it so that event-goers will be able to see your branding from afar as they traverse through the many rows of booths.
Hanging from a High Ceiling—Speaking of large convention centers…how about one of our two-sided large banners? These can be designed similar to championship banners that often hang from the rafters of gym ceilings. You can use a similar format in your warehouse, convention center, factory or any other large space so that people can see both sides from afar. Generally, these banners are hung together as part of a set, so they're especially ideal for advertising awards or images (such as the images shown in the example below).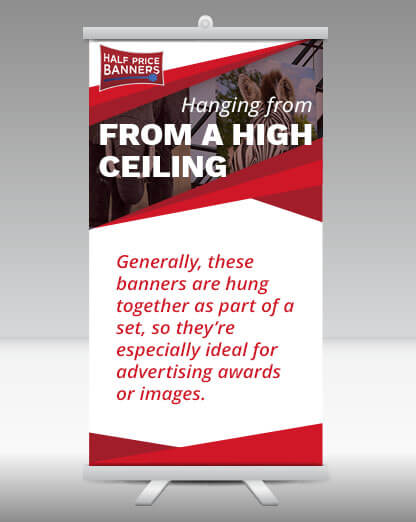 To Announce Your Grand Opening—Banners are a great (and affordable) way to create effective, temporary signage for a wide range of applications. One of the most common ways our customers employ our large signs is when announcing grand openings. This is especially effective in businesses within large buildings that need to draw attention or when you need to cover up old signage temporarily until your business's signs are officially up. Whether you want to include simple wording (such as "Grand Opening" only) or more complex messaging, larger banners are a perfect option.
Carried During Parades—As business owners, we often underestimate the value of community engagement. But getting out and participating in local events can be a wonderful way to spread the word about your business. One of the best things you can do with regard to community advertising is to show up with a large custom banner at a local parade or march. Have a crew of employees hold the banner at the front of your group so that everyone knows you're coming. This is an especially popular method for political campaigns, marching bands, social clubs and non-profit organizations.
To Create a Special Design Indoors—While large banners are generally favored outside, there are many situations where you might want to string one up inside. As previously mentioned, banners can be used for advertising purposes inside, but they can also be used to help create a unique aesthetic in your space. Use them to hang high-resolution photographs or graphics to give your business that special feel you've been aiming for. Half Price Banners offers large custom banners made with full-spectrum color and G7→ certified printing, so you can be sure your designs will make a serious splash.
To Get New Customers Through the Door—The main advantage banners have over typical signs is their temporary nature. You can use them to advertise special sales, time-sensitive promotions and seasonal deals year-round, all of which are fantastic for enticing new customers to give your business a shot. If your storefront is situated relatively close to a roadway or sidewalk, or if it's part of a plaza or shopping center, you can use large format banners to let everybody in the vicinity know what's happening at your business.
To Display Menus, Product Lists and More—Creating permanent menu boards for your restaurant, bakery, brewery or deli is a must in many food service environments, but what if you want the ability to change things up without a costly overhaul? Large banners can serve as custom menu boards to display all your offerings and they're fairly affordable compared to typical rigid options. They're perfect for businesses with lengthy menus or larger spaces where readability is a concern.
As a Backdrop for a Presentation or Performance—Hosting a demo, conference, Q and A, discussion or a TED Talk-like event? Transform any stage into a customized environment by stringing up banners that advertise your business or the event at hand. This is much less costly than installing a projector or a screen, and it's fairly easy to set up without hiring a crew of workers. The best part is, your logo or company name will be seen in every photo and video of the event, which helps you double-down on advertising for a lower cost.
As a Step and Repeat Backdrop—Often, custom-printed fabric backdrops are the preferred choice when it comes to designing step and repeats. However, if you're looking for an outdoor-friendly option that's a bit more durable, it's not a bad idea to use one of our large format vinyl banners instead. This is a good option for grand openings, special events and other situations where you want to encourage people to take photos to share on social media. Note that our large banners don't come with stands, so they'd need to hang from a wall, ceiling or another structure.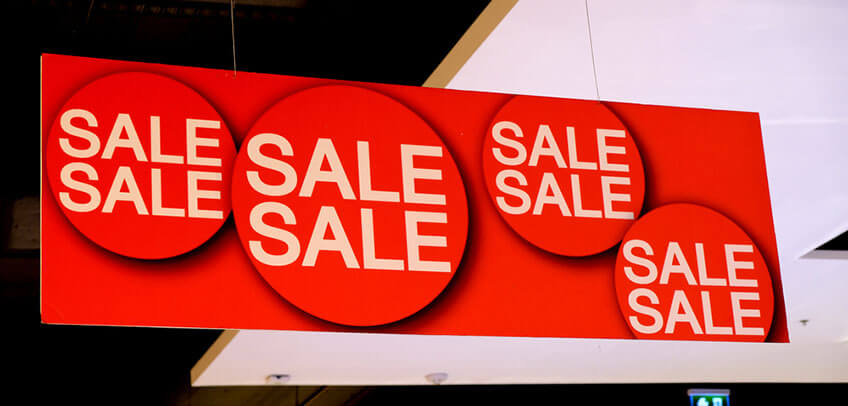 Your Best Resource for Fine-Quality Large Banners
If you're searching for the ideal partner for your custom banner needs, you've come to the right place at Half Price Banners. We specialize in producing grand large format banners that don't come out pixelated, blurry or less than perfect in any way. With a team of highly skilled printers, designers and banner experts who are always on hand to answer your questions, Half Price Banners is here for you, no matter what size banner you need.