All business owners know that increasing visitors and visibility to your store are necessary steps towards growing. Customer acquisition costs are a necessary expense, but finding efficient ways to spend this budget makes the difference between average months and amazing months. There are several ways to reach out to customers with your marketing budget, and this post will focus on one form of outdoor displays: feather flags.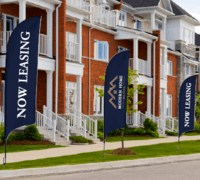 Be More Visible
Sometimes it's easy to overlook simple enhancements to your business. Advertisers often tend to focus on reaching out to those who are far away rather than catching the attention of the people just outside walking or driving by their location. Many small businesses have become complacent with telling people they're "right next door" to somewhere more noticeable, but why not make an effort to be that location that's difficult to miss? Making it easier for customers to find you is more than just a convenience for them, and some distraught customers will go as far to leave a lower star rating for your store if the location is hard to find. Being familiar with your location's area is something that's easily forgotten about, so try to remember with fresh eyes about how it looked when you first arrived. Don't let a lack of visibility be a reason that your next review says, "Everything was great, but…" instead of "Everything was great, and it was easy to find!"
Make the Important Events Stand Out
A few of the most common uses for Feather Flags are for store openings and special events. It's important to gather the most attention as possible for these events, and setting up displays should be done both indoors and outdoors. While some people opt for a single feather flag to stand outside their location, others will have a series of feather flags that are themed together and promoting different aspects and benefits of the location. A lot of this decision depends on how much space outside is available to advertise on and what the typical path of a passerby is. Having three spaced out in a row as someone passes makes more sense than having a few of them clustered, but there's really not a one answer fits all to your displays. Always keep your location's space constraints and challenges in mind, and think about what would look best for your area.
Recurring Views as Recurring Value
Many advertisements are only shown or displayed once, but how many times would a 9'-15' feather flag be seen outside of your location? If there's enough foot traffic or motor traffic in view, this number could easily be in the thousands within the first month. Then multiply that by the average life of one of our feather flags, which is usually 1-2 years in normal conditions, and divide it by the cost of the flag. There aren't going to be many forms of advertising end up costing under a penny per view, so when these opportunities exist it's important to be aware of them. One concern may be that the more people see the same display, the less they will take notice. While the recurring views still have value, we tend to encourage switching up your displays a few times a year to stay looking new. Because feather flags are printed on fabric, their graphics store exceptionally well and take up very little space when not hung on their flag hardware. Even having the same message or graphics on a couple different background colors make the message new to those who pass by.
Remembering Brand Awareness
It's difficult to be able to constantly remind your customers about you, but it's important to keep getting your name in front of them long after they find out about you. Getting people to remember you is the first step to getting them to come back. Making yourself more memorable involves several steps of a plan, and the more that you're able to put yourself in front people the more likely they'll remember how great your services were. This is fundamental in digital advertising as display remarketing, but advertisers caught up in our digital world can forget that the same logic applies to displays outside of physical locations.
Can feather flags be used indoors?
Yes! Feather flags can be placed on a cross base that stands on solid ground rather than being inserted into the ground. Feather flags grab just as much attention indoors as outdoors, and putting one outside your doors if you're inside a mall is a great way to increase attention and some foot traffic. Feather flags can also be used alongside in-store displays as an extra attention grabber to the important parts of the store you want to be seen.
Similarly, feather flags can be taken to Trade Shows and Expos to help make your booth stand out from the crowd. It's common to invest in a great display for these events, but distinguishing your display from others shouldn't be as difficult as it may feel. Using flags to callout what you're giving away can help get people to stop by, and if you come more prepared than the booths around you, then they may even start directing people to their own displays by using yours as a reference point: We're next to the big colorful feather flags. It really can't be underestimated how important it is to be seen, and also to be seen in a way that differentiates you from the rest.
What if I don't have designers to make the art file here at my business? Is it hard to get the right colors or graphics on my feather flags?
We try to make it as easy as possible for people to get the best displays in the simplest ways. You only need ideas in order to get your flag started. While we provide art templates for each of our sizes if you have the resources to make them in house, we also provide free design service that lets you upload art that you'd want shown on your feather flag and select which colors or fonts you'd want on text. If you can explain what you want it to look like, we can design it. And if it doesn't come out as you expected, we'll revise it with your guidance at no extra charge.
What's the most common feather flag? What shape should I choose?
While our most commonly purchased feather flag is the Deluxe Feather Flag, all of our flags are printed on high quality polyester. The difference is primarily in the stand and what the kit includes. One reason the deluxe is the most popular is that it can be printed as double sided, meaning that if there's text, it won't be mirrored on the opposite side. We offer a variety of shapes, but it's really up to you on how you'd want to be seen. Feather flags are tall and narrow while tear drop flags have a circular space for larger graphics. Our rectangular flags offer a simple rectangular shape that can fit text and graphics, and the different sizes depend most on the space you're working with at your location. We'd be glad to chat with you about which flag type and size may be best for your next display.