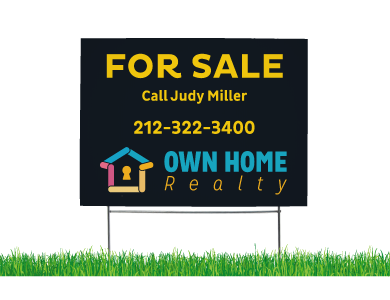 Creating an excellent, professional sign is one of the most important marketing elements for a real estate agent, so it is worth knowing as much as possible about your options to make the right choice for you and your business.
While some might think that real estate signs are an outdated mode of connecting with potential buyers, this tried and true method continues to be one of the best and most effective marketing strategies to use when putting a house on the market.
Real estate signs serve as a practical information delivery channel –– agents can use them to let people know which houses are for sale, share contact information, and highlight amenities for the home.
Here we will explore various types of signage, elements of a strong real estate sign, various stages in the selling process where you can use signs, and other pertinent information when deciding a sign-based marketing strategy.
Types of Real Estate Signs
Not all signs for real estate are created equal –– there are many kinds to choose from, with each portraying a different look and feel.
Commercial vs. Residential
One of the most important distinctions to start with in selecting a real estate sign is whether you are listing a commercial or residential property. If you are listing a business, office, or other commercial location, you may find that you need much larger signage or an especially professional looking design.
On the flip side, if you're selling more residential listings, you can likely opt for a yard sign that can be more personal or customized.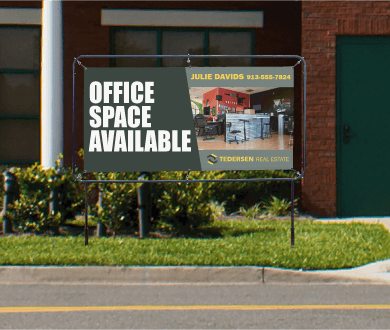 Shapes
Take a look around your area next time you are out for a drive and see if you can spot examples of the wide variety of sign shapes. While most people are familiar with the basic square or rectangular signs often placed in front yards, there are many other options to choose from as well.
Some common real estate sign shapes include:
Square/rectangular
Banner
A frame
Standees (customized)
When choosing a shape for your signage, keep in mind the goals for both your personal marketing style and where it will be placed. Do you want to go for a more traditional style or be playful and eye-catching with a life-size cutout of yourself?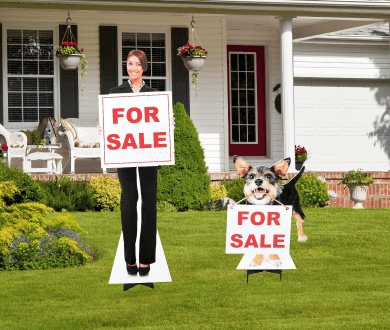 Styles
Real estate signs come in many shapes, sizes, and styles to choose from. Whether you are wanting a straightforward, playful, or extra professional sign, there are signs for you.
Directional signs
Directional real estate signs are incredibly important for agents who may be selling listings that are off the beaten path. These signs usually include arrows or other indicators to help people find the place that is for sale.
For this reason, directional signs are often placed on street corners or at intersections rather than in front of the property being sold.
Yard inserts
Most people are familiar with yard inserts –– these signs are usually square or rectangular and can be placed in the ground on a lawn or other area with soft earth.
Yard inserts are a great option to use for residential properties, as they are both simple to install and can be easily spotted from the sidewalk.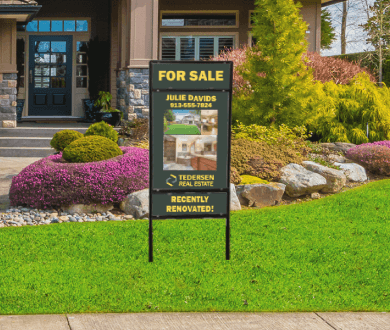 A frame
Do you need a sign that is both mobile and reusable? In that case, an A frame sign might be the best pick for you. As the name suggests, these signs easily unfold and stand on their own. You can place them in a driveways, on curbsides, or even on the sidewalk.
A frame signs also give you the flexibility to provide information on both sides too, as opposed to just one for double the visibility.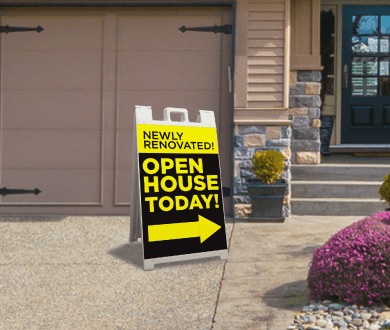 Obviously, this is not an exhaustive list of real estate sign types. There are also banners, mesh vinyl, standees, magnets and flags that you might consider using as well. In the end, you should choose the sign that best serves your particular listing.
Real Estate Sign Basics
Now that you have some idea about the aesthetic options available, we will take a look at some other factors to keep in mind when choosing your sign.
Mount type
Once your sign is created, the next step is to put it up. Depending on the location of your listing and how people will see it, you might want to choose one of the following options.
Swinging post
A popular option in the real estate community, swinging post signs have two parts: a vertical post that is driven into the ground, with a horizontal arm at the top where a sign can be hung.
Swinging post signage is great for situations where you need your sign to be higher off of the ground and more noticeable from afar.
Vinyl banner stand
Whether you are running an open house or a booth at a trade event, vinyl banner stands can be a great way to display your information about a particular listing and/or market yourself as an agent.
A frame
As mentioned above, A frame signs offer freedom and flexibility while being mobile and allowing your to mount signs on both sides of it.
Dimensions
While the dimensions of your sign can be customized, you will ultimately have to determine the measurements based on the mounting type you are using, as some can hold larger signs than others. If you are wanting to use a free hanging sign, such as a banner on the side of a building, then the sky's the limit on the size of the signage.
The size you choose for your signs should be appropriate to the area and listing. Since the main goals of a sign is to a) grab attention and b) deliver information, you want to make sure that your sign is big enough to catch people's eyes, and easy enough to read from the distance that most passersby will be looking at it.
Most commonly, signage dimensions are 12"x18", 18"x24" and 24"x36", but these are not the only options available. Dimensions are usually customizable, but may depend somewhat on the size of the mount.
Longevity
If you are located in an area with harsh or unpredictable weather, you want to know that you can count on your display to stay standing no matter what.
There are a few ways that you can ensure longevity for your signs:
For heavy rain or snow, choose a metal sign with a protective laminate on the outside
For high winds, select a mesh sign that will allow the air to go through
Another option is to change out your vinyl signs while maintaining the same frame, so that you can use it again and again. This concept allows you to quickly and affordably use the same frame for many different sign variations. The cost of a new custom banner to use with this frame is minimal, so you can print bespoke messages for every step of the selling process.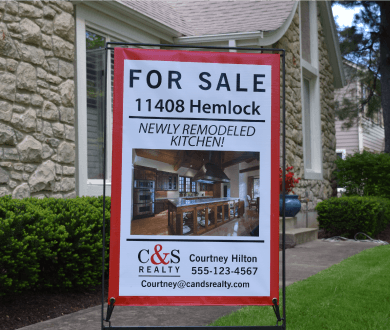 Design
Designs of real estate signs vary widely, but the design principles stay the same regardless of the type of sign you get. No matter what you include on your sign, it should be clean, easy to read, and containing the necessary information for would-be buyers, as listed below.
Text
Make sure to include your full name, contact information, agency, and of course, the "For Sale," "For Rent," "For Lease," (or other) text. There should also be a very clear call-to-action (CTA) on the sign so that those interested know exactly what step they should take to show their interest, book a showing, or get more information.
If you have the room and space, it is wise to include a few words about the property itself, be it the square footage, number of bedrooms/bathrooms, or other info that would be buyers might need to grasp specifics about the listing.
Graphics
Any graphics or images included on the sign should be chosen wisely. Is the graphic showing something significant or important about the house? Is it an eye-catching, attention grabbing photo?
Another option is to print vinyl signs with images of the inside of the house. This is a newer technique that is a powerful way to amplify your message without using too many words.
Many real estate agents also include a photo of themselves on their signs. This choice can help people know a bit more about you and help them feel more comfortable about reaching out to connect with you.
Plus, including your headshot on your sign can help reinforce people's association with your brand.
Only choose graphics for your sign that serve a purpose –– otherwise, they'll just clutter up your message.
QR Codes
Are you super tech savvy? Do you want people to be able to access more information about a listing instantly?
QR codes provide an instant route to more information about a property through smartphones. When passersby scan the code, they are directed to a website with more information.
Be smart about where you use these - people driving by a listing on a state highway won't have time or space to pull over and scan a code. Those walking in a suburban neighborhood would.
Extras
Another way to set your sign apart from others' is to include little extras that make the process more informative for the potential buyer.
Sign riders
These slim, extra additions to a sign create visual appeal while allowing you to include more information, from your name and phone number, to your real estate agency's information, to updates on the status of the sale or open house.
Brochure boxes
You can't fit all the great information about a listing on a sign. Put the rest into an easy-to-grab brochure so that people can take it with them.
Business card holders
Help people get in touch with you by leaving your business card in a holder that you can attach to the sign itself.
Stages of Real Estate Signage
Selling a house or property is a process –– your marketing should demonstrate where the listing is at in that process so that people have the right information at the right time.
Coming soon
Most agents aim for maximum exposure for their clients' listings, starting early. Before a property is officially listed, a "coming soon" sign can alert people to keep their eyes out for the property to become available to buy.
For sale
Once the property is officially listed, designate as such on your sign so that potential buyers are aware that it's on the market.
Open House
Get people through the door by announcing your open house event. Like the "for sale" sign, this sign should be placed in a highly visible place so that many people can see it, such as in the yard.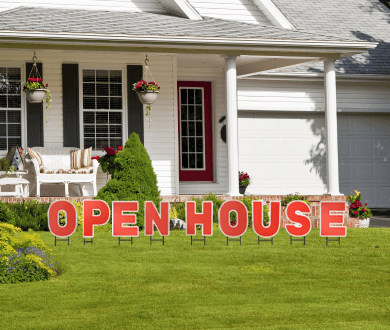 Under Contract
Sometimes this can be done with a sign rider, sometimes a new vinyl banner can be printed to give information on other local listings. Either way, this is a nice piece of information to be able to keep the public informed of the process.
Sold
Victory! Let others know that the listing is taken by updating the sign with a "sold" addition or printing a new version.
Other Things to Keep in Mind
It would be a great tragedy if the sign that you took so much time and effort to create were to go unnoticed because of its placement.
When selecting a spot to put your sign, answer the following questions:
Can you see the sign from the sidewalk or road?
Is there a chance that any plants, trees, or other items will block it?
Do people often park in front of where the sign is placed?
Are you following all pertinent laws and ordinances in placing your sign?
Beyond the actual sign placement, you also want to make sure that it meets any requirements that your company or agency might want you to include.
Start Making Your Real Estate Sign Today
As a real estate agent, you want your signs to adequately represent both your listing and you, bringing you the customers you're after. Having excellent signage is a pillar of real estate success, as it is one of the main ways that potential buyers find out about a property and identify the agent that they should contact.
The amount of options for real estate signage is vast, and it can be tricky to know what you should choose. But selecting, designing, and ordering your signs doesn't have to be a pain. With Half Price Banners, we not only offer a wide array of real estate signs to choose from, but we can also design it for you.
Plus, we provide free proofing and revisions on all of our real estate designs so that you can have peace of mind that there are not any glaring typos or accidental misspellings on your sign. Our designers will even verify your artwork to make sure you have the best print quality possible.
Start creating a sign that's perfect for your listing today!