As spring settles in, flowers will bloom, the sun will shine, and our mailboxes will be stuffed with wedding invitations. According to the National Center for Health Statistics, June continues to be the most popular month for couples to tie the knot, which means a flurry of plans are currently in the works nationwide. It has become increasingly popular to punctuate decorations and music with professional banners of all sizes, announcing the big day. Not only are wedding banners memorable, but they also keep guests entertained, help them find their way to the event, and can be reused for anniversary events.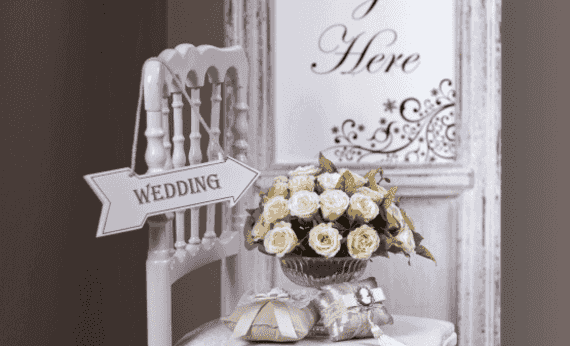 1. Photo Booth Backdrop
One trend that continues to pop up at weddings is the homemade photo booth. A banner attached to an x-stand
is a perfect backdrop for this fun activity. Print the couple's names, the date, or a whimsical saying, such as "Let the adventure begin," or "Jack and Jenny forever." Guests can take pictures in front of the customized wedding banner with friends using their own cameras or smart phones, which is an economical way to add to the bride and groom's photo album. Be sure to include a basket of fun props!
2. Directional Signage
Banners could also be used to mark the location of the ceremony or reception, making it visible from the street. Place a teardrop banner or a feather flag next to the door of the church or hall, allowing it to sway welcomingly in the breeze. Include an important Bible verse, saying, or the names of the couple.
One look at any bridal magazine and it is clear outdoor country weddings are in fashion. However, many guests may not be used to traveling on rural roads. A-frame stands could be used to display wedding banners at intersections or corners along the way to give directions. Once at the event, these displays could also be used to show guests where to park or how to find the ceremony.
3. Timeline of Events Display
This same idea can be used if having the wedding inside a hotel. Use a canvas print to greet guests at the door to the ballroom that includes a picture of the couple, date, and times of reception events, such as the cake cutting or bouquet toss. This type of display is also a great way to display your unique wedding hashtag for easy social media shares.
4. Seating Chart
Have a large number of guests that need to find their seats? A retractable banner is a quick and simple alternative to the traditional escort card table. This type of wedding banner requires no additional props and can easily be placed near the entrance of the reception. Conversely, casual dinner seating could be designated with a table banner that reads, "Now that we're together forever, guests may sit wherever."
5. Unconventional Décor
There's no need to blow your budget on floral arrangements when banners provide a cost-effective decorating solution. Hang a customized fabric banner to create a stunning ceremony backdrop or a picture-perfect wedding party photo backdrop. A larger vinyl banner could be also used to decorate the side of a barn, announcing, "Congratulations, Frank & June!"
Do-it-yourselfers may think crafting these signs on their own is the way to go, but consider this: Allowing a professional company to print these wedding banners will save time and effort, resulting in a hearty, reusable product, able to withstand surprise rain showers or strong winds. Do yourself a favor and let someone else handle the wedding banners and make the day memorable.