If you've ever seen a sign or banner covered by a repeating logo hanging behind a celebrity at an event or stood in front of one yourself, then you've probably seen a step and repeat backdrop in action. Step and repeat backdrops are becoming an increasingly popular tool for businesses to promote themselves and their offerings—and it's easy to see why. They're a fun and interactive way to spread the word about your business. What's more, they're essentially free advertising, with photos featuring step and repeat backdrops showing up everywhere, including social media and news sites.
So, what exactly is a step and repeat backdrop? Let's take a look at this unique marketing tool, its benefits and how to design an effective step and repeat backdrop for your next event.
What Is a Step and Repeat Backdrop?
A step and repeat backdrop is a type of banner that is typically seen at award shows, marketing events, media events and press conferences. It usually features a company's logo in a repetitive pattern and provides an opportunity for event attendees to take photos and videos that will be used in print, on television, on your website and across social media profiles. They're an effective and inexpensive way to promote your brand by getting your company's name featured in the backgrounds of photos and video clips that will be seen everywhere.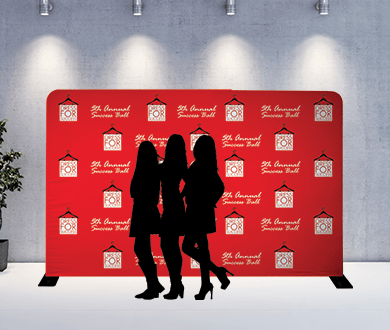 Benefits of Investing in a Step and Repeat Backdrop
When it comes to high-quality, cost-effective signage that gets your company's logo in front of the eyes of your audience, step and repeat backdrops are the answer. Here are some of the benefits of using step and repeat backdrops for your business:
Free Advertising—Step and repeat backdrops with your company's branding on them are essentially free advertising for your business. People at events often take photos of themselves posed in front of step and repeat backdrops and share them with their connections on Twitter, Facebook and Instagram. These photos tend to get a lot of engagement, which means more and more people are seeing your company's logo. With more than three billion social media users worldwide (and counting), there's no way you can go wrong.
Stand Out from the Rest—A step and repeat backdrop is an impressive and professional-looking addition to any event setup. It will attract more people to your space and give you an edge over the competition.
Excellent ROI—Once you see how successful a tool a step and repeat backdrop can be for your marketing strategy, you'll find dozens of ways to use it. Take it with you to charity events that you co-sponsor, job fairs or other events where you want to put a fun and festive spin on things. The possibilities are endless and there are bound to be people who are ready to jump in front of the camera, so your backdrop should be there, too.
Easy Way to Get Promotional Photos—Step and repeat backdrops are a smart way to collect promotional photos for your business. Snap some photos in front of your backdrop with industry thought leaders, business executives and other notable people you run into at events and you'll have promotional images that you can use for years.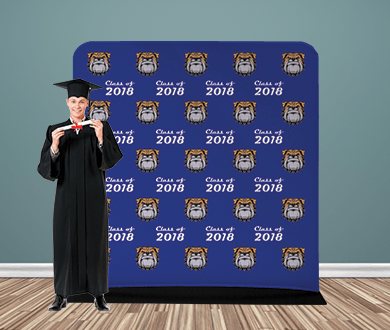 Tips for Designing a Step and Repeat Backdrop
When designing a step and repeat backdrop for an event, there are several important things you should consider if you want it to be effective, such as:
Size—The standard height for a step and repeat backdrop is around eight feet. The width can be customized to your specific needs. The size of your backdrop will depend on several factors, such as your budget, the space available and how you want to use it. For example, if you're don't have much space and are looking for something cost-effective, a smaller backdrop will work best. If you want an entire group of people to be able to take a photo with your backdrop at once–and space and budget aren't an issue–then you'll need to order a wide one.
Logo—One of the most important considerations when designing a step and repeat is that your company's logo should be clearly visible, even from a distance. Make sure that the graphics you use are high quality and high resolution to avoid blurring and pixilation.
Color—When choosing a color scheme, remember that the ink is more reflective than the white-colored vinyl material on which it will be printed. You'll have far less glare if you opt for a colorless background. However, if you still want your background to be colorful, make sure to use a color scheme that makes sense and is on brand for your business.
Step and repeat backdrops are a powerful marketing tool to engage your audience. If you have any questions about our custom step and repeat backdrops or need help creating a repeating pattern, contact Half Price Banners today. We would be glad to help you come up with a design that's perfect for your event.